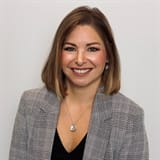 Vice President of Development, Marketing and Operations
Angela Smith is vice president of development, marketing and operations of the Badger Institute. Smith has nearly 20 years' experience in the corporate and nonprofit sectors with expertise in fundraising, community relations, philanthropy, marketing, communications and strategic events. In her role, she forges new relationships and partnerships to build the Badger Institute's visibility, impact, brand awareness and financial resources. Smith leads the development and marketing strategic initiatives that enhance the Institute's mission of advancing competitive free markets, objective journalism and limited government.
From 2014-2021, Smith held increasingly progressive roles with National Christian Foundation – Wisconsin. She led communications, events, philanthropic relationships and strategy to help facilitate charitable giving conversations. Prior to NCF, Smith spent 10 years in the corporate sector, executing business-to-business marketing strategies in the banking, manufacturing and SaaS sectors.
Smith is a contributing author to The Story of the Church in Milwaukee: Shaping a 20/20 Vision. She is a trained generosity facilitator through Generous Giving. She earned her Bachelor of Science degree from the University of Wisconsin – La Crosse. She is a Southeastern Wisconsin native and still lives in the area with her two children.