Wisconsin licensing boards routinely in violation of law requiring public representation
CONTACT: Julie Grace, Badger Institute Policy Analyst, at 330-410-6212 or at julie@badgerinstitute.org.
Occupational licensing boards in Wisconsin are routinely in violation of a state law that requires representatives of the public and consumers to serve on them, according to "Absence and Violation," a report published today by the Badger Institute.
Since 1975, state law has required that these powerful, rulemaking boards include one or more public members who represent consumers and discourage self-dealing. Today, at least 27 professional licensure boards or councils are in outright violation of the law and, therefore, controlled solely by people who work in the same professions they are charged with regulating.
"As the number of licensing boards exploded, lawmakers recognized that Wisconsin consumers and members of the public needed a seat at the table," said Badger Institute Policy Analyst Julie Grace. "Unfortunately, in many cases the public voice is completely absent from the conversation. This is problematic because there is considerable evidence that boards dominated by so-called 'market participants,' rather than consumers or other members of the public, often try to fence out competition under the guise of protecting health and safety."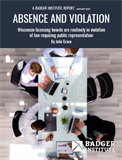 At least 27 licensing boards or advisory councils are in outright violation of the law.
Eleven of these rule-making boards have no public representation at all, and at least 25 other occupational advisory councils are bereft of any public representation.
The relatively few public members who have been appointed often fail to participate.
Regardless of public representation, every board is dominated by "market participants" who work in the same industries they regulate.
Most boards conduct their meetings largely in private session.
Meeting minutes fail to reveal how decisions are made even in open sessions.
Professional associations have outsized influence on board formation and leadership.
"This is a broken system," said Badger Institute President Mike Nichols. "Once a board is established, it is effectively granted authority to control that industry indefinitely. Legislators should recognize that the current model is unworkable and seek an approach better suited to protecting competition and consumer interests."
In the report, Grace recommends that the laws requiring participation be adhered to or abolished. Her recommendations include:
Requiring boards and councils to be more transparent in their decision-making
Establish a sunset review process that evaluates whether current licenses are necessary for ensuring public safety and, if not, whether a less restrictive form of regulation (e.g., inspections, mandatory bonding, registration or certification) is appropriate
Eliminate 28 licenses, permits or certificates the Wisconsin Department of Safety and Professional Services determined were unnecessary in 2018.
Read the entire report here.