As stimulus rules supercharge costs, pressure grows to expand the unaccountable program in Wisconsin
As Gov. Tony Evers renewed his call to expand Medicaid coverage in Wisconsin, Democrats in Washington, D.C., were doing some of the heavy lifting for him in the name of battling COVID-19.
Because of guidelines imposed by the CARES Act, the first coronavirus stimulus package, there are now more than 1 million Wisconsinites on Medicaid — an increase of nearly 217,000 in the past year, at an added cost to taxpayers of more than $883 million a year.
And until and unless the economy returns to something resembling normal, Medicaid's enrollment and its cost will continue to balloon.
Medicaid, a program along with Medicare that didn't exist until 1965, now devours roughly 25% of Wisconsin's $41 billion in annual total expenditures.
Nationally, it is the third largest and one of the least accountable government programs in the country, a model of a program ostensibly statebased but chained to an unaccountable federal funding source. The unholy relationship has created a system so bureaucratically knotted as to defy all attempts at reform.
Even more concerning, according to the federal Centers for Medicare & Medicaid Services (CMS), more than $100 billion of all Medicaid payments made to keep the program running were improper or illegal.
Entrenched, expensive, painful
U.S. Sen. Ron Johnson (R-Wis.) made clear, in a December letter to then-CMS Administrator Seema Verma, there is no accounting for all of this waste and fraud by state Medicaid officials.
But when CMS attempted to require fiscal accountability guidelines created by specialists in the Trump administration last year, a coalition of state Medicaid officials, hospital administrators, medical vendors and politicians in both parties fought them.
"It's insane. You have all of these health providers who have based their business model on a horribly complex and distorted marketplace controlled by the government," Johnson told the Badger Institute. "How do you fix something so entrenched, that is way too expensive and way too painful to change?"
The steep cost of keeping record numbers of Wisconsinites on Medicaid may give added political leverage to Evers and Democrats who wanted the state to accept an expansion first offered in 2010 by the passage of the Affordable Care Act, or Obamacare, Johnson says.
Wisconsin is one of 12 states that have not yet accepted an offer from the federal government to pay 90% of the cost of new enrollees to Medicaid. CMS has for years reimbursed the state Department of Health Services (DHS) at a rate of between 58% and 60%.
Republican Assembly majorities have blocked the expansion out of opposition to Obamacare, federal spending in general and a fear that state taxpayers would be made to pay if the federal Medicaid commitment was ever slashed.
"This was the whole strategy of Obamacare, to break the willpower of the fiscally responsible states," Johnson says. "The whole point of all of this money poured into programs like Medicaid is to get more Americans addicted to a single-payer system. It's completely out of control."
DHS administers Medicaid in two primary ways: a program for the elderly, blind and disabled and a program called BadgerCare Plus to underwrite primary and emergency medical care for low-income children, parents, other childless adults and pregnant women.
String attached to the program
Medicaid enrollment in Wisconsin was shrinking during the economic rebound in each of the first three years of the Trump administration. Enrollment dropped steadily to below 775,000 in January 2020, according to DHS figures.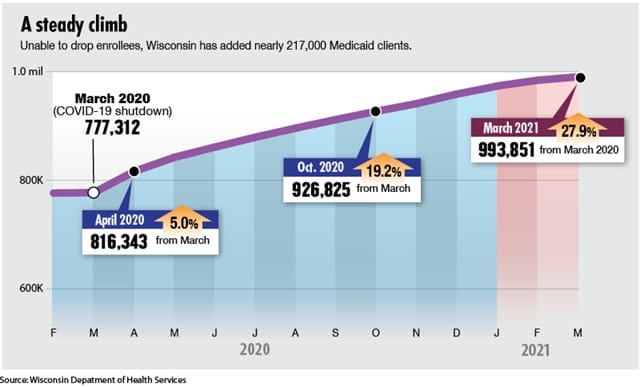 Then in April 2020, enrollment jumped 5% in a single month and by another 3.2% the next month. By July, there were more than 100,000 new enrollees, and through March there were 993,851 people on the rolls, a 27.9% increase from March 2020, according to DHS.
Through December, Wisconsin had the fourth fastest-growing Medicaid roll among the 28 states included in a study by the Kaiser Family Foundation, a major health policy research group. Only Nevada, Missouri and Indiana had bigger percentage growth.
Those increases were to have been expected with the worldwide spread of a novel virus and economic havoc caused by governments in response to it. They were, however, buttressed by a little-discussed provision that prohibits states from dropping anyone from the rolls if they accepted stimulus funding for Medicaid included in the CARES Act.
Wisconsin agreed to funding in two ways, the first in the form of increased federal reimbursement to 65.57% from its normal roughly 60%. In addition, the state Division of Medicaid Services (DMS) received $183.6 million, including $75.6 million for nursing homes, $44.4 million for home and community service providers, and $38.3 million for assisted living facilities, according to figures provided by DMS in response to an open records request.
Passage of the $1.9 trillion second stimulus in early March will mean the state will have a choice of matching an as yet undetermined fraction of the roughly $10 billion in the bill for Medicaid home and community services nationwide.
The bill also offers a $16 billion "teaser" to the holdout states like Wisconsin that would for two years raise the matching rate of support for Medicaid to 95% from 90% if they agree to expand their programs permanently.
Enrollment costs underestimated
State politicians on both sides of the aisle have been quiet about decisions they are facing with respect to the fiscal health of Medicaid. That might be because the enrollment explosion from the COVID-19 reaction has made obsolete the state Medicaid and budget projections from December by the Wisconsin Policy Forum.
Medicaid spending in Wisconsin was a runaway train long before the pandemic. Overall spending is up more than 48% in the previous decade, $10.7 billion in 2019- '20 compared with $7.2 billion in 2010-'11, according to data from the Legislative Fiscal Bureau (LFB). During the same decade, total enrollment was up just 2.3%.
The Department of Health Services 2021-'23 budget request significantly underestimates the enrollment growth through February and projects enrollment to rise by 5% in fiscal year 2022 and 2% in fiscal year 2023. To cover this, DHS estimated the state would need an additional $1.15 billion to maintain the pandemic-swollen Medicaid roll.
A little estimating using LFB figures shows that if Medicaid enrollment were to suddenly stop — and DHS is predicting it won't — it will cost $883.5 million more a year in federal and state taxes based on an average annual cost of an enrollee of $4,080, according to the LFB. That's more than a half-billion dollars more than the DHS projection.
The Badger Institute tried to get answers on how DHS might respond to the health care demands of all the new Medicaid recipients. When the institute put questions in writing in an email, media specialist Jennifer Miller declined to make DHS staff available to answer them, referring the institute for answers from reports and budgets that are months out of date.
Brian Blase, who was a special assistant for health care policy in the Trump administration, told the Badger Institute that there is an unrelenting momentum to grow Medicaid at the state and federal levels. Even in the holdout states like Wisconsin, Medicaid is seen as a cash cow "that destroys conservative governance at the state level."
There are no incentives to reduce the Medicaid rolls anywhere right now, when the federal government is pouring money into programs under the guise of pandemic emergency, he says.
"All of the incentives at the core of the Medicaid program encourage overspending," Blase says. "The open-ended reimbursement from the federal government encourages states to increase spending."
"For many of these people," says Michael Cannon, national director of Health Policy Studies for the Cato Institute, "exploding costs are a measure of a program's success. They just don't want to give up that sweet, sweet cash."
No true accounting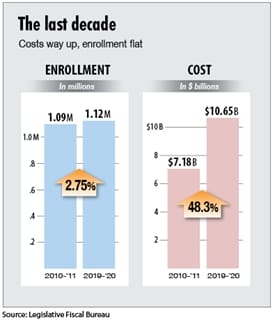 Johnson found DHS opaque when he began asking questions about what Wisconsin and other states are doing to track waste and fraud in Medicaid spending. In his letter to Verma, signed by eight other U.S. senators, all Republicans, Johnson called for something CMS has never demanded before: that states provide detailed breakdowns of improper payments.
Johnson cited a study done after Obamacare expanded Medicaid to include working adults with incomes up to 138% of the poverty line. The bill reimbursed states for the costs of all the new enrollees for the first three years and gradually rolled the reimbursement back to 90% in 2020.
Despite Johnson's protestations, getting a true accounting of all the new COVID-19 spending on Medicaid at the state and federal levels is unlikely. During his administration, while he drummed for state support for the new working adults category, President Barack Obama suspended audits of state eligibility rolls. Congress has in the past four years resisted resuming them.
CMS did try to reintroduce audits and accountability in November 2019 with a rule called the Medicaid Fiscal Accountability Regulation (MFAR). The short, sad and unlamented history of the rule offers a telling look at the commitment to any sort of reform on the part of Congress and anyone involved with the Medicaid program.
Blase, the key shepherd of the regulation for President Donald Trump, says the arrangement between the states and the federal government had allowed for "certain politically powerful institutions and providers and to divert federal money intended for the poor for other purposes."
The rule "would increase program transparency to promote better policymaking and oversight, ensure that Medicaid funds benefit program enrollees, and better uphold the shared financing design of Medicaid," Blase wrote for Health Affairs in April 2020. "The rule also would reduce cronyism by placing important constraints on arrangements that states and providers have developed that function as kickbacks."
Ill-fated regulation
A wide array of politicians and special interests fought the accountability measure.
First, the experts pronounced the new rules complex and warned that state health agencies, hospitals and doctors would require "extensive review and reporting requirements to add or renew supplemental payments."
Senate Democrats, including Tammy Baldwin of Wisconsin and now-Vice President Kamala Harris, called the new regulations "dangerous" and "limiting."
Eric Borgerding, president of the Wisconsin Hospital Association, sent a letter to Verma in January 2020 defending the "flexibility" of the current system of state reimbursements and fees. What most concerned Borgerding was any disruption of the funding chain.
"The proposal as written would upset funding for the Medicaid program, harming access to crucial health care services for vulnerable patient populations," he wrote. "MFAR, however, would impose impermissible roadblocks to this financing method."
The Badger Institute emailed Borgerding to ask about his objections to the regulation and whether he favored reforms of any kind, but he did not respond.
Under pressure from other stakeholders, nursing homes, assisted living and community care centers, Republicans joined Democrats in Congress in opposition to accountability regulations.
The American Spectator, while acknowledging the states' "morally questionable" gaming of the system, admitted what critics have long known about Medicaid: "States will push much of these new reporting requirements onto health care providers. This will hit doctors with small practices the hardest since they will be least able to absorb the cost. That, in turn, will affect Medicaid patients, as more doctors will find it too costly to treat new Medicaid patients."
In its notice of withdrawal on Jan. 19, 2020, in the Federal Registry, CMS summarized what a majority of more than 10,000 commenters told the agency that a regulation like this was an unnecessary and unwanted disruption of what the critics call the Medicaid gravy train.
Blase, now a private health policy strategist in Virginia, says there was nothing inherently wrong with the regulation. "We should have framed it as upholding the law," he says. But the interests from top to bottom are so knotted together, there is no easy place to begin untangling all of the strands, he says.
Even fiscal hawks like Johnson aren't sure where to start. "I've had people try to explain the pricing and the reimbursement," he says. "I'm an accountant. I'm a business guy. And it's impossible to understand."
Pressure to expand
Pressure on conservatives in the Wisconsin Assembly and in other states to give in to expansion continues to grow.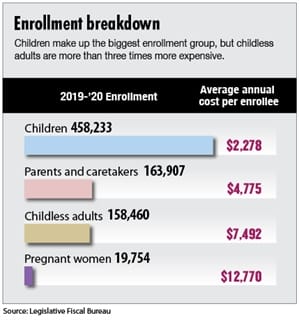 In June 2020 in Oklahoma, with a legislature, like Wisconsin's, controlled by Republicans, voters approved changing the state constitution to expand Medicaid.
In every budget request, the Wisconsin Department of Health Services includes a projection of its budget if the state agreed to expand. State taxpayers would save (media accounts generally refer to the "savings" rather than the spending) nearly $690 million and federal taxpayers would send more than $1.5 billion to the state in the next two budget years.
The Robert Wood Johnson Foundation, the nation's largest healthfocused philanthropy, has long advocated for Wisconsin and the other holdouts to expand.
With COVID-19 as the pretext, the federal government is trying to make it easy for Wisconsin to flip. It's unclear how state Republicans will react, perhaps because the true costs to state taxpayers hasn't been widely circulated.
Cannon has the same warning for state legislators that he has had for more than a decade: Please, don't do it.
"So long as two layers of government share and evade responsibility for Medicaid spending, the fraudulent payments will keep flowing," he says. "The only valuable Medicaid reforms are Medicaid cuts."
Mark Lisheron is managing editor of Diggings. Permission to reprint is granted as long as the author and Badger Institute are properly cited.
The initial version of this story incorrectly quoted a Jan. 31, 2020 letter from Eric Borgerding, president of the Wisconsin Hospital Association, to Seema Verma, Administrator for the federal Centers for Medicare and Medicaid Services, concerning the Medicaid Fiscal Accountability Regulation (MFAR).
The quote, "MFAR would impose impermissible roadblocks to collecting funds from providers." should have read, "MFAR, however, would impose impermissible roadblocks to this financing method."
The Badger Institute regrets the error.