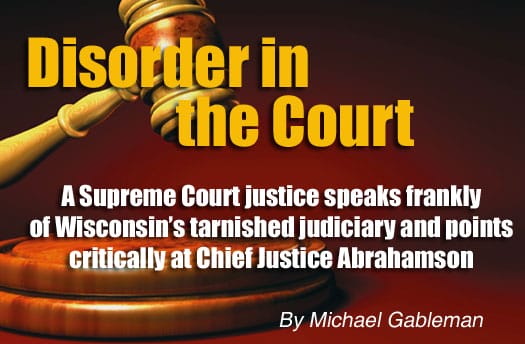 Editor's note: This essay is adapted from remarks delivered at the annual dinner of the Wisconsin Policy Research Institute in Milwaukee last November.
Recently, Wisconsin and national media outlets have been abuzz with discussions about the Wisconsin Supreme Court. Much of the focus has been on the perceived discord and animosity between certain justices. There can be no doubt that this coverage has tarnished the court's image. The respect many citizens felt for the court has been replaced by feelings of concern that the institution as a whole is faltering.
I've been asked to address whether the people of Wisconsin should have faith in their Supreme Court. Faith in our court, as in any court, rests largely on the quality and integrity of our main work product — that is, our published opinions. There is no more important work that the court undertakes than drafting opinions. They influence the economic and social policy of the state. In short, people should have faith in the Wisconsin Supreme Court. Please allow me to explain.
Justices must, if they wish to bolster confidence in the judiciary, base their decisions not on personal views but on the plain language of the law. When the plain language of the law does not clearly resolve a fact situation, justices must stay as close to the plain language as possible, not make up the law to fit their personal desires. This is not only the essence of fairness, but also the key to instilling confidence in our opinions.
I was firmly committed to that view when I assumed my seat on the Wisconsin Supreme Court in 2008. Thankfully, after my election, we began making great strides in that direction. To illustrate my point, I must provide a short review of the court's recent history and some of its decisions. In 2004, when Justice Diane Sykes was elevated to the U.S. Court of Appeals for the Seventh Circuit by President George W. Bush, Gov. Jim Doyle appointed Louis Butler to the Wisconsin Supreme Court. This appointment changed what was previously a 4-3 judicially conservative majority into a 4-3 liberal activist majority.
In the years following Justice Butler's appointment, the majority made a number of notable decisions that baffled legal observers and sowed doubt upon the state of the law.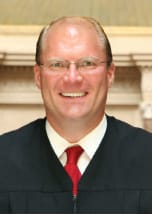 In 2005, in Thomas v. Mallet, four members of the court discarded centuries of law that require injured parties to prove who caused their injury and instead allowed a plaintiff to sue manufacturers of lead paint because these manufacturers may have made the paint that caused the injury. The dissent noted the error of the majority, cautioning that "lead pigment manufacturers can [now] be held liable for a product they may or may not have produced, which may or may not have caused the plaintiff's injuries, based on conduct that may or may not have occurred over 100 years ago when some of the defendants were not even part of the relevant market."
In 2006, in Dairyland Greyhound Park v. Doyle, four members of the court unilaterally ignored the fact that the court had already decided two years earlier that a constitutional amendment prohibited the governor from expanding gaming. The only thing that changed in the interim — hence the only thing that could explain the diametrically opposed rulings — was the subtraction from the court of Justice Sykes and the addition of Justice Butler. The rule of law must mean something more than this.
And, in 2007, in Szleszinski v. Labor & Industry Review Commission, four members of the court agreed that a 16-wheel semi-truck driver with Wilson's disease, a genetic disorder, could sue his employer for wrongful termination, even though he was driving erratically because of his disease. His medical condition caused tremors and fatigue, among other symptoms. The dissent, written by Justice David Prosser, noted the irrationality of punishing a company for seeking, in the most reasonable way possible, to protect the public from a semi-truck driver who suffers unpredictable tremors and fatigue attributable to Wilson's disease.
All of these cases represent judicial activism at its rawest form — that is, the expansion and rewriting of the law to suit a social, political or philosophical view. These and other decisions were so bad that news agencies began referring to Wisconsin as "Alabama North," a reference to its reputation as a state where the law had become as transient as the shifting winds, constant only in its unpredictability. I respectfully suggest that nothing has done more to tarnish the image of our court than the rulings that were handed down by the liberal activist majority between 2004 and 2008.
As former Justice Sykes put it in 2006 when she discussed this period in one of her lectures: "The terms 'modesty' and 'restraint' — the watchwords of today's judicial mainstream — seem to be missing from the Wisconsin Supreme Court's vocabulary. Instead, the court has adopted a more aggressive approach to judging."
The people of Wisconsin agreed with Justice Sykes. Over the past decade, the citizens of our state have consistently demonstrated a preference for judicially conservative justices: one need look no further than the elections of Justice Sykes over Judge Butler in 2000, Justice Patience Roggensack over Judge Edward Brunner in 2003, Justice Annette Ziegler over Linda Clifford in 2007, and Justice Prosser over JoAnne Kloppenburg in 2011. When I was elected to the court in 2008, the court was returned to a judicially conservative majority.
For purposes of comparison, I turn briefly to five examples of decisions published since my arrival. In Coulee Catholic Schools v. Labor & Industry Review Commission, we held that a private religious school can make decisions regarding employee termination without governmental interference. In Star Direct Inc. v. Eugene Dal Pra, we corrected 50 years of judicial activism related to covenants not to compete, and returned the law to its true statutory framework. In Horst v. John Deere & Co., we restored the fundamental but often overlooked proposition that sometimes accidents really do happen, and just because an accident happens it doesn't mean someone or some company has to pay. In Covenant Healthcare System Inc. v. City of Wauwatosa, our opinion checked significant government overreach in the area of taxation.
Finally, last June, in an opinion written collectively by Justices Prosser, Roggensack, Ziegler and myself, Ozanne v. Fitzgerald (more commonly referred to as the Budget Repair Bill case), we overturned a circuit court decision by Dane County Judge Maryann Sumi, an opinion that defied nearly 70 years of controlling precedent and thereby produced a legally incorrect result.
By reversing her decision, the majority upheld the simple but bedrock proposition that governors are entitled to govern, legislatures are entitled to legislate, and no matter how fervent the political beliefs of individual judges, courts are not free to baselessly interfere with either.
The current majority has restored a judicially conservative course that focuses on applying the law rather than molding it to fit our own personal agendas and desires. The application of these sound, judicially conservative principles has restored confidence in the predictability and stability of the court's primary output, its opinions.
Unfortunately, friction and discord on our court is nothing new, and its root cause is readily discernible by a review of the common denominator present throughout the tumultuous recent history of the court over the past decades.
One need only glance at headlines from around the state over the last 25 years to understand that something went badly wrong with the management of the court:
"Justice Awry" (Milwaukee Journal, March 12, 1987)
"No Order In This Court" (The Capital Times, Feb. 15, 1999)
"Three Justices Working To Oust Chief Justice" (Watertown Daily News, Feb. 4, 1999)
"Robes And Daggers In Top Court" (The Capital Times, Feb. 6-7, 1999)
"Chief Justice Accused Of Overstepping Bounds Of Authority" (Wausau Daily Herald, Feb. 14, 1999)
"Justices Air Grievances Against High Court Chief" (La Crosse Tribune, Feb. 14, 1999)
"Four Tried To Reduce Powers Of Chief Justice" (Wisconsin State Journal, Feb. 13, 1999)
"Justices Lay Bare Problems With Abrahamson" (Wisconsin State Journal, Feb. 14, 1999)
Those headlines are not from last week, last month or even last decade, and the concerns reflected in them are unrelated to partisanship or ideology. As early as 1987, the old Milwaukee Journal reported intense hostility among the justices. Later stories indicated that the bad blood was only getting worse. A Milwaukee Journal Sentinel article in 1999, for instance, cited a majority of the court consisiting of Justices Donald Steinmetz, William Bablitch, Jon Wilcox and Patrick Crooks as criticizing Chief Justice Shirley Abrahamson for making unilateral decisions on administrative matters without court input.
The article highlighted that she had assigned more than $1.7 million in grants without the approval of the court. These four justices presented her actions as an abuse of her position, with Justice Bablitch, who was described by the newspaper as "a fellow liberal who nearly always vote[d]" with the chief justice on close cases, going so far as to call her administration a "monarchy."
A Wisconsin State Journal article from 1999 quotes a statement released by the same majority criticizing Chief Justice Abrahamson's leadership on administrative matters as follows: "The process for dealing with administrative issues … is far too often confrontational, chaotic, divisive, and dismissive. Countless hours of justices' time, cumulatively thousands of hours, are spent fighting battles that need not be fought, fighting administrative issues that should have long ago been put to rest."
It was Justices Steinmetz, Bablitch, Wilcox and Crooks who became so concerned with Chief Justice Abrahamson's administration of the court that they introduced a rule that would have limited much of the chief justice's power, creating a chief operating officer of the court — someone other than the chief justice — to manage all of the court's administrative work.
When this failed — because both Chief Justice Abrahamson and Justice Ann Bradley threatened to sue, according to newspaper reports in 1999 — three of the four took the unprecedented step of publicly endorsing Chief Justice Abrahamson's opponent in the 1999 judicial election. The discord that prompted these endorsements was so deep that at least two justices considered resigning from office, as reported by the Journal Sentinel that year.
Several recent developments confirm, unfortunately, that the court continues to suffer from a lack of effective leadership. Earlier this year, Chief Justice Abrahamson offered several "proposals for change" under the purported rubric of fostering "civility" on the court and generating greater "public trust and confidence" in it. Among them, she suggested that the court hold all of its opinion conferences in public view.
Let me be frank. The suggestion that more public scrutiny of the court's internal operations would foster greater civility is at best disingenuous and at worst ludicrous. When animosity arises in legislative bodies, for example, public attention does not foster greater civility, it polarizes the body and fuels grandstanding. Even more to the point, the recent difficulties at the court cannot plausibly be said to result from a lack of publicity. If anything, it is just the opposite.
A second recent proposal that drew the support of Chief Justice Abrahamson and her allies on the court would have allowed four justices to force the recusal of one of their peers from any given case. As with the proposal for public opinions conferences, this suggestion seemed tailor-made to perpetuate the unfortunate cycle of hostility, recrimination and ill will that has plagued the court.
To be blunt, when a small group of people has to work together closely, as we on the court do, there is simply no substitute for collegiality. If animosity arises, as it unfortunately has in this case, there is a desperate need for leadership which can look forward, not backward, and which can focus on repairing relationships, rather than pouring salt in old wounds.
A proposal that effectively tells the justices (and the public), "We have no faith in you to behave ethically in the execution of your job," as the recusal proposal did, will do nothing to improve the relationships on the court. This is not the leadership that the people of Wisconsin deserve from their highest judicial official.
I have been addressing the personal relationships on the court rather than the ultimate work product. Though that distinction is important, it is far from absolute. The personalities affect the work and vice versa. One area in which the two intersect is in the comments made by the authors of majority opinions directed at those in the dissent and, more frequently, the other way around.
Dissenting opinions are supposed to be an opportunity for a justice to respectfully express an honest difference of opinion about the law. Indeed, there is an old tradition in American judicial history of concluding dissenting opinions with the phrase, "I respectfully dissent."
On our court, however, the words have all too often been used more as lip service than as a genuine sign of respect, as they are often preceded by a series of ad hominem attacks challenging the intelligence, capability and even the good faith of the justices in the majority. It is a shame that some use dissenting opinions as a vehicle for voicing personal grievances.
In 1987, a justice publicly complained that then-Justice Abrahamson "piddles all over our opinions in her dissents." This practice is possibly even more damaging to the court than anything else, because it trivializes and debases the court's opinions, which are supposed to be scholarly expositions of the law.
It is particularly troubling in light of the fact that the court is entrusted with supervising the professionalism and ethics of the entire bar in the state of Wisconsin. Some on our court set an unhelpful example for those attorneys who look to our work product as an exemplar for the profession.
I can illustrate, anecdotally, this point about how the acrimonious climate on the court creeps into its work. I was surprised during my first term on the court when one of my colleagues, whom I have grown to respect, apologized for disagreeing with me about the proper legal outcome of a specific case. I told my colleague I always assumed that people of goodwill could have an open and frank discussion about the law and come to differing final opinions, yet retain their civility and friendship.
How can we come closer to realizing that vision?
I suggest that one way to remediate the problems affecting the court is to change the way in which the chief justice is selected. Currently, the most senior justice automatically becomes the chief justice for the duration of his or her tenure on the court. It was not always so. For a number of years, the chief justice was elected directly by the people. It is difficult to believe that those who changed that method to the current system intended to provide an avenue for a single individual to dominate the court for decades.
If his or her peers instead selected the chief justice, there would be a built-in institutional incentive for the chief justice to conduct him or herself in a collegial manner. This, perhaps, may be a good start toward an enhancement of civility and professionalism on the court.
Indeed, our very court has established a system whereby the chief judges in the circuit court districts, as well as their deputies, are appointed to serve in that position for three consecutive two-year terms at a maximum. That method has worked well, as it is based on the sensible principle that no institution should be led by an individual selected arbitrarily and installed indefinitely. We would be well-served if we applied the same sound reasoning to our own administrative procedures.
I am not alone in this suggestion. There are, unsurprisingly, four times as many state supreme courts that select their chief justices through a court vote as opposed to through seniority (20 vs. 5).
Commentators have suggested that appointing justices rather than electing them would deal with the problem. I would remind them that we, the people of Wisconsin, have a constitutional right to elect our judges and justices. Those who would strip us of that right do so for only one reason: They believe in their heart of hearts that they know better than we do.
I submit to you that a small group of politicians, no matter how well intentioned, cannot know better than the people of the state of Wisconsin. Our founding fathers knew this to be the case and so do we. Appointing justices, rather than electing them, would not remove politics from the judicial selection process. It would merely focus and concentrate the politics on the appointing authority.
Finally, our court must end its current practice of airing in public every disagreement concerning internal matters. Our chief justice has scheduled an unprecedented volume of these so-called "open administrative conferences," and I do not think they inspire confidence in the court. I ask you to consider what group of any kind — whether a board of directors or a family — burnishes its image by conducting its internal business in a forum of public spectacle. It is time to curtail these odd, lengthy and counterproductive displays.
So, to the question that you posed to me, whether the state of Wisconsin can have confidence in its judiciary, I answer with a resounding yes. As I have said, the quality of the court's work and the personal conflicts on the court are interrelated. Since 2008, the court's opinions have reflected the judicial restraint and conservatism that fosters confidence, predictability and uniformity in the court.
Unfortunately, many tensions among the justices remain, and we have much room for progress. Nevertheless, as we continue to restore confidence in the quality of our work, and as we begin to seriously think about ways to improve the administration and leadership of the court, I remain hopeful that we can, working together, create a collegial environment and get back to doing the job we were elected to do: faithfully apply the law.
Before his election to the Wisconsin Supreme Court in 2008, Justice Gableman was a Burnett County circuit judge and the district attorney of Ashland County.