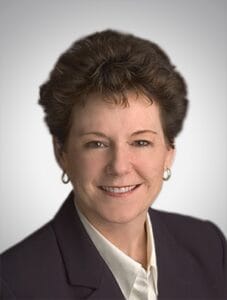 Ave Bie was the managing partner (retired) of the Madison office of Quarles & Brady and practiced in the firm's public utilities and corporate practice groups. She worked on state and federal issues for clients at the firm's six offices nationwide. She is the former chairwoman of the Public Service Commission (PSC) of Wisconsin and has a wide range of government experience coupled with an extensive knowledge of the inner workings of government regulation and licensing. Prior to becoming chairwoman of the PSC, Bie served as deputy secretary for the state Department of Corrections, deputy secretary of the Department of Regulation and Licensing, and director of appointments for the Office of the Governor.
Bie currently serves on the Board of Directors of the Green Bay Packers and the Board of Trustees of Edgewood High School and is a member of the St. Mary's Foundation Board. Bie is a past member of the board and executive committee of United Way of Dane County and past president of the Edgewood Campus School Board of Trustees.
She graduated from the University of Wisconsin-Eau Claire and received her J.D. from the University of Wisconsin Law School.