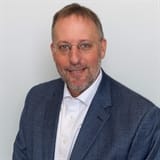 Government Affairs
Jim Bender is a longtime school choice advocate and the Badger Institute's daily, influential presence in the Capitol advancing meaningful, common-sense policy reforms.
Bender was President of School Choice Wisconsin from 2011-2020. As the registered lobbyist for the organization, he advised on education reform policy for elected officials and the media. Bender was a member of the design team for the Wisconsin statewide school report card and is a member of the Equity Council under ESSA.
Prior to that, Bender worked for Speaker Jeff Fitzgerald in the State Assembly as for six years as both chief of staff and a key contact for the Capitol Press Corps.
After competing as a two-sport athlete in the Big Ten, Bender ran a small media firm that worked on corporate communications and education programs. Bender spent a year in southern Africa, producing a video documentary on volunteer teachers after Namibia switched their medium of education from Afrikaans to English.
Bender has served on numerous non-profit boards in southeastern Wisconsin over the past 20 years.