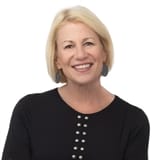 Lisa A. Mauer is the former owner of three companies serving the metalworking industry. Mauer spent 33 years in the industrial distribution, manufacturing and related services markets.
During her industry tenure, Mauer served on the Advisory Board of a number of manufacturers in the supply chain channel. She also served on the board of the National Industrial Distributors Association and as past president of the Wisconsin Industrial Distributors Association.
Mauer currently serves on the boards of Acuity Insurance, Reinders Inc., G3 Industries, The Independent Business Association of Wisconsin and Pathways High. In addition, she has served on the board of the Wisconsin Economic Development Corp. since its inception, serving as chair from 2016-2019. She also served on the board of Bank Mutual until its acquisition in 2018.
She is a graduate of the University of Wisconsin.