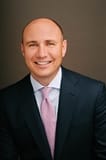 Nick is a Managing Partner at Operose Advisors. Prior to founding Operose Advisors, Nick was Principal and Director of Geneva Capital Management in Milwaukee, WI. While at Geneva Capital Nick oversaw the growth of the firm's institutional business from $1 billion of assets under management to $6.8 billion.
He played a key role in the sale of Geneva's business to Henderson Global Investors based in London and subsequently managed Henderson's North American institutional business development efforts.
Nick serves on the Board of Directors and Finance & Investment Committee of Rogers Behavioral Health System and the Finance & Investment Committee of Versiti, Inc. He's also on the Board of Directors of Terova Senior Living and is a member of the Limited Partner Advisory Committee for the Marcus Real Estate Fund. Nick holds a B.B.A. from the University of Wisconsin-Milwaukee and has earned the right to use the Chartered Financial Analyst designation.