The funding disparity between UWM and UW-Madison reflects that the two institutions have sharply different histories and are in many ways two different animals.
It's generally known that Milwaukee's major public university doesn't get nearly the funding that its world-class sister institution in Madison receives from the State of Wisconsin.
But did you know the University of Wisconsin-Milwaukee gets less than half the public money per student that Madison Area Technical College gets and less than a third of what goes to Milwaukee Area Technical College?
That was the case in 2011, at least, according to comparative college funding statistics compiled for the Delta Cost Project at the nonpartisan American Institutes for Research.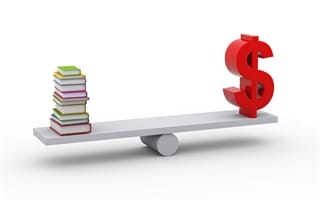 As the UW System deals with proposed sharp cuts to state funding, officials at UWM have to be hoping their particular plight won't be lost in the deliberations.
Many Milwaukee leaders consider the system's second-biggest campus to be seriously underfunded – a situation with important implications for the city.
The issue was highlighted in a December WPRI report linking the relatively low educational attainment of the average over-25 Milwaukeean with the city's lower-than-average population and employment growth, income level and general economic health.
The report urged an increased emphasis on boosting Milwaukee's population of college graduates – including by improving support for UWM, where some 72% of graduates remain in the metro area.
Increasing support for UWM would help it produce more graduates, and that would increase the prosperity of Milwaukee, the authors argued.
A sampling of college funding statistics illustrates the imbalance of such support in recent years.
First, the Delta Cost Project comparison of UWM funding with levels at UW-Madison, Milwaukee Area Technical College and Madison Area Technical College.
According to figures for 2011, UWM got just $4,230 per student in state and local appropriations. That compares with $14,935 for Milwaukee's MATC, $11,232 for Madison's and $10,683 for UW-Madison, more than twice the support at UWM.
In terms of education and general spending at the two major UW campuses, UW-Madison dwarfs UWM. The budget at the "flagship" Madison campus this fiscal year was over $2.9 billion, more than four times UWM's $705 million budget, according to a January informational paper by the Wisconsin Legislative Fiscal Bureau, a nonpartisan agency of the state Legislature. Total operating spending in Madison was $59,381 per student in 2011, according to the Delta figures, more than triple the $19,267 spent at the Milwaukee institution.
This for two institutions that aren't extremely far apart in enrollment. As of fall 2013, UW-Madison had 30,972 undergraduates and 42,903 total enrollment, including graduate and professional-studies students. The equivalent numbers for UWM were 23,004 and 27,784. (The next-biggest campus in the system, UW-Oshkosh, had a total enrollment of 12,623 in fall 2013.)
But the funding figures reflect that the two institutions have sharply different histories and are in many ways two different animals. UW-Madison, founded in 1849, was one of the nation's early land-grant colleges and has long been a world-renowned research university.
UWM traces its beginnings to 1885, when the Milwaukee State Normal School first opened, for the training of teachers. That continued to be its primary purpose until the 1950s; UWM was created in 1956, from the merger of the former teachers college (by then called Wisconsin State College-Milwaukee) with the University of Wisconsin-Extension's Milwaukee office. Since then it has grown into a significant research university, second in size and ambition in the UW System only to Madison.
And though it still plays second fiddle to Madison, UWM rightly claims, in a fact sheet about the institution, to be "an engine for innovation in southeastern Wisconsin" and a "low-cost leader among the nation's 200 research universities." Much has been made – deservedly so – of its new School of Freshwater Sciences, which goes along with local efforts to establish Milwaukee as a center of water-related industry. And it also claims Wisconsin's biggest "dedicated and comprehensive public arts university," in the Peck School of the Arts, the UW System's only school of architecture and urban planning, and the new Innovation Campus growing on the Milwaukee County Grounds in Wauwatosa.
John Torinus, the blogger and chairman of Serigraph Inc. in West Bend, adds that UWM has in recent years built strong relationships with many of Milwaukee's business movers and shakers – the same people who help fill Republican campaign coffers. They could influence the Legislature to be kinder to their hometown campus as it works on Gov. Scott Walker's big proposed cut in the UW budget, Torinus says.
Still, the current relative status of the Madison and Milwaukee campuses reflects their history: Madison has 104 doctoral programs, Milwaukee just 31, according to the LFB paper. Though both campuses are research institutions, Madison does a lot more research. According to the Delta Cost Project figures, UW-Madison spent almost 10 times the amount per student on research as UW-Milwaukee spent in 2011 – $26,448 to $2,661 (those amounts were included in the education and general spending numbers quoted above).
The assets of the two campuses are also way out of balance. A UW fact book from 2013-'14 found 997 buildings and additions at the Madison campus, totaling 28 million square feet; Milwaukee had 79, totaling about 7 million square feet. And Madison also has a much larger amount of the "unrestricted program revenue balances" that Republican legislators criticized as "slush funds" over the past couple of years: $386 million at Madison, as compared with $84 million at Milwaukee, according to a February report by the Legislative Audit Bureau, another nonpartisan agency of the Legislature.
There are also more than four times as many full professors at UW-Madison as there are at UWM – 1,241 and 262, respectively, according to the LFB paper. The full professors at Madison are paid more, too, the paper shows: an average of $123,500, compared with $101,500 at UWM.
The success of students at UWM also lags behind UW-Madison, if success is measured in the number of students who graduate. According to the LFB paper, the six-year graduation rate at Madison was 85.2% in fall 2007 – meaning that percentage of the 2007 freshman class had graduated six years later. For UWM, that rate was 47.2%.
Why such a gap? Clearly, one reason is that UWM students, on average, are behind freshman Badgers at the start of their education. UW-Madison is more selective in its admissions, and its average ACT score for incoming freshmen in fall 2013 was 28, compared with 22 at UWM. Of the four-year UW institutions, only UW-Parkside had a lower ACT average: 21.
And according to a Milwaukee Journal Sentinel report from March 2014, some 54% of UWM freshmen that year needed math and/or English remediation.
To George Lightbourn, co-author of December's WPRI report, numbers such as that are an indication that UWM needs more support, not less, in helping to produce graduates and to bring new life to the Milwaukee economy. Whether that view will carry weight as UW regents and the Legislature sort out the university system's budget – and its future – remains to be seen.
And not everybody sees these numbers as indications that major changes are needed.
In December 2013, then-UW President Kevin Reilly appointed a working group of UW chancellors and chief business officers – chaired by Mark Bugher, the former Tommy Thompson cabinet member and longtime head of UW-Madison's University Research Park – to determine if changes were needed in the way resources were allocated among the UW campuses. It recommended in August 2014 that current allocation methods be continued.
But Mark Bradley, a UW regent assigned to be one of the board's liaisons to UWM, said he thinks the health of the Milwaukee campus – and of southeastern Wisconsin's economy – should be considered by the regents when they're deciding how to allocate whatever university budget cuts the Legislature approves.
"When the final number comes," he said, "it's incumbent on the Board of Regents to discuss whether to allocate the funds in the traditional way – or do we need to be more strategic?"
Tom Tolan is a Milwaukee freelance writer. He was a reporter and editor at The Milwaukee Journal and the Milwaukee Journal Sentinel for 24 years.