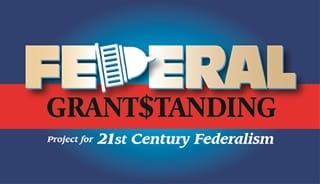 By DAVE DALEY | Oct. 21, 2016
Wisconsin Congressman Sean Duffy is seeking a forensic audit of all federal monies awarded to the Lac Courte Oreilles Band of Lake Superior Chippewa after 113 tribal members sent him a petition alleging mismanagement of federal grants.
Duffy's request comes a month after the congressman questioned why federal housing grants meant to help needy members of the neighboring St. Croix Chippewa tribe may not be getting to those most needing that assistance. That request followed a Wisconsin Policy Research Institute investigation raising serious questions about how St. Croix tribal officials were using $2.3 million in federal Housing and Urban Development (HUD) grants aimed at providing housing for the poorest in the tribe.
HUD is one of the federal agencies Duffy is asking to conduct an audit of all the grant funds given to the Lac Courte Oreilles Band. Duffy also is requesting the federal departments of Interior, Health and Human Services Department and the Bureau of Indian Affairs conduct forensic audits – an audit for use as evidence in court – of federal funds those agencies, and any other "applicable federal agencies, awarded the Lac Courte Oreilles.
A petition signed by 113 members of the Lac Courte Oreilles Band was delivered to Duffy's office Sept. 26 requesting "a fully independent forensic audit of all accounts, departments and agencies of or related to tribal activities."
"I take these concerns about mismanagement by the LCO Tribal Governing Board extremely seriously," Duffy wrote in a letter to the heads of the four federal agencies. "The allegedly misappropriated funds should have been used to pay for essential services for the tribal community such as education, health care and housing.
"Instead, health insurance premiums have gone unpaid, schools have fallen into disrepair, and mold contamination in homes have been left untreated," Duffy went on. "Members of the Lac Courte Oreilles tribe deserve to know funds provided to their tribe by the U.S. federal government are being spent in an open, accountable and transparent manner.
"A timely and comprehensive forensic audit of the LCO's tribal accounts will ensure that all funds are accounted for and being put to the best use possible." Duffy concluded.
The Lac Courte Oreilles Band has 7,275 members, located largely in Sawyer County in northwestern Wisconsin near Hayward. The reservation totals more than 76,000 acres, and the band, which calls itself the largest employer in Sawyer County, operates a tribal casino in Hayward.
In 2015, the tribe received more than $13.7 million in federal grant funds for its Housing Authority, community college and school, according to the Federal Audit Clearinghouse website. In 2014, an audit found the Housing Authority "did not prepare, adopt or monitor" $2.3 million in HUD expenditures.
The petition asking for an audit of the tribal government's finances specifically mentioned auditing the tribe's casino, Duffy's letter points out. Duffy's letter also notes that tribal members complained in their petition of untreated mold contamination in homes.
In September of last year, the Lac Courte Oreilles were awarded $800,000 by HUD to remove and prevent dangerous mold in tribal housing, making the band the largest grant recipient in HUD's $12.4 million program to treat mold problems in 18 tribal communities, according to an article in the Lac Courte Oreilles tribal online newspaper.
The story noted that approximately 53 homes needed immediate work to remove mold contamination and that the work was expected to take an estimated 12 months.
This story is part of WPRI's ongoing "Federal Grant$tanding" series, an investigation into federal grants to state and local governments as well as to Indian tribes. Dave Daley was a longtime statehouse and federal courts reporter with the Milwaukee Journal and Milwaukee Journal Sentinel.