Madison protesters  sacrifice symbol of abolition, equality and freedom for Black Lives Matter dogma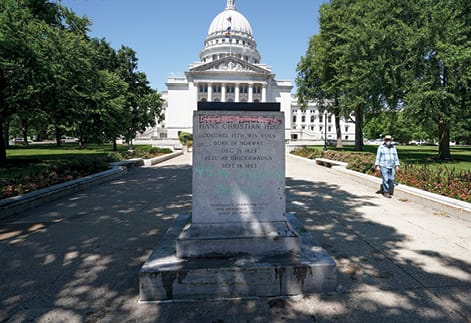 "It's a revolution!" someone shouted in the darkness at the Lake Monona shoreline.
On June 23, a crowd of protesters pulled a 1.5-ton bronze statue of Colonel Hans Christian Heg from its pedestal on the east side of the Capitol building, dragged it down Main and Butler streets and pushed it into the lake. The crowd erupted into cheers.
Protesters, ostensibly taking to the streets over the death of George Floyd at the hands of four Minneapolis police officers, were tearing down monuments all over the country. At first, it was Jefferson Davis and Gen. Robert E. Lee, the most prominent reminders of the Confederacy and savery.
But very soon, statues of presidents George Washington and Thomas Jefferson were toppled because they owned slaves. Christopher Columbus came down because he was a colonialist. The abolitionist, Union war hero and architect of emancipation Ulysses S. Grant had to be removed because, well, because.
On the same night Heg was brought down in Madison, Forward, the statue standing at the Capitol as "an allegory" — not of oppression and bigotry, but "of devotion and progress," according to Wisconsin State Historical Society records — also came down.
Town supervisor, prison reformer
Why Heg? He was an immigrant, a public servant, a prison reformer, an activist and a soldier who died fighting to end slavery. He had "a deep faith in American ideals, in democracy, equality, and human freedom," author and historian Theodore C. Blegen noted for the Wisconsin Magazine of History in 1920.
As a boy, Hans Christian Heg and his family immigrated to Muskego from Norway in 1829. He developed a respect for American ideals and an interest in politics. As a young man, he was a supervisor in the Town of Norway, chairman of the board of supervisors and a member of the county board.
As a Racine County delegate to the 1859 Republican state convention, fellow delegates nominated him to be the next State Prison Commissioner and shortly after was elected to the statewide office.
Heg championed better living conditions at Waupun State Prison and supported good time credits for prisoners — five days off a sentence for every month of good behavior. He implemented job training and asked the state to more fairly compensate the woman in charge of the female inmates. "The wages paid are not, I think, a fair compensation for the duties required of her," he wrote.
Near the end of his tenure as commissioner in 1861, he clearly and eloquently articulated to the governor his views on prison discipline. "Experience has confirmed my conviction that a mild and merciful application of the rules of discipline is sufficient in all cases to reduce the most hardened offenders to obedience."
"Nothing will arouse the virtuous aspirations of a fallen man so powerfully as the conviction that it still lies in his power to regain the rights he has forfeited, and that he yet can be respected by society as a fellow man," he later wrote.
Cut down at Chickamauga
Heg declined a second term to accept a commission as colonel of the Fifteenth Wisconsin Volunteer Infantry in 1861. He was a tireless recruiter of his fellow Wisconsinites, many of them immigrants, to fight with him in his pursuit of equality and freedom.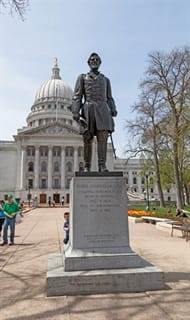 "That which we learned to love as freemen in our old Fatherland — our freedom — our government — our independence — is threatened with destruction. Is it not our duty as brave and intelligent citizens to extend our hands in defense of the cause of our country and of our own homes?" he wrote in one newspaper.
Heg vehemently opposed slavery and often reminded fellow Norwegian immigrants that they left "one of the most beautiful lands in the world" to come to America "because it was a free country, whose principles struck a responsive chord in their hearts," one of Heg's biographers wrote.
He ultimately died fighting for this belief following the battle of Chickamauga in 1863. Shot in battle, Heg rallied his troops and led them on horseback for a quarter of a mile before being taken to the hospital.
One of his close friends, Knud Langeland, who visited him on his deathbed the following day, recalled Heg telling him he was willing to die for this just cause "and that he was but one of hundreds of thousands who had laid down their lives, gladly sacrificing them on the altar of their country." He was just 34.
Someone who personally knew Heg once wrote that his beliefs were inspired by "freedom, equality and the spirit of brotherhood." His successor, Col. John A. Martin, described Heg as "everywhere present, careless of danger."
Of his death the Wisconsin State Journal wrote, "The State has sent no braver soldier, and no truer patriot to aid in tis mighty struggle for national unity, than Hans Christian Heg. The valorous blood of the old Vikings rain in his veins, united with the gentler virtues of a Christian and a gentleman."
False representation of the city?
City workers recovered the statues of Forward and Heg early June 24. Forward was missing a finger. One of Heg's bronze boots was torn away, and the head, which had been sheared off, has not been found.
The state intends to replace Heg's head, repair the statue and return it to the place it has stood since 1925 as early as next spring.
Protesters defended tearing down the Heg and Forward statues, claiming they are a "false representation of what this city is." The protesters who pulled down Heg claimed it was a "strategic political move" to force politicians in the state to take "the same stand with the Black Lives Matter movement."
Apparently, devotion and progress, public service, faith in democracy, equality and freedom — not to mention heroism — are false representations of Wisconsin's capital city. Replacing them with the socialism underpinning Black Lives Matter is a bizarre, rather than a strategic, political move.
A mindless and hypocritical act may help restore the reputation of Hans Christian Heg, whose statue people may have passed by for decades without knowing who he was. It certainly helped the public understand what the "revolution" is really all about.
Julie Grace is a policy analyst in the Badger Institute's Center for Oppourtunity. Permission to reprint is granted as long as the author and Badger Institute are properly cited.