Suggesting changes to fire department practices isn't an affront to heroes
My grandfather — James Fanning was his name — died of cancer too young the year after I was born so, though he knew me, I never knew him.
In my mind, he is the prematurely white-haired chief of the Worcester, Mass., Fire Department with a wry smile and sharp Irish wit. In the pictures, he is always in uniform.
So are all the firefighters we see in newspaper clips who've died on the job: heroes of Worcester in 1999, where six firemen were lost in the Cold Storage and Warehouse Co. fire; of New York, where we all know the tragedy and sacrifice of 9-11; of so many towns and cities across Wisconsin and the rest of America for centuries.
So it's a sensitive and sometimes controversial thing to point out that most firefighters on the vast majority of days are no longer firefighters — though they are trained to be. Thanks to building codes, sprinkler systems, smoke detectors and safer building materials, there are very, very few actual structure fires nowadays. Most firefighters have worked themselves out of a job.
Although, in so many places, they've created another one: They primarily respond to medical calls.
This doesn't happen everywhere.
"We don't do any EMS (emergency medical service) calls at all," says Steven Anderson, chief of the Peshtigo Fire Department. "We are strictly fire."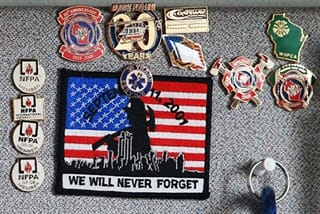 I called Peshtigo because when you've lived most of your life in Wisconsin and think of fire, you think of Peshtigo, where somewhere between 1,500 and 2,000 people lost their lives in the famous fire of 1871. The Peshtigo Fire, which occurred on the same day as the Great Chicago Fire, is still described as the "deadliest wildfire in American history." It wiped a dozen small communities in northern Wisconsin nearly off the face of the blackened earth.
But that's history. Today, the city of 3,500 does not have a single full-time firefighter. Peshtigo has over 40 well-trained volunteers who are paid very modest sums to respond to calls and attend meetings. Anderson jokes that he himself makes about 10 cents per hour — and I'm not sure it isn't close to fact.
Medical calls, he says, are handled by a separate, all-volunteer, completely unpaid Emergency Rescue Squad that has been around since the middle of the last century.
That ERS covers a lot more ground than just Peshtigo. ERS volunteers serve a 400-square-mile area that includes Marinette and nearby Menominee, Mich., according to Charles Gardon, who serves on the ERS Board of Directors. The ERS handles approximately 3,500 calls per year, everything from simple falls to cardiac arrests to strokes and the like. Most of the 40 to 45 ERS members are emergency medical technicians, and a few are paramedics — and, no, they don't charge anyone for anything.
Gardon concedes that it's "just incredible," but they survive on donations and fundraisers that, according to their IRS 990 form, usually amount to less than $100,000 per year.
Peshtigo and Marinette and Menominee are lucky. Most places aren't able to sustain an all-volunteer, unpaid ERS nowadays, and I suspect that in many places the government-paid services and departments would not readily allow volunteers to step in or keep jobs that fire departments and ambulance services want as their own.
Gardon says there is "not a conflict" with the Marinette or Menominee departments or the Bay Area Medical Center Paramedic Service. But he says that "many times there are three different entities responding to a call" in some areas.
"Our people," he says, "respond to all of them."
"Is there a little bit of duplication? Yes. But we can't help that. We are not going to dictate to the City of Marinette."
'Extra work'
Asked why the bigger departments need to respond to the same calls a trained volunteer service does, Gardon says, "Quite frankly, I think it gives them extra work to do when it is slow."
Jay Heckel, chief of the Marinette Fire Department, says there is a three-tiered response system in the area. The Bay Area paramedic service responds to Tier One calls that require a paramedic, the ERS responds to Tier Two calls and his department responds to more basic, lowest-tier calls.
The ERS responders can provide certain medications that the Fire Department responders cannot, according to the chief. Another difference, he says: The ERS responders live in their own homes. The Marinette Fire Department is full time.
"We are here 24/7, so we have a pretty good response time," says Heckel.
The Marinette department has responded to some medical calls for years but just started responding citywide in February. This expansion is new, so there is not a lot of data yet. But if a review shows there is no real advantage to running citywide, the department will revisit the issue, says Heckel.
That seems like a very good idea.
My grandfather might roll over in his premature grave, but I think one thing that might help when they do that review and determine if there is too much duplication would be to stop referring to the Marinette Fire Department as the Marinette Fire Department.
The department responds to less than one fire call per week, according to its 2017 annual report, and 20 of the 49 fire calls in 2017 were in response to cooking fires confined to a container, chimney fires confined to a chimney, trash or rubbish fires or vehicle fires.
The truth is we don't really have fire departments in most places in America any longer.
In 2017, even before the citywide expansion of medical call responses, the Marinette Fire Department responded to over five times as many rescue and medical service incidents as it did fires, in addition to lesser numbers of "hazardous condition" calls and false alarms.
The obvious question then becomes whether three medical response organizations are always necessary or used wisely and efficiently, or whether emotion and admiration of bygone heroics or the natural tendency of government to grow and preserve itself will eventually crowd out volunteerism and civil society.
That would be unfortunate.
Mike Nichols is president of the Badger Institute and editor of Diggings.
Related stories:
► Time to burn: So few fires to fight
► Government grows at expense of private sector
► Regional approach offers solution