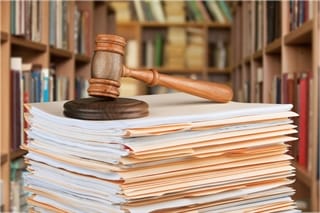 Pandemic made the problem of delayed justice worse in Wisconsin
There are as many as 20,000 more victims and defendants waiting for a resolution of their criminal cases in Wisconsin than there were before the COVID-19 pandemic.
According to recent data published by the Wisconsin Court System, it now takes more than eight months for the average felony case to be resolved. That is two months longer than it took to resolve similar cases in 2019 and more than three months longer than in 2010. Many misdemeanor and criminal traffic cases are taking longer to resolve than the average felony case did pre-pandemic.
Many county jails are still over capacity because of the number of people awaiting trial. Judges, prosecutors and defense attorneys have raised alarms that the backlog will affect the state's justice system for years to come.
The pandemic prompted court systems in states across the country to nearly halt their legal proceedings. Many courts held remote hearings for the first time.
The Wisconsin Supreme Court promptly issued orders extending filing deadlines, postponed all jury trials and ultimately suspended all in-person proceedings. The most vital proceedings—jury trials—were prohibited for months in counties across the state. Dane County did not convene a jury for more than a year.
In 2020, Wisconsin's circuit courts (the courts where every criminal case in the state begins) saw the number of criminal complaints filed drop by 9.6%, according to the data. Even with the lighter workload, the restrictions put in place on in-person proceedings prevented the court system from keeping up.
The number of cases it was able to resolve declined by more than 27%. This drastically increased the number of cases carried over into the next year and added to the state's backlog that had already been steadily increasing since 2011.
Falling further behind
Last year, courts across the state began lifting their in-person moratoriums and even began convening some jury trials. Courts were able to close 16,000 more cases than they did in 2020, but they still failed to dispose of as many cases as were filed by prosecutors even though those filings were still down from pre-pandemic levels.
Despite these signals that the court system might be returning to its pre-pandemic efficiency, the state still saw its total number of unresolved cases grow by more than 4,000. This growth rate in backlogged cases is substantially similar to the rate at which the system was falling behind in the years before 2020.
The pandemic did not create a new problem in Wisconsin's court system. It exacerbated a longstanding problem of delayed justice in Wisconsin.
Simply throwing slightly more money at the problem is unlikely to alter the system's current trajectory. Wisconsin's courts, prosecutors and public defense systems are admittedly underfunded, but all have been granted larger budgets over the past three fiscal years.
Wisconsin's leaders should look to Wisconsin's hardworking prosecutors, defense attorneys and judges for bottom-up solutions. Witnesses and defendants both deserve closure and the speedy trial promised by our Constitution.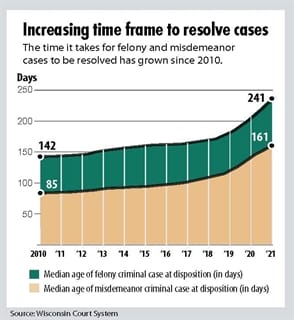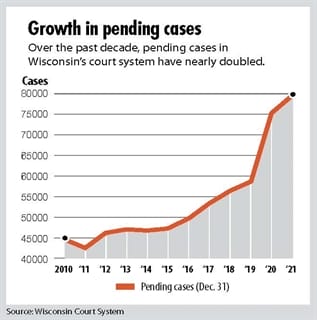 Jeremiah Mosteller is the senior policy analyst for criminal justice at Americans for Prosperity.