Federal dollars drove personal, small bankruptcies down, but Chapter 11s were flat and could spike
By at least one important measure, the pandemic was not the calamity for Wisconsin business that some predicted.
The short-lived shutdown order by the Wisconsin Department of Health Services and the statewide disruption of essential businesses for more than a year did not result in wholesale bankruptcy, a records review by the Badger Institute found.
Total bankruptcies were down 30%, from 16,545 in 2019 to 11,603 in 2020, according to data collected by the U.S. Bankruptcy Courts for the Eastern and Western Districts of Wisconsin.
Bankruptcies filed under Chapter 7, which allow individuals or owners of small businesses to have their debts paid through liquidation of their assets, were down 26%, from 11,615 in 2019 to 8,540 in 2020.
The Wisconsin numbers for small businesses and individuals are consistent with national data. Chapter 7 filings last year were down 22%, or more than 10,000 filings a month, The Wall Street Journal reported in late March.
Chapter 11 bankruptcies, strictly involving the reorganization of corporations, were up 29%, to more than 7,100, according to The Wall Street Journal article. But in Wisconsin, Chapter 11s were flat, 37 in both 2020 and 2019, according to combined data from the Eastern and Western Districts of the U.S. Bankruptcy Courts in Wisconsin.
There are several reasons for the unusually sharp drop in bankruptcies, but as The Wall Street Journal and state financial experts have pointed out, the biggest was a huge surge in federal stimulus last spring.
Federal PPP helped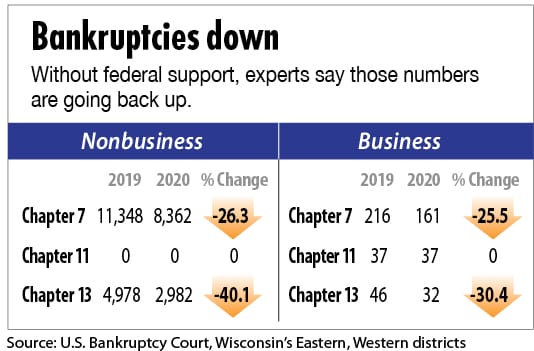 A critical part of the CARES Act, passed last April, was the Paycheck Protection Program (PPP), which provides low-interest loans to keep essential businesses operating and their employees working. The loans also kept thousands of businesses that were pinned down by COVID-19 from shuttering permanently.
"My hope is that the PPP has helped," says Jamie Miller, a Milwaukee-area bankruptcy attorney with Miller & Miller Law.
Michael Richman, a bankruptcy attorney with Steinhilber Swanson and adjunct professor of bankruptcy law at the University of WisconsinMadison Law School, agrees but also credits lenders for "forbearance and accommodation" during an economically chaotic time.
Bankruptcies are only one indicator of economic health for businesses beginning to emerge from government-mandated COVID-19 lockdowns, Miller says. Buffeted owners of small companies like LLCs and S-Corps have the option of dissolving their businesses without going to bankruptcy court, he says.
"There is just no doubt in my mind that PPP helped everybody. When somebody hands you a couple hundred thousand dollars and you're doing a fraction of the business you used to be doing, that helps," Dave Sobelman says.
Sobelman is well-known for his four namesake pub and grills in the Milwaukee area, as are their hamburgers and Bloody Marys. Even with the federal help, things were tough, with last year's Summerfest canceled and attendance restricted at Milwaukee Bucks and Milwaukee Brewers games.
"All the events got canceled," Sobelman says, "so all the excuses that people had to come to Milwaukee, they didn't have those anymore."
Jen Morrison closed one of the two Orange Leaf franchise frozen yogurt shops she owned in Waukesha County. When the pandemic began, her sales dropped by more than half. And even with a $22,000 PPP loan, she had to lay off five employees. Filing for bankruptcy on one store to help repay creditors, however, would have cost her the other store. While the decision wasn't an easy one, she doesn't regret it.
Businesses hanging on
It's too early to tell if restaurants are out of the woods, says Kristine Hillmer, president and CEO of the Wisconsin Restaurant Association (WRA), a nonprofit trade group that represents thousands of restaurants in the state.
"Bankruptcy is a lagging indicator that we won't fully be able to see right now. We should get a better picture in the next 12 months," she says. Also, there is little data on businesses that close without filing for bankruptcy, an impact that might never be fully revealed, she says.
Steve Kohlmann, executive director of the Independent Business Association of Wisconsin (IBAW), thinks that perhaps the mostly manufacturing or professional firms in his organization fared better than service businesses.
"Most of our members have survived the pandemic," Kohlmann says. "That's not to say they have done well."
Some of the professionals Richman has talked to think there might be a fourth-quarter spike in bankruptcies of businesses that needed to be restructured but were "held afloat through these Band-Aids," he says.
There's reason for optimism, though. For businesses that were healthy before COVID-19, such as Morrison's, a full-throttled vaccination program bodes well. "I think that it's going to be a good summer," Morrison says. "These two past weekends (in March) that we've had nice weather, I have just been absolutely slammed, which I can't be more grateful for. I'm hoping that's a glimpse into our summer."
Sobelman sees the same trend. "The last few weeks, I've seen more people, more dine-in business. Organically, I think all businesses, especially restaurants, are going to have a really good summer," he says.
Benjamin Garbedian is an intern with the Badger Institute. Permission to reprint is granted as long as the author and Badger Institute are properly cited.