For Margaret Farrow, longtime legislator and Wisconsin's first female lieutenant governor, the public always comes first
ON THE FRONTLINES
It was April 1972, and women across the country were heatedly debating issues such as whether to join the workforce or stay at home to raise their children.
In Elm Grove, Wisconsin, Margaret Farrow — the mother of five young sons — was running for Village Board.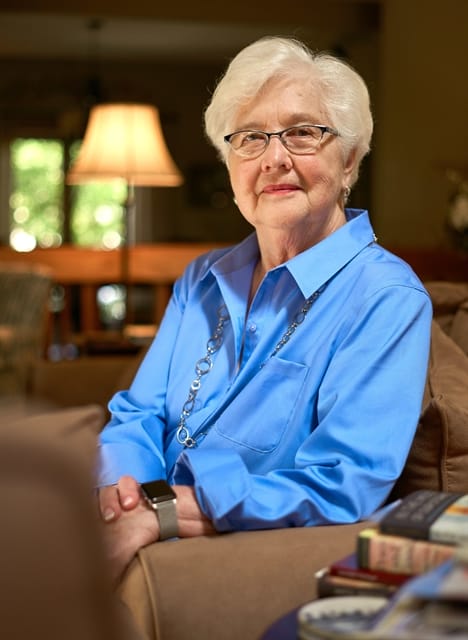 The former schoolteacher and Realtor had lost by just "a few votes" in her first attempt the year before. This time, she was determined yet philosophical, noting that even Abraham Lincoln had overcome early defeat.
But she lost again — now by nearly 140 votes. It had to be the nuns, Farrow thought. While the vote margin was tight in most wards, she did poorly in the ward where the School Sisters of Notre Dame convent is located.
Barely two months earlier, Farrow had given birth to her youngest son, Mark, and the convent had been one of her campaign stops.
"Nobody runs for office in Elm Grove without going to the convent and letting the nuns know who you are," she says. "It's too many votes to overlook."
Although Farrow never asked, she's convinced the nuns did not vote for her because they thought she should stay home with her children.
"I have to assume that was the reason," she says, adding that the nuns failed to see that her husband, John, was a full partner in caring for their sons and supported her pursuit of public office.
Public service begins
Shortly after that defeat, Farrow was surprised to be asked to join Elm Grove's Board of Appeals, which handles zoning requests. Trustees had noticed her attending board meetings for years but assumed she was there for a single, personal interest.
"That's what (they thought) housewives did — came out of their kitchens for one issue," she says.
Farrow served a three-year term and in 1975 joined the Plan Commission. Late that year, she was appointed to a vacant Village Board seat, knowing she'd have to run for election the next April.
This time, she won — making her the first woman elected to the Elm Grove Village Board, joining what she describes as a "good old boys' club," and launching her quarter-century political career.
Farrow became village president five years later and then was elected to multiple terms in the Wisconsin Assembly and Senate. In 2001, she was appointed Wisconsin's first female lieutenant governor.
"I never did what I did to be the first woman in something," Farrow says, adding that her motive was "to make a difference."
Early years in Wisconsin
Margaret A. Farrow, 84, was born and raised in Kenosha, where her family had moved from Chicago. Her grandparents were immigrants — maternal from Ireland and paternal from Germany.
Her parents instilled a strong work ethic in her and her older brother. Her mother learned stenography after finishing grade school and became a corporate executive assistant; her father also left school after the eighth grade and retired as a finance executive at Snap-On Tools.
After graduating from St. Catherine High School in Racine in 1952, Farrow majored in history at Rosary College in River Forest, Illinois. That interest in history was pivotal. "I am the product of a sixth-grade civics class that turned the lights on about government," she says.
When she transferred a year later to Marquette University in Milwaukee, she was drawn to a newly offered major in political science — even though she didn't know what that was at first. She ultimately earned a degree in political science and education.
"I would have liked to have gone to law school, but I like to say instead of going to law school, I went to the Legislature and wrote law," she says.
Marriage and family
Farrow met her husband while they attended Marquette. John, an engineer, was in the Navy, and the couple moved several times before settling in Elm Grove in 1967.
John eventually joined Marquette's engineering faculty and later Milwaukee School of Engineering, where he is a professor emeritus. The couple now lives in the City of Pewaukee.
They have five sons — whom she calls her best achievement — including a set of twins, all of whom live in Wisconsin.
John, the eldest, is an executive at GE Healthcare; Bill is an associate professor of mechanical engineering at MSOE; Peter, the older twin (by two minutes) is CEO of Group Health Cooperative of Eau Claire; Paul (the younger twin) is Waukesha County executive and a former state legislator; and Mark is a technology consultant at Chortek LLP, a business services advisor.
In her free time as well as career, Farrow's family — now expanded by spouses and 14 grandchildren — has always been paramount.
She passed on to her children her lifelong love of musky fishing, and the family raced sailboats on Lake Michigan for 25 years. Nowadays, she's busy making quilts for the grandchildren. "I fear I am falling behind," she says with a chuckle.
While son Peter ran all of her campaigns, Paul is the only family member thus far to follow her into politics, though one grandson might be toying with the idea.
Paul, who served in the Assembly and Senate for five years until his 2015 election as county executive, is rumored to be considering a run for governor or the U.S. Senate in 2022 but remains noncommittal.
He and his mother talked every night while he was in the Legislature, he recalls. "Paul and I have enjoyed sharing thoughts about what he has experienced," she says. "In a way, I wish I'd had that."
'Sewer Wars' set the stage
Farrow might well have wished for a confidant in one of her earliest challenges as an elected official, the so-called Sewer Wars that raged for a decade starting in the mid-1980s.
As village president, Farrow teamed with William Mielke, then Elm Grove's consulting engineer, to lead a coalition of eight suburbs in their dispute with the Milwaukee Metropolitan Sewerage District over how to pay for construction of the Deep Tunnel system and waste treatment.
Farrow was "tremendous at working across the aisle, which you don't see much of now," says Mielke, now CEO and chairman of Ruekert & Mielke Inc.
The Sewer Wars ended in 1996 with a $140 million settlement that likely pleased few, but one outcome was that then-Assembly Minority Leader Tommy G. Thompson took notice.
"She became a star in the state Assembly. We became close friends and still are. … I knew I could depend on her," the former governor says.
"When it comes to government … you can (just) be there or be a leader. There's not a finer public servant," he adds.
In 2001, when Gov. Thompson resigned to head the U.S. Department of Health and Human Services, Scott McCallum, his successor, appointed Farrow as lieutenant governor. That historic "first" role proved to be her last in public office.
McCallum and Farrow narrowly lost their bid for election in 2002 to Democrats Jim Doyle and Barbara Lawton.
While lieutenant governor, Farrow led two statewide commissions to advance reforms on reducing the cost of government as well as efforts to reform welfare and tax policy.
"It's the people I represent who are important. I always was conservative. I always knew I was spending other people's money," she says.
That commitment to the public began back in Elm Grove. "She never put political party above public policy. You don't see that much these days," says Ed Henschel, village administrator during Farrow's tenure.
Farrow laments the coarsening of politics. "Good public policy has taken a back seat to partisan politics. Constituents have to tell their representatives to change. … And we have to respect each other," she says.
Son follows mom's lead
Paul Farrow says both parents taught him the values of respect and fairness.
When he was considering his first run for the Assembly, he says, "I had a long conversation with my mom. The one thing she said was, 'I will never tell you what to do, but I will give you advice if you want it.' "
At his swearing-in, his mother was able to stand with him because she still had floor privileges. "There was a moment … it was just mom and I. I'm thinking how the heck am I going to do this?"
She looked at him intently. "We all start somewhere. Just be yourself," she told him.
Although Paul won't discuss future potential runs — and he teases his mother about having reached the Legislature faster than she did — he says he has always tried to follow her lead in career and in life.
"She's a mom first — she's always a mom … She never got caught up in the trappings. … She was the true ambassador of Wisconsin."
"I am proud of her."
Marilyn Krause, principal of Krause Communications, is a former reporter and editor for the Milwaukee Journal Sentinel.
COMMUNITY INVOLVEMENT
Margaret Farrow's public and community work includes:
League of Women Voters, Wisconsin Women's Council, University of Wisconsin Board of Regents, Milwaukee Public Museum, Milwaukee Symphony Orchestra, Sojourner Truth House, Junior Achievement, Elmbrook Memorial Hospital, Aerospace States Association, Glass Ceiling Commission, co-founder of Waukesha County Action Network (WCAN), chair of the Archdiocesan Priest Review Board and chair of the WisconsinEye Board.