Cutting cops unnecessarily to placate protesters will do nothing to help George Floyd or Jacob Blake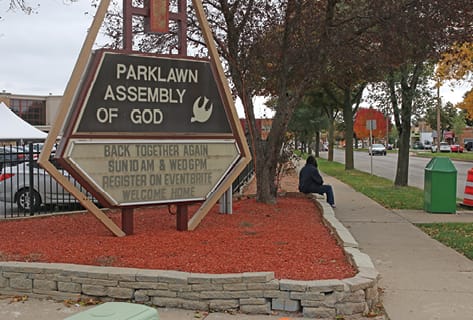 Milwaukee – Carl Henderson sits out on the front stoop of a Fond du Lac Avenue duplex he is busy renovating just up the street a bit from the Seventh District Police Station. It's late in the day. He's sipping a beer and watching the cars fly by on this residential street.
"Young guys," he says, "they have these cars; they don't care. I'm like, 'How are you doing 70 or 80 with the police station right there?'"
In between Carl's stoop and the police station is Parklawn Assembly of God. And in between all the good people in this neighborhood who want to get home or to church or to the second shift without being run over by those speeding cars or maybe shot, are the police.
There are folks at City Hall and lots of protesters who probably don't live anywhere around here who want to defund those officers. Milwaukee Mayor Tom Barrett has already proposed a budget that will cut another 120 cops he says Milwaukee can't afford.
That part about getting shot is no embellishment. Six people have died in shootings since May, all within half a mile of Parklawn. People are bleeding to death all the time around here. This is a slightly frayed but decent-enough neighborhood, where people like Carl renovate their cousin's duplex. But at night, it seems like a shooting gallery.
Murders have skyrocketed this summer. If things continue apace, there will be close to 200 homicides this year in Milwaukee, twice as many as recent years. In fairness, it's possible those killings have more to do with quarantines and job loss and substance abuse and the frustrations that boil over behind closed doors than a shortage of police.
"Shooting and all that, that's in-house stuff," says Carl. "Somebody catching somebody cheating."
Most people here have more commonplace concerns, like the jackasses flying past the childcare center. "I don't see police cars like I used to," says Carl. "As far as speeding and running red lights, yeah, that is bad."
Carl drives through much of Milwaukee to get to his home in Brown Deer. Traffic issues aren't confined to Fond du Lac Avenue, he says. I live downtown, a little south, and I know he is exactly right. It's anecdotal, but Milwaukee's police seem to have backed off further, and there just weren't enough officers on the streets to begin with.
You have to admit, Barrett has himself in a budgetary corner. When I covered City Hall for what was, many years ago, a pretty objective newspaper, former Mayor John Norquist could add cops and stress public safety because it was much less expensive for taxpayers to pay for the pensions of police and firefighters.
When Barrett was elected 16 years ago, the annual taxpayer contribution to the pension fund was zero. By 2010, it was almost $50 million. This year, it will be $70 million. By 2023, the mayor pointed out recently, it could be $160 million.
The calls for defunding police because officers are supposedly pervasively racist or brutal are crazy. But with the city locked into incredibly expensive fringe benefits packages negotiated with the unions over the years — defunded or not — there are going to be fewer cops.
Unless something changes.
Barrett wants more money from the politicians in Madison, or the ability to raise sales taxes to help pay pension and benefit costs. Those politicians in Madison have a right to want something too, like an outright admission from the city that Milwaukee would be much, much worse off if not for all the savings made possible by Act 10.
How about assigning someone in the city's budget office to calculate the potential savings over the coming decades of extending Act 10 and curbing the collective bargaining rights of police and firefighters?
We're in a bad place in America right now, and there are some police reforms worth pursuing. But cutting cops unnecessarily to placate protesters will do nothing to help George Floyd or Jacob Blake. All that will do is hurt a lot of people, and not just the people getting shot and killed or the families left behind without answers or charges.
"If [the cops] ain't doing anything now, just think what will happen when the snow falls and the streets are slippery," says Carl. "There will be more accidents, more casualties."
"It's gonna get worse."
Mike Nichols is the President of the Badger Institute. Permission to reprint is granted as long as the author and Badger Institute are properly cited.
Related story: Violent: a Matter of Definition