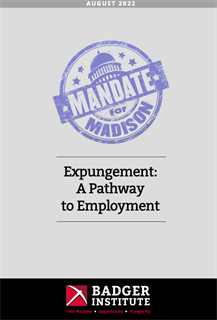 Wisconsin, like most states, allows individuals who have been convicted of a one-time, low-level offense to ask a judge to have the record of that conviction expunged once they've served their sentence and demonstrated they pose no risk to public safety. Lawmakers have long recognized that an isolated, nonviolent event shouldn't erect a lifetime of barriers to employment, education, housing or service.
The individual, the community and the economy all benefit when someone chooses employment over government dependency or criminal activity. A sealed record can increase the likelihood that the beneficiary will secure the dignity and other benefits associated with work.
Wisconsin, however, is an outlier in that it is the only state to require a judge to make this decision at the time of sentencing when there is scant information about the individual's desire to reform. A negative decision by the judge at this time means the individual can never again seek to have his record sealed, even if he goes on to live a spotless life.
Badger State residents overwhelmingly support reforming the timing of a judge's decision — even across party lines.
This report outlines concrete steps for policymakers to implement what Wisconsin residents so strongly support — expungement law that offers a more logical, equitable and effective path for low-level offenders to find work and companies to find employees.