In Burlington, as elsewhere, families wake up to a revolution being inflicted on children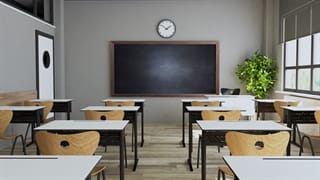 Adrianne Melby wasn't much interested in school board politics until she sent her sons to the public schools in Burlington and realized politics was very much interested in them.
"I kind of thought I knew what was going on with the school board, but I didn't," she said.
Now she's leading the Racine County chapter of Moms for Liberty. Her husband is running for the school board.
Parents like the Melbys are paying a great deal of attention to school elections next week across Wisconsin. Left-leaning news outlets profess horror at this.
"Republicans eye new front in education wars," panted Politico, the DC-insider website. "The gloves are off in school board elections," warned Wisconsin Examiner. While once "school board elections were sleepy affairs," now they're "politicized," the Examiner said. Boards that once passed raises for teachers now debate lessons in transgender ideology, an Oconomowoc man lamented in another Examiner story.
All this huffing treats the appearance of parents like the Melbys as an aggression upon Eden. Melby tells a different story.
She and her husband homeschooled, but when their oldest reached eighth grade, he wanted to be in school with friends from sports. The Melbys enrolled him in Burlington public schools.
It went well, Melby said, but "one of the things that really struck me was the lack of homework." Writing assignments were short. Grammar didn't matter.
When the COVID lockdown hit, the virtual experience of public school frustrated their two sons. Melby and her "old-style Democrat" sister-in-law began organizing with a group of Burlingtonians to urge leaders to rethink hardline isolation.
Then came September 2020, when Kenosha police shot a man who pulled a knife on them after being accused of harassing his ex. A Burlington teacher explained the ensuing protests and riots to her fourth-graders with a handout portraying America as seized by "systemic racism." The lesson presented the Marxist-adjacent Black Lives Matter organization as a benign movement for justice.
The clincher came when a friend's young daughter came home from school crying. When she had suggested in class that all lives, not just black ones, matter, Melby said, a teacher told the child she was wrong and her parents stupid.
Either Melby or her husband have attended or streamed every school board meeting since. "We'd make it our date night," she said.
The criticism of the schools kept growing the more the Melbys and a rising number of other Burlington parents dug.
There are books like "Dear Martin," a novel for high schoolers that stereotypes police as racist brutes that was read to younger children. Books by Ibram X. Kendi, who notoriously calls for racial discrimination as a remedy for past discrimination, are in the school library. Other books, Melby says, amount to instructions on sex. "I'm not for banning books," said Melby, "but how about being responsible about the books our kids have access to?"
There is the "equity audit" ordered by the state Department of Public Instruction and performed by ICS Equity. The consultancy is run by two retired education professors from the University of Wisconsin-Madison and UW-Milwaukee who authored a book titled "Leading for Social Justice."
As its name implies, ICS Equity favors "equity" over equality — treating children unfairly to produce identical outcomes rather than giving all an equal opportunity. It offers teacher training to purge schools of "inequities," so, of course, it found many. "Their idea is to bring the top down and bottom up," Melby said.
That's her view. One can dispute it. But one also can dispute what schools are teaching about the supposed sins of America. Indisputably, that topic is political, and political disagreement is to be expected.
And not just in Burlington.
The Eau Claire school district instructed its teachers that if children are afflicted with gender dysphoria — if a girl thinks she's a boy, for instance — faculty shouldn't tell parents, who "are not entitled to know their kids' identities. That knowledge must be earned."
The Elmbrook School District considered ICS Equity's customary "equity non-negotiables," which included "decentering whiteness" and hiring on the basis of race, before public pressure led the board to back off.
La Crosse helped sponsor a symposium on "white privilege."
Madison seventh graders are being peddled the nonsensical claptrap of the "1619 Project," which claims slavery is the ongoing central fact of American life.
In New Jersey, middle-schoolers got a video about using hormones to change sexes. In Iowa City, they're practicing "ethnomathematics." In Austin, they're boasting about two-thirds of a fourth-grade class "coming out" as "LGBTQIA+." On and on it goes.
So much of it amounts to overturning what parents know and believe and want for their children, and so much depends on not telling parents the seeds of such a revolution are being sown.
Parental pushback didn't inject politics into schools. Rather, parents are reacting to the discovery of explicitly political ideas long percolating in teacher training programs. Brazilian Marxist Paolo Freire is one of the most commonly assigned authors in those programs. He taught that students are oppressed when teachers convey knowledge about, say, math or literature. Education is, instead, teaching kids to overthrow things.
Not all teachers are on board the revolution, not by a long shot, but some are enthusiasts while others were simply taught four years of the social justice gospel. "It's definitely in the curriculum," Melby said.
The Melbys are back to homeschooling, but "our kids might not have the same opportunity," she said. What's a parent to do — let the rot in schools fester for the next generation? Buy peace by letting the revolution roll on?
"If we just sit back and do nothing now," she said, trailing off, then: "We need to be involved now so we can say we didn't just sit back and do nothing."
Patrick McIlheran is the Director of Policy at the Badger Institute. Permission to reprint is granted as long as the author and Badger Institute are properly cited.