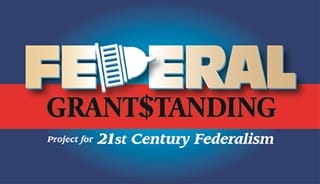 For interviews or Word versions of stories, contact WPRI President Mike Nichols (262-389-8239 or Mike@wpri.org)
or Project Editor Dan Benson (414-225-9940 or Dan@wpri.org). Links to stories are also available at www.wpri.org
Stories by veteran journalists available for use by all media
September 15, 2016 — The Wisconsin Policy Research Institute this week is launching its "Federal Grant$tanding" project, a multi-year investigation of the growth in federal grants used by D.C. politicians to curry favor with voters.
In addition to investigating misspending and lack of impact, the series will tell the real-world stories of how teachers, fair housing advocates, aldermen, city planners and others in Wisconsin make decisions based not on what they think is best for their schools or communities but on what federal overseers require them to do to receive federal grants. The project is funded by the Lynde and Harry Bradley Foundation and the Wisconsin Institute for Law and Liberty and is the result of a grant application that WPRI submitted after determining that no one is sufficiently scrutinizing the array of federal grants flowing into Wisconsin. Neither the Bradley Foundation nor WILL exercises any control over WPRI's editorial decisions.
This first package of Federal Grant$tanding stories focuses on the mismanagement and misuse of U.S. Department of Housing and Urban Development grants by Indian tribes across the United States. The findings in these stories are largely the result of an examination of nearly 180 federal audits of how Wisconsin government entities and other grant recipients spent federal grant funds.
HUD awards $660 million to 587 tribes each year to help low-income members find affordable housing. Allegations of misuse are common across the nation, and they point to a fundamental and systemic problem: As sovereign nations, the tribes are not subject to the same open government laws that other federal grant recipients are subject to. That means taxpayers and even tribal members are often kept in the dark as to how the dollars are used.
In Wisconsin, a 2015 audit of $2.3 million in federal housing grants to the St. Croix Chippewa that year found that more than $776,000 in back rent owed the northwestern Wisconsin tribe will probably never be collected and that the tribal Housing Authority's top officials were loaning themselves monies without proper oversight, the WPRI investigation reveals.
Further investigation by WPRI found that tribal officials with the Oneida tribe in northeastern Wisconsin and others around the nation have over the years misused HUD funds to pay for family trips, personal gifts and other perks — often without consequence.
Meanwhile, high poverty rates among Native Americans persist.
Stories are available from WPRI free-of-charge for media outlets interested in running them. Call or email WPRI President Mike Nichols (Mike@wpri.org or 262-389-8239) or Project Editor Dan Benson (Dan@wpri.org or 414-225-9940). Or links to stories are available online at www.wpri.org
The Federal Grant$tanding project in coming months will look at the use of federal grants to circumvent local control in education, the environment, transportation, housing, law enforcement and other areas and will document how the grants burden local and state offices with needless regulations that skew local policy and spending decisions.


Headin
g up the Federal Grant$tanding project are two veteran Wisconsin journalists: Dan Benson (left), editor of WPRI's Project for 21st Century Federalism, an award-winning reporter and editor formerly with the Milwaukee Sentinel, the Milwaukee Journal Sentinel and Gannett Wisconsin; and Dave Daley (right), a journalist for 30 years who covered the statehouse in Madison for The Milwaukee Journal and the Milwaukee Journal Sentinel. WPRI President Mike Nichols, another longtime Wisconsin journalist and writer, is overseeing their work.
About grants-in-aid
The Federal Grant$tanding project focuses on so-called grants-in-aid to local and state governments as well as, in the initial stories, Indian tribes. The grants-in-aid system has grown slowly since the mid-20th century but has exploded in recent years. It has grown from just $7 billion in 1960 prior to Lyndon Johnson's Great Society to an estimated $628 billion today — about one-sixth of the federal budget. Wisconsin alone now receives nearly one-third of all its revenues from Washington, D.C., in the form of grants. As a result, the state has forfeited control over vast areas of spending and policy in its schools, housing, transportation and other areas, and much of the bureaucracy in Madison is occupied with the administration of those federal funds.
The reliance on federal grants also lessens the accountability of politicians, who take credit for spending federal money on what are essentially local issues while relieving them of the responsibility of actually solving those problems. In the process, they subvert the authority and creativity of local leaders and taxpayers. Grants also increase state and local spending, since they often require matching funds and continued maintenance of those programs.
The Wisconsin Policy Research Institute, established in 1987, is a nonpartisan, not-for-profit think tank working to engage Wisconsinites in discussions and timely action on key public policy issues critical to the state's future.