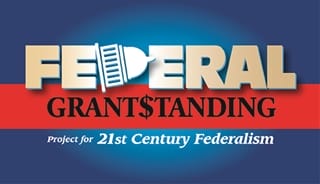 Congressman calls for HUD response to tribe's misuse of funds
detailed in WPRI 'Federal Grant$tanding' stories
Story available for use by all media as long as the authors and the insitute are properly cited.
October 7, 2016 — Wisconsin Congressman Sean Duffy of Wausau is asking the U.S. Department of Housing and Urban Development to respond to apparent misuses of federal funds by St. Croix Chippewa officials that were detailed in stories written by Wisconsin Policy Research Institute reporter Dave Daley.
In a letter to HUD Secretary Julian Castro, Duffy said he is "troubled by recent reports that millions of dollars in grants given by the Department of Housing and Urban Development (HUD) to tribes in Wisconsin may not be reaching those in need. … These findings raise serious questions about the use of federal taxpayer dollars."
The stories stem from an investigation of 2014 and 2015 audits, which showed that millions in federal housing grants to the St. Croix Chippewa in northwestern Wisconsin had been misspent, including more than $776,000 in back rent owed that probably will never be collected, and that the tribal Housing Authority's top officials were loaning themselves monies without proper oversight. These apparent abuses had occurred over a period of years during which officials made their decisions on how to spend federal dollars in secret from taxpayers and tribal members and without any apparent follow-up by HUD.
Further investigation by WPRI found that officials with the Oneida tribe in northeastern Wisconsin and others around the nation have over the years misused HUD funds to pay for family trips, personal gifts and other perks — often without consequence.
The stories are part of WPRI's "Federal Grant$tanding" project, a multi-year independent investigation of the growth in federal grants used by D.C. politicians to curry favor with voters, weaken local control and lessen government transparency.
A follow-up story by Daley on Duffy's letter, and the stories that preceded them, are available from WPRI free of charge for media outlets interested in running them.
Links to stories are available online at www.wpri.org
Benson is a former reporter and editor with the Milwaukee Sentinel, the Milwaukee Journal Sentinel and Gannett Wisconsin. Daley covered the statehouse in Madison and federal courts for The Milwaukee Journal and the Milwaukee Journal Sentinel. WPRI President Mike Nichols, another longtime Wisconsin journalist and writer, is overseeing their work.
About grants-in-aid
The Federal Grant$tanding project focuses on so-called grants-in-aid to local and state governments as well as, in the initial stories, Indian tribes. The grants-in-aid system has grown slowly since the mid-20th century but has exploded in recent years. It has grown from just $7 billion in 1960 prior to Lyndon Johnson's Great Society to an estimated $628 billion today — about one-sixth of the federal budget. Wisconsin alone now receives nearly one-third of all its revenues from Washington, D.C., in the form of grants.
The Wisconsin Policy Research Institute, established in 1987, is a nonpartisan, not-for-profit think tank working to engage Wisconsinites in discussions and timely action on key public policy issues critical to the state's future.