Child and others in audience subjected to online masturbation
A discussion on Black conservativism that took place on the UW-Madison campus and was broadcast live on Zoom Saturday was interrupted by what appeared to be a coordinated protest when someone hacked into the online portion, insulted speakers with vulgar language and was joined by a handful of others who exposed themselves onscreen nude or masturbating.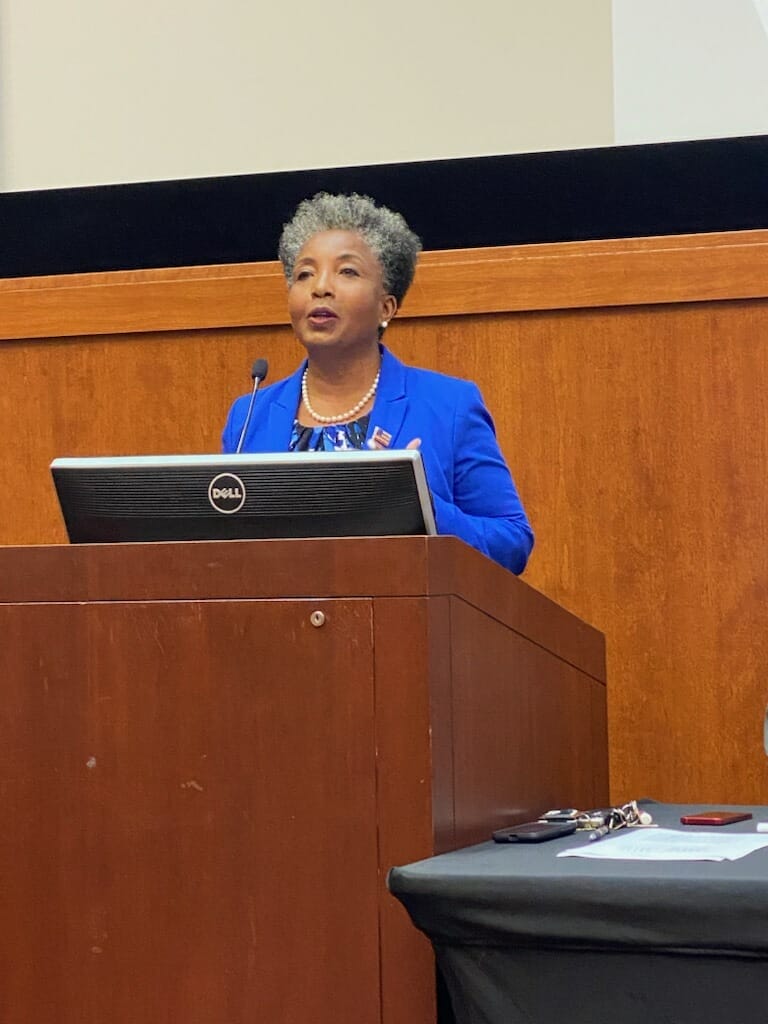 They did not show their faces.
I was attending the on-campus discussion of "Black Conservatism: The Past, Present, and Future" when the incident occurred. Hosted by the Center for the Study of Liberal Democracy, both the live and online portions of the event were projected onto a large screen behind the panel in an auditorium in the Fluno Center. Attendees, including an eight-year-old girl, were subjected to the language and images.
Some attendees responded in horror while others laughed derisively.
Five prominent Black conservatives participated in the discussion: author and political scientist Dr. Carol Swain; Associate Professor of Political Science at Kentucky State University, Dr. Wilfred Reilly; Diante Johnson, founder and president of the Black Conservative Federation; and Kali Fontanilla, founder of Exodus Institute, were present while Robert Woodson, founder and CEO of the Washington, DC- based Woodson Center, participated by Zoom.
The attacks began during the question-and-answer period that followed following the speakers' presentations. When someone online began to speak over one of the panelists, moderator Ryan Owens asked everyone participating on Zoom to mute their microphones. The interrupter responded by saying, "Shut the f*ck up, you fa**ot" and repeating other vulgarities.
While students helping out with the program hurriedly worked to cut off the sound, close-up images of genitals and people masturbating appeared on the screen.
Owens, professor of political science in the UW Law School and interim director of the Center, called the stunt "cowardly, disrespectful and stupid."
"We brought together some of the foremost black conservatives in the country to discuss the past, present, and future of black conservatism," said Owens. "The speakers were fantastic. And the event went well until people hacked into the Zoom feed.
"They disagreed with our speakers, and they sought to shut them down," he added. "One person spoke reprehensible things over the audio feed before we shut it down; at the same time, others used the chat feature to write horrible things."
Though the Zoom portion of the event was shut down, the in-person panel discussion continued.
"I think the left is so well coordinated and so they decided they are not going to protest us here (on campus) or risk themselves," Swain told the audience as the protest was taking place. "They get online and hide and they do these things. That's where we are as a society. Whoever highjacked this program … they think they've done something great. They're so ignorant."
Woodson saw the interruption as a sign that conservative ideas are winning and that opponents are devoid of worthy ideas and compelling arguments.
They used "vile, pornographic images in order to sabotage the discussion," said the long-time civil rights activist. "It was almost childlike. But it shows you how desperate they are that they will not engage in thoughtful debate on the issues. So, they have to engage in disruption."
Woodson said that recent revelations that the Center for Anti-Racist Research at Boston University is laying off employees and has produced minimal scholarship despite raising $55 million is emblematic of the emptiness of progressive ideas, particularly on race.
"That's a testament to white guilt. White, progressive elites are seeking absolution, and they'll do it at any cost," he told me. "They'll fund a grievance industry and also support people who sabotage those who challenge this racial narrative. That's what you saw on display at this conference."
Owens suggested a better way to foster healthy dialogue and debate.
"When some people disagree with other people's points of view, they seek to shut down their speech," he said. "We need to cultivate a culture of free speech and an ability to be civil to each other.
"This kind of intolerance — and that's exactly what it was — must stop. I hope all good people will join in condemning this kind of garbage."
Michael Jahr is former vice president at the Badger Institute and current CEO of Jahr Productions.
Submit a comment
"*" indicates required fields