The bare-knuckle, politicized State Supreme Court race that just shattered national spending records and obliterated traditional judicial norms has raised anew the question of whether justices should be elected the same way as partisan Republicans and Democrats. Alternatives in use in other states include appointments and independent commissions.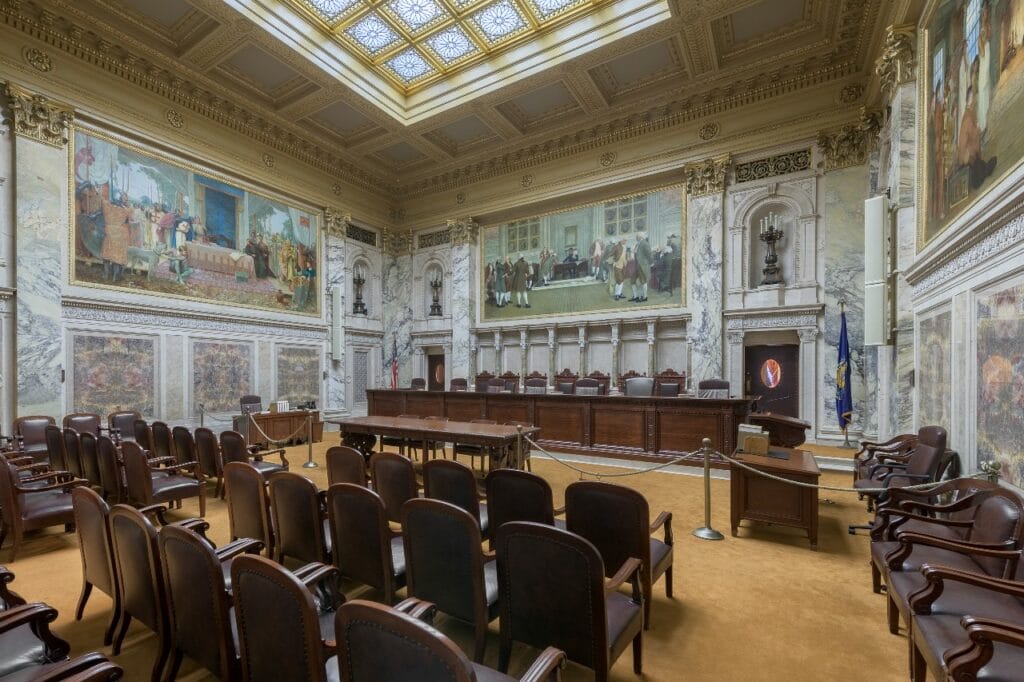 "Let the governor pick the judges, and you can have the confirmation process in the legislature," said Brian Fitzpatrick, a Vanderbilt Law School professor who has studied the partisan leanings of state judges, while discussing the options before the election. "This does a good job of reflecting the preferences of the public over time without all of the negative atmospherics that we get with elections."
Others are wary.
Former Justice Dan Kelly, who lost the recent Supreme Court race to progressive Milwaukee County Judge Janet Protasiewicz, told the Badger Institute prior to the election to be careful about changing systems.
"The wise man once said that there are no solutions, only trade-offs," he said. "So if we went from an elected judiciary to a different system, we would just be making different trade-offs."
Rick Esenberg, head of the Wisconsin Institute for Law and Liberty, said Wisconsin voters are unlikely to support any measure that would take away one of their prized votes. In 2018, the Legislature sent to the voters a constitutional amendment to eliminate the elected position of state treasurer, he pointed out. Nearly 62% of the electorate voted against it.
"And who cares who the state treasurer is?" Esenberg said. "Yet people wouldn't even go for that."
The alternative, though — keeping elections that have become overtly political — risks undermining faith in the court.
Everett Mitchell — the Dane County judge who finished a distant fourth in the February primary — predicted before the election that judicial campaigns would become more costly without necessarily changing anyone's mind.
"Whether Janet or Dan comes through, there's going to be another 49% of the population who would just believe that it's illegitimate," Mitchell told the Badger Institute.
"Back in 2003, you could run a supreme-court race for $37,000. Now the new price tag is going to be, what, $30 million?" he said. "And for people to really believe that the courts have been bought, that those votes have been bought, that those decisions have been bought, really makes the court just feel like another part of the political, partisan process. So, they will see it no differently than a senate race or governor's race."
The contrast from the old ways was on vivid display throughout the election.
There was widespread recognition that Protasiewicz was openly signaling during the campaign how she would vote on abortion cases — a development that risks turning the judiciary into just another legislative body where personal opinion trumps legal analysis.
As the Associated Press put it, "Protasiewicz leaned into the high stakes during her campaign, announcing in ads that she supports abortion rights. It was an unusual tactic for a judicial candidate to openly announce a position on an issue, but it resonated with voters."
Daniel Kelly, the former state Supreme Court justice who lost by a 55%-45% margin unloaded on Protasiewicz, calling her a "serial liar" who ran a "dishonorable and despicable" campaign.
"I wish in a circumstance like this I would be able to concede to a worthy opponent. But I do not have a worthy opponent to which I can concede," Kelly told his supporters that night. "She's demeaned the judiciary with her behavior. This is the future we have to look forward to in Wisconsin."
Not only in Wisconsin but nationwide, judicial elections have become more partisan, shrill, and expensive.
The progressive Brennan Center for Justice estimated the 2019-20 state supreme court election cycle was the most expensive in American history at $114 million, but the spending had been climbing for a decade.
Candidates and allied groups in Wisconsin spent at least $42 million, with Protasiewicz and her backers outspending Kelly and his by $23.3 million to $17.6 million, according to the Associated Press.
Voters responded with a record turnout of 1.7 million — more than 36% of the state's eligible voters — for a spring election not in a presidential election year, according to the Wisconsin Elections Commission. The previous record of 1.6 million or 34% of eligible voters was set in the 2011 state Supreme Court race that was largely considered a referendum on the policies of Gov. Scott Walker.
In the state's two most populous counties, both Democratic strongholds, Protasiewicz took 81.9% of the vote in Dane County and 73% in Milwaukee County, according to Elections Commission tallies.
The 2023 spending surge occurred for the most part because state and national Democratic political leaders recognized an opportunity to shift the balance of power hard left on the state Supreme Court. For the first time since 2008, Democrats will control two of the three branches of state government.
With the U.S. Supreme Court's overturning of Roe v. Wade, state Attorney General Josh Kaul, a Democrat, has asked the state courts to overturn an 1849 Wisconsin statute banning abortion except to save the life of the mother. 
Protasiewicz made much during her campaign of the state's district voting maps, which she accused Republicans of "gerrymandering." A liberal court majority — Ann Walsh Bradley, Rebecca Dallet and Jill Karofsky were at one time arm-in-arm at Protasiewicz' victory party — could very well call for a review of those maps.
And after a decade, Act 10, the law limiting collective bargaining for public employees, might come back for review, said Esenberg.
The governor's veto powers, religious-freedom protections, and a variety of tort and criminal-law issues could return for debate and new rulings. "Almost anything can be reexamined," he said. "We've talked about redistricting, we've talked about abortion, but we've also talked about the constitutionality of school choice."
In an interview with the Badger Institute before the election, Protasiewicz defended her approach to campaigning and blamed her opponent, Kelly, for the fevered partisanship. "This isn't a race between two partisans," she said at the time, "it's a race between right-wing extremism on his part and bringing fairness and impartiality back to the court on my part. I expected this to be a tough race, but I did not expect my opponent and his allies to embrace outright lies."
The conservative Kelly, who was appointed to fill a vacancy on the high court in 2016 but lost his election for a full term in 2020, told the Badger Institute before the election, "I think the acrimony really begins with the negativity and the partisanship and the politicization and the lying that characterizes my opponent's campaign."
Why have judicial elections become so rancorous and politicized?
"I'm always reminded," Esenberg said, "of Justice Scalia's comment that nobody was very much interested in us when they thought we were just doing lawyer's work. But to the extent that major policy questions get shunted to the court — and it seems like they increasingly do — people are going to want to be heard on that."
Fitzpatrick, for his part, noted the public's growing awareness that U.S. Supreme Court justices' ideology can make a big difference in how they rule. "I think that knowledge is filtering down to state courts," he said.
Partisan gridlock in the elected branches is another reason for the heightened importance of the courts. "When legislatures and executives aren't able to agree," Mitchell said, "it puts the Supreme Court in a very political space.
As recently as 2000, voters in Dane County gave majorities to Democrat Al Gore for president and Diane Sykes, a conservative candidate for state Supreme Court.
But in 2008 big money helped conservative Justice Michael Gableman oust Louis Butler, who had originally been appointed to the court by Democratic Gov. Jim Doyle, in a nasty and very tight election.
The election of Scott Walker and the subsequent election of David Prosser to the state Supreme Court cemented the pattern of partisan voting in judicial elections and other state and national elections.
In the 2020 race, when Kelly lost his previous seat to Jill Karofsky, the Wisconsin Democracy Campaign noted a "record-shattering" $10 million spent.
Charles Franklin, the director of the Marquette University Law School Poll, told the New York Times he expected that pattern to continue. "If Protasiewicz wins," Franklin said before the election, "it will demonstrate that campaigning openly on policy values can connect with voters in judicial elections," he said.
Short of an amendment to the state constitution to change the process of selecting justices, the prospects of reform are limited.
Campaign-finance-reform advocates have suggested tweaks to the Wisconsin laws that allow individuals to make unlimited financial contributions to political parties, which in turn can transfer unlimited money to candidates. But while it's possible to restrict the money that flows directly to candidates, Citizens United affirmed the right of independent groups to spend money voicing their opinions about elections. In this race, the candidates themselves spent about $14 million to special interest groups' roughly $27 million.
Stricter rules for campaign conduct might run afoul of Republican Party of Minnesota v. White, a U.S. Supreme Court decision upholding the right of judicial candidates to share their views about controversial matters.
Protasiewicz has endorsed justices recusing themselves from cases involving their large donors. There are no recusal rules for those judges with particularly strong opinions. 
Mitchell told the Badger Institute he supports requiring supreme court candidates to participate in more and more varied debates to help level the playing field.
"There were only two debates," he noted. "How do you really have voters become informed about the issues, when there are only two opportunities for them to peer into the ideological minds of those who will represent them?"
Changing the way justices are selected in Wisconsin would require a constitutional amendment. Voters in Wisconsin have amended the state constitution 146 times in state history, but as the Badger Institute reported last year, the process requires approvals by two consecutive legislative majorities before it can be put to a statewide vote.
It would be a long process that, as Esenberg points out, could well end in a reaffirmation of the status quo. But to do nothing would invite the continued escalation of political partisanship.
Governors in 26 states (and in Washington, D.C.) appoint state Supreme Court justices, some of them directly, but more often from candidates selected by an independent nominating commission. In some states, the nomination lists are binding, in other states they are not.
In only two states — South Carolina and Virginia — are state Supreme Court justices chosen by vote of the state legislature. 
Robert VerBruggen is a fellow at the Manhattan Institute. He lives in Hobart, WI.