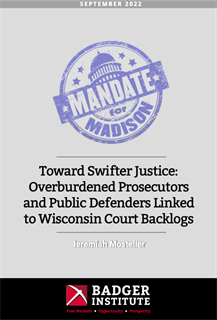 Wisconsin's court system is plagued by massive delays and a growing backlog of criminal cases. It now takes more than a year for a court to resolve an armed robbery charge, 14 months to resolve a sexual assault case and more than 15 months to resolve an allegation that someone committed a murder.
Victims are often waiting a year or even longer for justice, and some high-profile defendants have been inappropriately released to commit more crimes in a system where justice is rarely swift. Others are being denied for too long the constitutional guarantees to a quality, state-funded defense meant to ensure that the innocent are not unjustly incarcerated.
There are many facets to the criminal justice system ranging from cops dealing with crime on the streets to judges who decide on punishment. Here, we ask policy analyst Jeremiah Mosteller to look strictly at prosecutors who frequently have been the subject of intense criticism in some high-profile cases as well as state-funded defense attorneys who appear stretched too thin.
Wisconsin cannot flourish without an efficient and fair criminal justice system. Fortunately, Mosteller tells us, there are important initial steps we can take to begin to address the crisis.