Short-staffed, EMS leaders say local control is key
Increasingly short-handed emergency medical personnel were unable to respond to 10 different 911 calls in Wisconsin over a recent 12-month period, according to the state's Emergency Medical Services directors.
Fire and EMS officials say that's just the tip of the iceberg.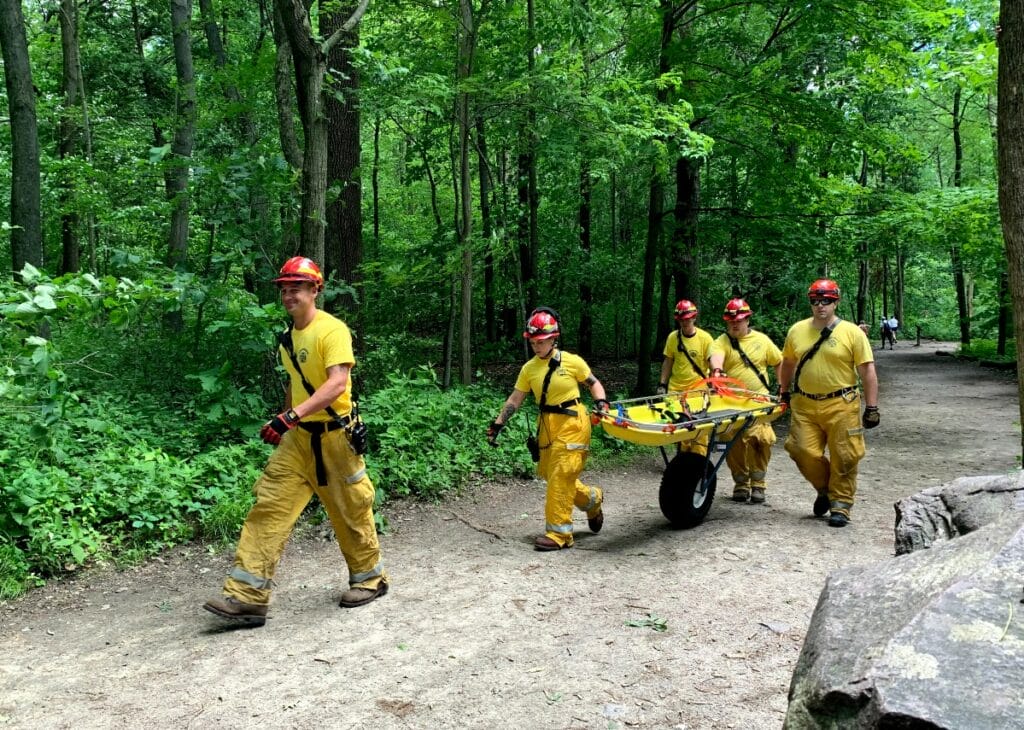 More than four in 10 of the more than 200 directors who responded to a survey by the state Office of Rural Health reported one or more days in the past 12 months when a fully-staffed ambulance crew — full staffing, by law, is seven full-time people in typical 24-hour shifts — couldn't be mustered. More than six in 10 directors of volunteer departments reported gaps in the availability of their ambulances because of staff shortages.
The survey is causing a stir, according to its author, James Small. But the facts are nothing new to those who've lived with them day-to-day.
Volunteers are still the backbone of emergency response in this state and many communities have struggled for years to find enough of them.
Of the state's 821 fire departments, 644 are primarily volunteer and another 125 rely on some volunteers, according to the most recent state Department of Safety and Professional Services figures.
Those 125 combination departments are relying by necessity on full-time, part-time and paid-on-call staff. There are just 41 departments made up entirely of full- and part-time career firefighters and Emergency Medical Technicians. The labor shortage and the pressure it puts on the mostly rural towns and villages to hire professional staff is growing. That will take money.
There was much bipartisan celebrating in Madison earlier this summer with the signing of Act 12, the bill promising to return nearly $275 million more to counties and municipalities in the coming year.
Those who lobbied for increased return of revenue made public safety needs the primary focus of their work. But in the station houses of fire and Emergency Medical Services departments all over Wisconsin, word of the revenue windfall was met with skepticism.
Towns, villages, cities and counties have discretion to spend the money in a dozen ways other than on firefighting and EMS. Fire and EMS officials say they have no idea what percentage of their communities' shared revenue they will get. And even if they were to get all of it, the sums would not begin to address the volunteer issue.
The skepticism also reflects a deep-seated conviction among the people who respond to a pulseless non-breather, or a multi-alarm fire that the varied problems in each of these volunteer departments cannot be solved by the state, Small says.
"Wisconsin is great at local control," says Small, longtime firefighter, EMS Outreach Program Manager in the state Office of Rural Health and new member of the governor's EMT Board.
"You have to find out what's working for them at the local level. It can't be the big state imposing an idea on them. No one wants to see the state spending hundreds of millions of dollars for the same dysfunction."
The last thing the system needs, according to many of the more than 20 fire and EMT chiefs, agency officials, elected leaders and emergency response experts, is any additional state intervention.
The staffing concerns revealed in the survey were reflected in the experiences of nine emergency response leaders who spoke to the Badger Institute at the Wausau Fire Department at the invitation of Chief Robert Barteck.
They are a small number of a cadre of almost all volunteers providing service to the people in the 1,584 square miles of Marathon County, geographically the largest county in the state, and also assisting departments in eight adjoining, rural counties.
Wausau is a modern department befitting a small city, with an annual budget of roughly $9.6 million, and a career staff of 74, including 12 positions added last year. The department responded to a record of nearly 6,700 calls last year in 31 towns, villages and cities in addition to Wausau.
More than 6,300 of those calls were EMS responses for medical transport, traffic accidents, public assistance, hazardous materials aid and others. Of that total, only 96 or 1.4% were fire calls. That number jumps to 319, 4.8%, if you count all fire alarm responses.
On a tour of the main station, Barteck showed off a new $445,000 ambulance, about $150,000 more than the entire annual budget for the all-volunteer Village of Edgar Fire Department 16 miles to the west. The cost of that ambulance, he says, has jumped by at least $200,000 since the outbreak of COVID-19.
Barteck grew up in a house equipped with a fire phone for his father, the assistant chief of the all-volunteer Owen Fire Department. Barteck used his extensive experience as a volunteer to transition into professional fire and EMS but he and his staff still work every day with volunteers.
Firefighters and EMTs in these mostly rural volunteer departments are fond of reminding the public that no other public service profession has been built on a volunteer basis.
Traditionally, volunteers not only made up the departments, but they provided a pool for urban departments that is gradually drying up, Barteck says.
"The small rural counties are going to have to collaboratively find a way to solve their staffing challenges," Barteck says. "Whether it's hiring more full or part-time positions to fill the gap, it can't come at the expense of the volunteers. I'm here to tell you, they are going to need all of those responders."
Finding those volunteers is getting tougher. A world requiring both adults in a household to work, and one that places a higher premium on leisure time with family, is making it tough for men and women to find time, according to the volunteers at Barteck's roundtable discussion.
It can take as much as 300 hours for someone to complete EMT training at one of the centers around the state, but the hours vary wildly. In contrast with the Department of Justice standard for law enforcement, there is no state hours or curriculum standard, although training officials have been discussing it for several years, Small says.
There has also been discussion of reducing training hours to attract new volunteers but that has also not gotten far, he says.
State Rep. Tony Kurtz, R-Wonewoc, is a staunch supporter of local control for volunteer departments. But "while there should be some discretion for highlighting local challenges, the basic standards for levels of licensure should be the same statewide," he says.
There is no consensus among Barteck's roundtable group about training other than acknowledging that the greater the investment in time, the less likely someone these days will volunteer.
Dave Wagener, chief of the Edgar Department, has 48 volunteers on his roster, but mostly works 35 firefighters and EMTs in the regular rotation. An ambulance crew of two EMTs and a driver make $50 each or an average of about $25 an hour for a transport. They receive no pay for being on call during the week and $3 an hour on the weekends.
"Edgar Fire could use 10 new Fire Fighters and 10 new EMS (positions) as the age of our group is not getting any younger," Wagener says. "But people don't look at it the way they used to. Both parents need to work and some companies aren't good about volunteers. People have so much going on. Just a lot of challenges."
When the Legislative Fiscal Bureau published a breakdown of shared revenue apportionment, Wagener learned the Village of Edgar would be getting an extra $65,305. But his department serves six towns and another village, each of which will have to decide what its contribution to emergency response ought to be.
Wagener says he honestly doesn't know what that total will be.
"I would say the destiny of Edgar Fire falls upon its members," Wagener says.
The nine towns and villages served by the South Area Fire and Emergency Response District (SAFER), including the Village and Town of Weston, will be receiving a total of more than $870,000.
The SAFER department last year responded to 3,746 calls, 329 or 8.8% of them fire calls, although the vast majority were for fire alarms only, according to department data.
Eric Lang, deputy chief of SAFER, says his department is asking for a staffing increase, but no fixed part of that total.
Lang says, however, town and village leaders might choose not to commit money for new staff because future shared revenue is tied to the amount of sales tax collected and would be vulnerable in an economic downturn in the state.
The better bet, he says, is the communities will opt to spend their shared revenue on roads.
"Yeah, roads help get people elected," Robert Bowen, chief of the all-volunteer Riverside Fire District, says. The Village of Rothschild and the City of Schofield served by the district are getting more than $220,000 combined. "I think they'll tell us we've been getting along fine."
This is a common theme among these volunteers, that their departments are not well served by the politicians at the state and local levels. "Politicians take advantage of our sense of community," Lang says. "They know we do this because we just want to help people."
Joe Pulvermacher, president of the Wisconsin State Fire Chiefs Association, gives the volunteer system 20 to 30 years tops and he takes no pleasure in saying it. Like so many in the field, Pulvermacher started as a volunteer.
He is also the fire chief in fast-growing Fitchburg, south of Madison. Seventy percent of his staff is paid on call and 30% are career fire/EMTs.
"I'd like to flip that," he says.
"I think we all need to reconsider our number of career firefighters. Not immediately. We need to value the work that is currently being done while adjusting to a changing workforce. Call it having a Plan B."
Having first encountered the issue as chair of the state Senate's Committee on Housing Rural Issues and Forestry, Sen. Romaine Quinn, R-Cameron, says that early in the debate over how to distribute shared revenue funding, fire and EMT advocates lobbied to have a separate allocation earmarked for the departments.
"At the same time, we heard from townships and their need for infrastructure funding," Quinn says. "There is always going to be that tension."
Mike Koles, executive director of the Wisconsin Towns Association, acknowledged there was no political appetite to create separate funding for fire and EMT services. Like Quinn, Koles has confidence that local officials will do right by their emergency service providers.
Koles was disappointed in the reaction of representatives of some cities, who complained their percentage increases in shared revenue were much smaller than towns and villages. The state's top advocate for towns says those increases were a way for towns to catch up.
"Twenty-eight percent of the population of the state lives in towns, almost all of them served by volunteer departments," Koles says. With the increase, towns went from getting about 5% to about 10% of the shared revenue. We were so far behind."
Among the recommendations made at the end of his survey report, Small said the state should consider implementing "sustainable recurring funding sources for municipalities to fund EMS." How that implementation would occur and where sustainable recurring funding would come from isn't clear from the recommendation.
In addition to the shared revenue boost, the Legislature in this past session increased the annual budget for the EMS Funding Assistance Program from $ $2.2 million to $25 million.
The Legislature, beginning in 2021, created the Ground Emergency Medical Transport program to supplement the amount of money Medicaid reimburses EMS services for transport costs. In 2022, for example, the Wausau Fire Department billed Medicaid for $5.1 million in ambulance transport fees and was reimbursed $1.8 million. No department in the state breaks even transporting Medicaid clients.
"We're running a charity," Barteck says. "And that deficit goes right back into our budget."
"I don't think any of these funding streams are the silver bullet that fixes EMS," Kurtz says. "When we started reimbursing for EMS services, it was a transportation service that either took you to the hospital or to the morgue. Unfortunately, until recently, we haven't really changed the way we pay for or think about EMS."
Small, however, considers himself a fiscal conservative who is loath to dedicate anything sustainable and recurring to fire and EMT services with unique problems the state knows almost nothing about.
Having discovered a piece of the puzzle, Small said he thinks departments need to solve one problem first. There are enough ambulances. Departments are going to have to figure out how to staff them so that no ambulance calls are dropped.
"If you don't staff your first call," he says, "you can't worry about a second call or any other calls."
Mark Lisheron is the Managing Editor of the Badger Institute. Permission to reprint is granted as long as the author and Badger Institute are properly cited.
Submit a comment
"*" indicates required fields