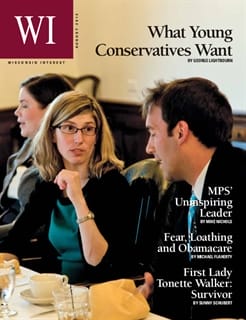 The singular leadership of George Lightbourn
The term "public servant" has been used too generically to retain much of its original significance. But it is impossible to describe George Lightbourn without invoking the concept in its fullest original sense. During both his years in state government and his second career as president of the Wisconsin Policy Research Institute, George has combined service and leadership.
In particular, he has been instrumental in the resurrection of this magazine, transforming it from a staid (and usually unread) journal into what you have in your hand now. George brought to his duties not only a vast reservoir of knowledge, but also a finely honed, wry humor and preternatural calm amid the storms that have buffeted our state over the past few years. I have been privileged to work with George and have frequently benefited from his counsel.
George retired from WPRI at the end of June but continues to share that counsel. Our cover story this month is an account of a provocative dinner conversation that George and I had with a group of young conservatives, who candidly expressed their uneasiness with aspects of conservatism and the failure of the Republican Party to connect with younger, more moderate voters. The edited transcript fairly captures the back and forth and, while not all of our readers will share their views, those views are a valuable starting point for further debate.
George has been succeeded as WPRI president by senior fellow Mike Nichols. Mike contributes an incisive critique of the failures of Superintendent Gregory Thornton as leader of the Milwaukee Public Schools.
— Charles J. Sykes
When the governor rebalanced state operations, his wife and sons felt the angry backlash
by Sunny Schubert
Liberals and conservatives see starkly different worlds through it
by Rick Esenberg
Superintendent Thornton fails to inspire innovation and openness, three former administrators say in candid interviews
by Mike Nichols
Rebecca Kleefisch is a stone's throw away from higher office
by Christian Schneider
Stumbling on a long-ago photo, I saw an America that no longer exists
by Warren Kozak
By Michael Flaherty
They have a frank and challenging message for GOP leadership
by George Lightbourn