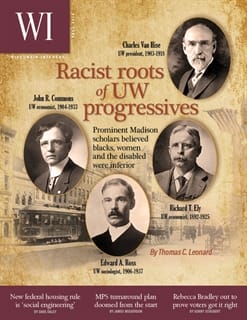 A forgotten part of Wisconsin's past
We often seem to be living in an age of cultural and political amnesia, in which we both ignore the past or try to whitewash its rougher edges to fit our own prejudices. Our cover story in this edition of Wisconsin Interest seeks to restore a forgotten, but quite extraordinary, part of that history.
The University of Wisconsin prides itself on its progressive roots and traditions. But as Thomas C. Leonard writes, there is also a darker side to that past — scholars who trafficked in virulent racism, flirted with eugenics and openly advocated for denial of basic human rights to blacks, women and the disabled. Their decidedly regressive beliefs do not, of course, discredit the "Wisconsin Idea," but they provide an essential gloss on that chapter in our state's history.
We are also honored to be able to share Robert L. Woodson Sr.'s thoughts about the future of the central city, especially in the wake of this summer's riots in Milwaukee. He focuses on grass-roots efforts to turn lives around, programs that are often invisible to those on the outside. On a less hopeful note, James Wigderson looks at the failed attempt to create a turnaround school district in Milwaukee.
Elsewhere in this issue, we wrestle with the dilemma of how to fund the state's transportation infrastructure, featuring pro and con arguments for raising the gas tax and exploring the possibility of toll roads.
Dave Daley examines the threat that a new federal housing rule holds for local control, and Sunny Schubert sits down for a candid conversation with newly elected Supreme Court Justice Rebecca Bradley. Finally, Richard Esenberg looks back at a depressing and deplorable presidential campaign and remembers that there was once a time when conservatives actually cared about freedom. "No matter who wins on Nov. 8, the work of rebuilding our movement begins the next day," he writes.
Amen.
— Charles J. Sykes
Alt-reality leaves its mark on presidential campaign.
By Charles J. Sykes
Revenue from tolling could help solve the state's transportation funding dilemma.
By Robert W. Poole Jr.
The plan to turn around failing Milwaukee schools was doomed from the start.
By James Wigderson
Milwaukee, and cities like it across the nation, should look to indigenous 'Joseph' groups in their communities that are quietly making a difference.
By Robert L. Woodson Sr.
Supreme Court Justice Rebecca Bradley is out to prove that voters got it right.
By Sunny Schubert
Former inmates need hope, and jobs.
By Mike Nichols
A new federal regulation for adding diversity to suburbs and towns is social engineering, critics say.
By Dave Daley
There was a time when conservatives cared about freedom.
By Richard Esenberg
Prominent Wisconsin scholars deemed blacks, women and the disabled as innately inferior and undeserving of many rights.
By Thomas C. Leonard