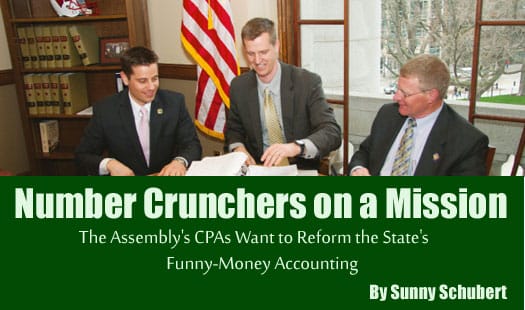 A funny thing happened on the way to electing yet another big-spending, lawyer-laden, special-interest-loving Legislature last fall: Voters in four Assembly districts elected certified public accountants instead.
Forget the jokes like, "When does a person decide to become an accountant? When he realizes that he doesn't have the charisma to become an undertaker." Howard Marklein of Spring Green, John Klenke of Green Bay, Dale Kooyenga of Brookfield and Chris Kapenga of Delafield are neither boring nor dull. And their goal of putting the state's fiscal house in order for the first time in a decade is truly exciting.
The four make up the "CPA caucus." A fifth CPA, Bill Kramer of Waukesha, was elected in 2006 and is the Assembly's speaker pro tempore; he meets with the other four when he has time. While the CPAs are still vastly outnumbered by lawyers (the single most popular occupation among lawmakers, and Kramer is both), the rise of the number-crunchers is a sign of hope for Wisconsin's beleaguered taxpayers.
The accountants, all of them Republican, share other political characteristics besides a devotion to honest bookkeeping: They're staunch social conservatives, determined to grow the private-sector economy, and none want to raise taxes to fix the budget.
But their primary goal is to get Wisconsin off the Pew Center's list of states with the nation's worst budget woes. And if it takes a constitutional amendment to enact permanent accounting reforms, that's a hill they're willing to die on.
Meet the CPA caucus:
Howard Marklein, fraud buster
Before he became a lawmaker, Marklein was a certified fraud examiner, also known as a forensic accountant. He worked for Baker Tilly (the state's largest accounting firm, formerly known as Virchow Krause), searching financial records for white-collar crime. Marklein's eyes narrow when he talks about the state budget: "If I did this kind of accounting for my clients, I'd be in jail."
A tall man whose close-cropped hair, erect bearing and no-nonsense demeanor give him an authoritative air, Marklein, 56, was raised on a Spring Green dairy farm. He earned a bachelor's degree in accounting from the University of Wisconsin-Whitewater, which recently named him an outstanding alumnus.
Of the CPA caucus, Marklein said, "We're not official; we're just four guys coming out of the same discipline." And, he says, they're more likely to hew to accounting principles than to toe the party line.
In examining Gov. Scott Walker's budget repair bill, Marklein says he was startled by a $165 million charge for refinancing the state's debt. "Even though it was a Republican-sponsored bill, I was uncomfortable with that number and said, 'Until somebody can explain this to me, I'm voting no.' It took four days, but I finally got the explanation I needed to support the bill."
In preparation for his new job, Marklein read 10 years of state audit reports. "And I kept noticing that when times were good, if we took in an extra dollar, we'd spend $1.10. There was only one year in 10 where we took in more than we spent."
Marklein is enthusiastic about challenging the status quo. "I'm looking forward to using my skills to ferret out fraud, abuse and waste in state government," he said. "People get annoyed when they find out their tax dollars are simply being wasted."
He added: "We need to ask ourselves, 'What services should government provide?' I want to make sure that our programs are providing a safety net — not a hammock. I want programs that help people get back on their feet and find jobs."
Dale Kooyenga, Baghdad veteran
A slender, blond man with an eager smile, Kooyenga looks younger than his 32 years. His impressive résumé includes a master's degree in business administration from Marquette University, a stint at U.S. Army Officer Candidate School, and an 11-month tour of duty in Iraq, where he earned a Bronze Star and served as the officer in charge of economic development in Baghdad. Returning to the States in November 2008, Kooyenga says he was appalled at the deteriorating economic conditions in Wisconsin and across the country.
"If you study history, you learn that all the great nations and empires were brought down by financial recklessness," he said.
Kooyenga and his wife, Jennifer, settled in the Republican stronghold of Brookfield. When incumbent state Rep. Leah Vukmir decided to run for the state Senate, Kooyenga announced for her old seat and won an uncontested election. The father of two young children, Kooyenga says he wants to cut state spending and create more jobs so his children's generation has a bright future.
The son of a Teamster, he grew up in a union household and says he sympathizes with state employees angered by Walker's insistence they contribute more to their health insurance and retirement packages. "I truly understand that it's never easy to accept what is essentially a pay cut," he said. "But private unions, including the Teamsters, have made concessions. What we're asking is not that big. The Massachusetts Legislature, which is dominated by Democrats, went much farther than Gov. Scott Walker did."
Kooyenga wants the Legislature to mandate better accounting practices by amending the state constitution. "The way the state does its budget right now, it's fraudulent," Kooyenga said. Alluding to a notorious bankruptcy, he said, "We're using Enron-like accounting rules."
The Wisconsin Constitution, he points out, requires state government to balance its budget. But that's easy to do, he complains, since the state doesn't follow what are called generally accepted accounting principles. "It's a lot easier to budget on a cash basis," he says with a laugh. "All you have to do is not pay your bills!"
By not following those principles, referred to as GAAP, he adds, the state avoids reporting "unaccounted-for debt," such as the cost of retirement benefits. The difference between the cash-basis budget and a GAAP budget is $3 billion.
Chris Kapenga, detail man
On paper, Kapenga is a poster boy for conservatism, though from a distance, the 39-year-old Delafield man — slender with soft, dark eyes and a faintly wolfish grin — looks a bit like a young Russ Feingold, the liberal icon who lost his U.S. Senate seat to Ron Johnson.
Kapenga grew up in Michigan and was raised in the conservative Christian Reformed Church. He attended two Reformed colleges, earning his accounting degree. Kapenga is an active churchgoer and is a staunch supporter of the right-to-life movement.
He worked at General Electric and Arthur Andersen, and he now owns Integrated Time Systems, a workforce time-management consultancy. Kapenga is eager to bring his business skills to the statehouse. "Too many people legislate off of emotion," he said. "There is a lack of financial intelligence both among lawmakers and the general public. Well, I've got a pretty good knowledge of economics, and I intend to use it."
When asked whether the Legislative Fiscal Bureau isn't supposed to provide lawmakers with the financial research, Kapenga said, "They don't give you the whole story. They might say that a particular bill will help create 500 jobs and tell how much it will cost the taxpayers. But the LFB won't tell you what the financial impact of those 500 jobs is going to be two years from now."
Kapenga's focus is reversing the state's anti-business reputation. One of his first acts in the Legislature was to partner with Vukmir on legislation to repeal Milwaukee County's mandatory sick-leave law.
That ordinance was overwhelmingly approved by voters in a binding referendum. Sensitive to the argument that, as a Republican, he ought to favor local control, Kapenga says that no matter how well-intentioned the law is, it's a job-killer.
"People don't realize the risks and sacrifices that small-business owners take to create and grow their companies," he says. "Government should be supporting them, not the other way around."
John Klenke, the trucker
Klenke, 52, has perhaps the most impressive private-sector credentials in the CPA caucus. A 23-year employee of Schneider National, the fourth largest trucking firm in the United States, Klenke led the firm's tax department and then served as president of its financial branch, vice president of corporate development and as company treasurer. Klenke holds a bachelor's degree from UW-Madison and a master's in taxation from UW-Milwaukee.
Having retired early with the full intention of spending more time with his family, which includes his aging father and his own eight children, Klenke found himself so angered by the state's fiscal crisis that he plunged into politics.
"A lot of the values I bring to the Legislature I learned from Don Schneider, including the (belief) that while we can't always be the low-cost service provider, we can't be the highest-cost one either," he said. "When you have high-cost government, it's paid for by the state's 5.5 million taxpayers. It costs a lot to live here. People are leaving the state for that reason — and not just because of the cold climate."
While Klenke understands the distress of state workers, he says that, contrary to union rhetoric, the governor's moves are dictated by money and not some desire to disrespect state workers.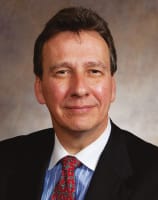 "By continuing to overpay state workers, we're not respecting the people of this state — the hair stylists, the plumbers, the truck drivers," he said. "We're not vilifying state workers. It's just that the market is changing for them, too. We have gone from managing abundance to managing scarcity. That's the simple reality. The state can no longer afford to keep operating the way it has been."
Klenke says that in the past 10 years, the state's overall economy grew by 38%. "I thought that was pretty good until I found out state spending increased by 60% over the same period."
The state is carrying $15 billion in long-term debt, he says. "Back in the 1970s, Wisconsin built all its roads with cash. Then we started issuing bonds to raise the cash to pay for the roads, and now we have to pay back that money plus interest. We keep taking our revenue sources of today and promising them to the future."
The upshot is that the state must now cut spending to live within its means while whittling away at its long-term structural deficit. The state is "incredibly fortunate" to have the leadership of Walker to help force the state onto the fiscal straight-and-narrow, Klenke says.
He wholeheartedly supports the movement to enact a constitutional amendment to force the Legislature to adopt GAAP. Paradoxically, say Kooyenga and Marklein, while the state doesn't use GAAP, all counties, cities, villages and school districts do.
Adds Kooyenga: "The really only effective way to change the way the state budgets is through a constitutional amendment. If we just change the statute, the Democrats will just change it back the next time they're in power."
Sunny Schubert is a Monona freelance writer and a former editorial writer for the Wisconsin State Journal.