Conservative Democrat Bob Ziegelbauer scores a breakthrough on health care, but finds few allies.
By Sunny Schubert
Most days state Rep. Bob Ziegelbauer (D-Manitowoc) finds himself shunned by fellow Democrats and treated like a freak of nature by Republicans.
Which is just fine by him.
"I guess I don't feel a real affinity for either group," says the 57-year-old lawmaker. "I'm carving out my own spot, my own little island—but there's a nice little breeze on my island," he adds with a laugh.
But he will not abandon his independent stance, which admirers call "principled" and detractors dismiss as "his way or the highway."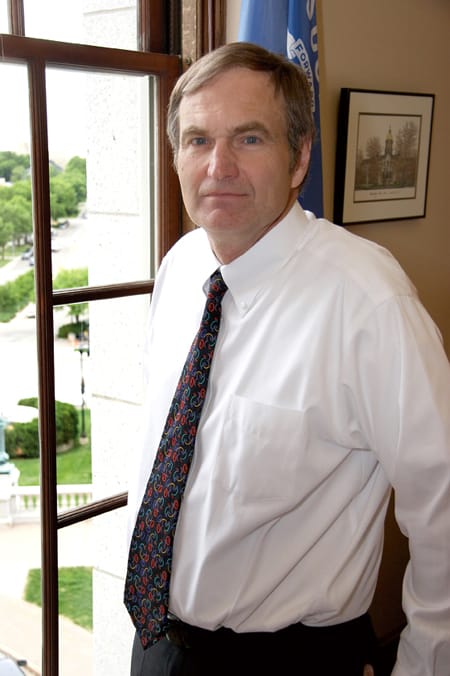 This spring, he infuriated his fellow Dems again by announcing he would not support an early version of the state budget. He cited the combination of tax and fee increases, plus an anti-business change in the state liability law (since dropped), as reasons he could not sign on. He made some headlines but "It's just show business," he says with a sigh.
"I'm gonna be on the losing end of a close vote—big deal," he says.
What makes the shunning of Bob Ziegelbauer a particular shame is that he's one of the smartest and most innovative public servants in the state. Credit his upbringing and his schooling, but also his unique perspective on government: He's not only Manitowoc County's state representative, he's also its county executive.
Shortly after he was elected county exec in 2006, Ziegelbauer took the bold step of asking county employees to work with him to rein in health insurance costs.
"It was 2006, and I could tell that our costs were going to double by 2010. We had to do something," he says. Manitowoc County simply couldn't afford to pay $19,500 per employee in insurance premiums for its 600 workers.
First, he tried to get them to join the state health care pool.
"Negotiating with public employee unions is like this," he says, and theatrically folds his arms across his chest. "The process has a lot of 'You can't make me' built into it."
Thwarted on that front, which would have required all the county's unions to sign on, Ziegelbauer next explored another route: a high-deductible plan that offered workers mostly the same doctors, clinics and hospitals, but cost $7,000 apiece less.
He was able to offer employees a plan that eliminated a $200 drug co-pay, offered free check-ups and bonuses for healthy activities and upped lifetime coverage from $2 million to $5 million. Then he sweetened the deal with a $3,000 contribution to each worker's health savings account—an amount equal to the plan's $3,000 deductible.
The bottom line: Each county employee would save more than $4,000, while the county saved another $2,600.
And to Ziegelbauer, the real beauty of the plan was that he didn't need the unions' permission—he could just offer it to the workers. Eventually, most jumped for it.
"Our people, our county workers—they're good people. We shouldn't sell 'em short," he says.
His biggest disappointment is that more units of government, from cities to school districts, haven't tried the same innovative approach to cut health care expenses.
Ziegelbauer was born and raised on the south side of Manitowoc. A high achiever, he graduated from Notre Dame and attended the University of Chicago Law School before earning an MBA at Pennsylvania's famed Wharton School of Business.
And then, he says, "I moved back to Manitowoc and proceeded to goof around for a couple of years."
Well, not quite. His father owned a couple of bars (this was in the mid-'70s, when 18-year-olds could still legally drink beer) that were hopping joints on weekends. Young Bob spent several years tending bar and booking musical acts, then opened his own business: a music store called Doctor Freud's Institute of Fine Recordings.
"I knew nothing about the music business—I wasn't even that into music. It was really dumb. But I was working weekends, and it seemed like I just had the whole week with nothing to do."
The music store cured that. Between his father's bars and his own store, Ziegelbauer found himself working seven days a week—and developing an appreciation for the plight of working families and small business owners.
"Honestly, the store was open for two or three years before I could even afford to pay myself $1 an hour. But I learned a lot, and a couple of years later, it took off like a rocket." Ziegelbauer has since sold the store to a former employee, and is proud to note that it is still in business.
Ziegelbauer lost his first race in 1980, but in 1981, just shy of 30, he was elected to the Manitowoc City Council. He served three years, while simultaneously acting as the city's finance director, a five-year experience that still informs his votes on state issues likely to affect municipal money matters. Meanwhile, in 1982, he was also elected to the Manitowoc County Board, where he served until 1988. Four years later, he made the jump to the Assembly.
A modest and self-effacing man, Ziegelbauer is quick to poke fun at himself. Of his not inconsiderable academic achievements, he shrugs: "I was a professional student. I just kept going to school."
He calls himself a "boring, introverted guy" and says "I'm not clever enough" to engage in a lot of politicking. "I just go straight ahead."
He has no wife and no children; his home is a modest two-bedroom house he bought ages ago, which is two blocks from the Manitowoc County Courthouse.
There, his Manitowoc County executive's office is tucked in a corner of the basement. He has no secretary, no receptionist, and answers the phone himself. County department heads come in and out, while visitors sit on the basement steps while waiting their turn.
When my turn comes, I ask Ziegelbauer why he doesn't cross the aisle and join the Republicans, with whom he often votes. "I just don't feel like a Republican," he says, and you can hear the squirm in his voice as he tries to explain.
"I feel an affinity for working people, for trying to give the little guy a fair shot," Ziegelbauer says. "I'm not comfortable in a country-club environment."
He describes himself as "a Manitowoc County Democrat rather than a Dane County Democrat. There's a huge difference. My ideology reflects the people I grew up with, the people of northeast Wisconsin.
"The Democratic Party has taken a giant step ideologically to the left," he continues. "There's no doubt about it: Those who have taken over the party have a fairly left-wing point of view. I'm a Kennedy Democrat—that's different than today's Democratic Party."
As for his fellow Democrats at the Capitol, Ziegelbauer says he wishes they would quit imagining that the state's taxpayers are a bottomless pot of money. He also faults Gov. Jim Doyle and party leaders for not realizing that when they layer new taxes and fees onto "Big Business," it is customers and wage-earners who pay the freight.
Ziegelbauer leans back in his chair, shoves his glasses up onto his forehead, rubs the bridge of his nose as he squints as if trying to see the future.
"There are no easy answers in governing anymore," he says. "It's all blocking and tackling, not throwing 99-yard touchdown passes."
He says he is not bothered by the ire of fellow Democrats when he votes against them, but he is disappointed in the increasing level of partisanship.
"It's so bitter these days, and the impact is, it works to deter good people from entering politics."
So Ziegelbauer sits in his chosen seat in the back row of the Assembly chambers, and casts his lonely votes, eager for the moment, he says, when he can jump in his car, turn on sports radio, and enjoy the two-hour drive back to Manitowoc.