Marquette takes a bigger role in Milwaukee's policy debates
By Sunny Schubert
Just north of the new Marquette Interchange-the busiest intersection in the state-rises the new Marquette University Law School building, Eckstein Hall. The glittering edifice is a concrete symbol of the school's increasing importance in Milwaukee's public life.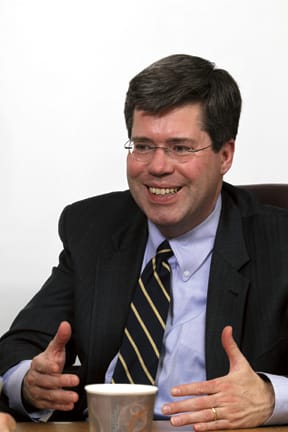 The man behind both the building and the law school's growing prominence is Dean Joseph Kearney. He has built not only a landmark facility, but also a powerhouse public policy group that is changing the course of civic discussion in Milwaukee.
Determinedly self-effacing, Kearney, 45, refuses to take credit for the school's wider vision, insisting that he is building on tradition.
"I just ask questions," he says, "and then I try to find people who can answer them."
Kearney's main question: "Is there more we can do to drive public policy debates while still maintaining our neutrality?"
While most law schools encourage students and faculty to provide free legal counsel to needy individuals, Kearney envisions Marquette Law School taking the lead in tackling bigger issues, from reforming Milwaukee's troubled public schools to exploring ways to lift the region's most disadvantaged citizens out of poverty.
And he has assembled what traditionalists might feel is an unusual crew to help him with the answers: a vibrant faculty of mainstream academics, working lawyers like Michael Spector, retired state Supreme Court Justice Janine Geske and former journalists Mike Gousha and Alan J. Borsuk.
Kearney-an Irish Catholic product of a Jesuit education at Chicago's St. Ignatius Prep School-seems a natural for Marquette, which is also a Jesuit institution.
He earned his bachelor's degree from Yale and his law degree from Harvard before spending a year clerking for the Ninth Circuit Court of Appeals in northern California. He then moved back to Chicago and joined the prestigious Sidley & Austin law firm (coincidentally, where another Harvard law student, Barack Obama, met his wife-to-be Michelle while working as a summer intern).
On a blind date in 1995, just before he left Chicago for Washington, D.C. to clerk for U.S. Supreme Court Justice Antonin Scalia for a year, Kearney found his own soul mate: fellow lawyer Anne Berleman, who graduated from Harvard law a year after he did.
They married and settled happily in Chicago. If Kearney thought about Milwaukee at all during those years, it was as the home of the Brewers, American League rivals to his beloved White Sox.
But by 1997, Kearney was feeling the urge to try something new. Also, he and Anne had started thinking about children. (They have three boys, ages 11, 9 and 6.) Milwaukee, with its big-city amenities but more laid-back lifestyle, appealed to them. So Kearney took a job teaching at the Marquette Law School.
"I had promised Anne we would never move more than a hundred miles from Chicago," he says. "Well, it's 99 miles to the parking lot at Comiskey Park."
Marquette's law school, whose first students attended night classes back in 1892, has a long tradition of public service. Kearney's predecessor, the revered Dean Howard S. Eisenberg, was known statewide for his personal pro bono work on behalf of criminal defendants and his insistence that Marquette law students and alumni use their legal skills to help the disadvantaged.
Kearney became dean in 2003 following Eisenberg's death. "When I asked my wife if I should apply for the job, she said, 'Well, you're going to work all the time anyway, so you might as well be dean,'" he recalls with a smile. At the time of his hiring, he was 38-the youngest dean of any major law school in the United States.
Intent on widening the scope of the law school's commitment to community service, he hired Mike Gousha. A former newsman with WTMJ TV, he would seem an odd addition to a law school faculty, but Kearney prized Gousha's deep understanding of the Milwaukee community and his "very thoughtful and deliberative approach."
"When he retired in 2007 after 25 years in daily broadcast journalism, I cold-called him," Kearney recalls. "I told him we could give him a platform from which he could delve into public policy issues."
Gousha, whose father had been superintendent of the Milwaukee Public Schools, has a lot of connections. "He brings in leaders in politics, non-profits, education, law enforcement," Kearney explains. "We invite these people in for informal lunches with our students, and they help us have civil, intelligent discussions of the issues."
Pleased with the Gousha hire, Kearney decided to advertise for another journalism-based faculty job -and ended up with award-winning Milwaukee Journal Sentinel reporter, editor and columnist Alan J. Borsuk.
"Alan, after he graduated from college, told his mother he wanted to work for a year, then would probably go to law school," Kearney says. "Thirty-seven years later, he's finally in law school, but not as a student."
Borsuk, an expert on the Milwaukee Public Schools system, will be working with Gousha to investigate and expand the search for a solution to MPS's seemingly intractable woes. He also writes for the Law School faculty blog and Marquette Lawyer magazine. (As a freelance writer, Borsuk contributes to the Milwaukee Journal Sentinel and analyzes the political struggle over MPS in this issue of WI.)
Kearney also found a new job for adjunct professor of education law Michael Spector.
A longtime Milwaukee lawyer, Spector is former chair of Gov. Jim Doyle's Task Force on Educational Excellence and vice president of the UW System Board of Regents.
Spector will encourage a community conversation on the public schools by bringing in speakers from academia, unions, government and other stakeholder groups for forums and other public events.
Under Kearney's leadership, the law school established an Office of Public Service, and he helped capture a grant from state Attorney General J.B. Van Hollen to address the mortgage crisis among the city's low-income residents. Ongoing programs like legal aid clinics in Milwaukee's underserved neighborhoods get his backing.
Kearney has also encouraged Professor Janine Geske-a high-profile former justice on the Wisconsin Supreme Court-to ramp up her efforts to promote restorative justice, which is loosely defined as using the law to help victims of crime.
Such efforts have boosted the law school's public image, which seems to please Marquette's president, the Rev. Robert Wild, a man whom observers see as matching Kearney in brains and energy.
"Under Father Wild's direction, the university has invested in the law school in a way we had not seen in decades," says Kearney.
The school's increasing visibility also helped Kearney in one of his biggest challenges: raising money for the new law school building.
When completed, Eckstein Hall-named after law school alumnus Ray Eckstein, who built a barge and tugboat empire on the Mississippi River-will be "the best law school building in the country," says Kearney.
Eckstein contributed $51 million-one of the nation's largest gifts to any law school by a single individual. Another prominent alumnus, Joseph Zilber, kicked in $30 million.
"The law school is a cultural institution in the region as well as the city of Milwaukee," says Kearney. "We want to be the law school of the 21st century, and I think we're in position to do that."
Sunny Schubert, a former editorial writer for the Wisconsin State Journal, is a freelance writer in Monona.