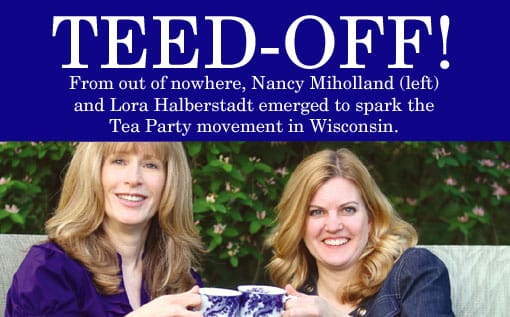 Before there was a Tea Party, there was a Teed-Off Party.
"It was just something I dreamed up one day, after too much time yelling at the television," Racine's Lora Halberstadt remembers with a laugh.
It was early 2009. Newly elected President Barack Obama was riding high and spending big even as the nation tumbled deeper into the worst recession in 80 years.

Congress was following Obama's lead, endorsing various costly stimulus programs. "Obamacare" was in the planning stages, and the federal deficit was skyrocketing.

Halberstadt was appalled. "Every time I turned on the TV, the news was more unsettling," she says.
The Teed-Off Party grew out of a whimsical idea she had to pass out special golf balls so she and like-minded friends could "whack the crap out of" politicians and programs that bothered them.
She bought used golf balls and had them labeled with pictures of Obama, Wisconsin Gov. Jim Doyle, House Speaker Nancy Pelosi and her "$30-million marsh mouse appropriation, which was a jab at Congressional earmarks," she says.
Others were labeled "Cap and Trade," "Pork Projects" and "Stop Socialism." Halberstadt paid for them herself.
But before the Teed-Off Party got a chance to take off, CNBC commentator Rick Santelli lost his cool on the floor of the Chicago Board of Trade.
His now famous rant that "the government is promoting bad behavior" happened on Feb. 19, 2009. Santelli also suggested that people fed up with both Democrats and Republicans should come to Chicago and have the nation's second revolutionary tea party.
The Tea Party movement — Tea stands for "Taxed Enough Already" — was born.
Halberstadt found her political home in the Tea Party — indeed, she founded the Racine TEA Party. Nancy Milholland was the first person to e-mail her.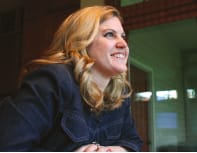 Today, the two women are the driving force behind the Racine group, which is one of the most active Tea Party groups in Wisconsin.
But back in 2009, they didn't know each other, even though they lived only a few miles apart, both of them "east of the I." Interstate 94 runs right down the middle of Racine County, separating the mostly urban Democratic east side from the more rural Republican west side.
Philosophically and politically, Halberstadt and Milholland were two strangers with a common mindset.
Milholland, who had spent 20 years working in sales and management for an industrial manufacturer, was laid off from her job in January 2009. Although born in Racine, she had lived in the Netherlands and Dallas before returning to Racine.
Like Halberstadt, she was angry at the direction the nation was taking.
It was almost on a lark that she attended Wisconsin's first statewide Tea Party rally, on April 15, 2009, at the Capitol in Madison, just two months after Santelli's rant.

Halberstadt was a speaker. And when she mentioned how tired she was of yelling at her TV, Milholland felt a click of kinship.
"I joined the Racine TEA Party the following Saturday," she says proudly.
In the past three years, the two 40-something women have become close friends while building the Racine TEA group into perhaps the most active in the state.
It's hard to tell about those kinds of things, because the Tea Party is unlike the mainstream Democratic and Republican parties.
There is no Tea Party National Committee in Washington, D.C., to give local chapters their marching orders. There are no card-carrying Tea Party members because there are no cards to carry.
In fact, it was just this past April that Racine TEA formed a Political Action Committee, which enables it to endorse and donate to candidates.
"The Tea Party is a national grassroots organization with no leaders," explains Milholland.
"There are thousands and thousands of Tea Party groups throughout the country, including about a hundred in Wisconsin," she adds, crediting Halberstadt's event-planning experience for insuring that the Racine group is so active.
In March 2010, the Racine TEA Party had a bonfire that drew an estimated 3,500 people on a 28-degree day. Hundreds of seniors burned their American Association of Retired Persons membership cards to protest AARP's endorsement of "Obamacare."
That was the same year the group was instrumental in organizing opposition to a multi-million-dollar plan to build a railroad linking Milwaukee, Racine and Kenosha with Chicago. Seventy percent of Racine County voters rejected the railroad plan, thanks in part to the efforts of Racine TEA.
The Racine group has a core of about 10 people who plan events, including a recent rally where Republican U.S. Rep. Paul Ryan of Janesville was the keynote speaker.
But "we have thousands on our mailing list. They are Republicans, independents and Reagan Democrats," Milholland says
For the most part, she adds, they don't care about the social issues that dominate the Republican and Democratic agendas.
They worry more about extravagant and wasteful government spending than about abortion rights, gay marriage and free birth control.
"I have a lesbian friend," says Milholland, "who told me it was harder for her to 'come out' as a fiscal conservative than as a gay woman."
They want less government and more personal responsibility; they don't want stimulus packages, national health care or thousands of government regulations strangling the nation's business sector.
Says Halberstadt: "Our children are going to have to pay for all this borrowing and spending. They're going to pay for it for the rest of their lives, and that's just not right."
Neither woman blames Obama exclusively for the nation's economic woes: "In terms of government overspending, the last two years of the (George W.) Bush administration were horrific," says Halberstadt.
But Obama's steady tilt to the left angers both of them.
"I simply don't understand why, if you love something, you would want to fundamentally change it," says Milholland.
The irony is that joining Racine TEA has fundamentally changed both Milholland and Halberstadt.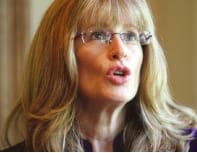 Milholland says that before she joined the Tea Party, her primary concern was getting her teenage daughter off to college. That mission accomplished, today she works as a political consultant.
Halberstadt has two young children, 10 and 5, and works as a design manager for a homebuilder.
Neither imagined they would ever be escorted by police through a crowd of screaming protestors, as they were during the 2010 Tax Day rally at the state Capitol, where they appeared on stage with Sarah Palin.
But they have no regrets. Indeed, they see themselves as soldiers in a fight for the souls of both Wisconsin and the nation.
"I'm doing this for my kids. Nothing is more important," says Halberstadt, as Milholland nods in agreement.
Sunny Schubert is a Monona freelance writer and blogger and a former editorial writer for the Wisconsin State Journal.