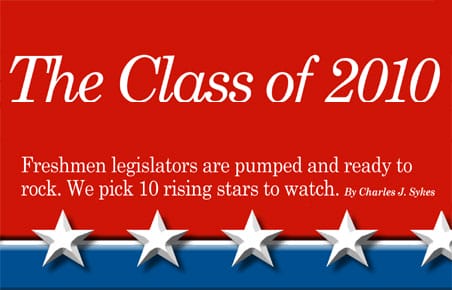 Bring on the New Guard.
Last November's electoral tidal wave not only changed the party alignment in the state Capitol, it also marked the emergence of a new class of freshmen legislators, strikingly different from their predecessors.
"They are 'Obama babies,'" says one longtime insider, "nontraditional candidates spawned by offense at Obama's assault on the American Dream."
"These people are citizen-soldiers," says another observer. "They came out of the woodwork." As a result, he says, the Assembly Republican caucus went from "conservative and moderate to conservative and more conservative."
This is not your traditional legislative class.
The Class of 2010 includes entrepreneurs, business executives, certified public accountants and physicians — an unusually potent mix given the state's fiscal mess and the need to address health care reform. It's unlikely that any freshman class has ever come to Madison with as broad and deep an appreciation of the business climate or as committed to dramatic change.
Insiders describe the Class of 2010 as smart, independent, principled — and impatient. While veteran legislators still run the show, the unusually large freshman class (30 in the 99-member Assembly, eight in the 33-member Senate) will not only help shape the legislative debates of the next two years, but also provide conservatives with their deepest bench in generations.
"I wouldn't be surprised if there was a future U.S. senator or governor in this class," says one observer.
Their first two months have already been a heady experience. "This is a once-in-a-lifetime legislative session," says a business spokesman. "This two-month special session will be the most productive legislative session in 30 years. They will get more done than most legislatures get done in a two-year session."
Even so, some new members would like the pace to quicken, and they have not hesitated to push their leaders and the Walker administration to take bolder steps on issues involving public employee unions, for instance. Some have questioned whether the GOP agenda goes far enough.
"We had a group of them get together right after the election, and there was no doubt they were thumping their chest — a collective thumping," says one insider.
With every week, says another insider, "this group is coming into its own." Their real test, however, lies ahead, when Walker and the Legislature begin to tackle the massive budget deficit left by their predecessors.
"What makes this group different is that most are political rookies, which means they are wild cards," says Jeff Mayers of Wispolitics.com.
Another longtime insider agrees: "It will be a real challenge to see if they can hit the right balance of teamwork versus refusing to go along to get along. But this class has an unprecedented level of actual private-sector experience, and they're here to make a difference and not just to hold office."
Here, based on candid interviews with Capitol insiders and observers, are ten freshmen lawmakers to watch in 2011.
State Rep. Michelle Litjens (R-Oshkosh): She brings a passionate outsider's perspective to the Legislature.
Last year would have been a good one for Michelle Litjens even if she hadn't been elected to her first term in the state Assembly.
Litjens was there at the beginning of Ron Johnson's improbable bid for the United States Senate, long before it was on anyone's political radar. A longtime Johnson friend, it was Litjens who invited him to speak at a Tea Party rally in Oshkosh and, early in 2010, began introducing the long-shot conservative to party activists and opinion makers (including the author of this article). At the state party convention that unexpectedly endorsed Johnson, Litjens placed his name in nomination.
A former third vice chair of the state GOP, Litjens, 38, is no newcomer to politics, but she brings a passionate outsider's perspective to the Legislature. She describes herself as an "activist who grew up with parents who were doers," and admits to being impatient with the pace of the Legislature and "frustrated at business as usual."
One of the most outspoken conservatives in a conservative Legislature, Litjens is pushing hard to pass Right-to-Work legislation, rein in public employee unions, and repeal the prevailing-wage mandate on local governments.
Like Ron Johnson, Litjens describes the country as at "a crossroads."
"We've got two directions we can go in," she told a local newspaper. "The one with more government, more taxes, or the other path of less government, less taxes and more freedom. I think I need to do something about it."
Says a business lobbyist: Litjens is "very hardworking and very thoughtful. She's going places."
Says a staffer: "She's is in it to make a difference."
Says a Republican operative: "She is definitely ready to hit the ground running."
The only concern is Litjens' impatience. "She wants quicker and bolder," says a lobbyist. "She's impressive in front of small and large groups. She can wow them. I'd hate to see her fall victim to impatience."
State Rep. John Klenke (R-Green Bay): He's a retired businessman who speaks for the taxpayers.
Observers are quick to cite John Klenke's "dynamic private-sector background," but that hardly captures how unusual it is for someone with Klenke's corporate experience to be sitting in the Assembly.
A CPA with a master's degree in taxation, Klenke, 52, served successively as head of Schneider National's tax department, president of its finance branch, vice president of corporate development (which included acquisitions in both China and the United States) and finally as treasurer of the company.
A notorious workaholic, Klenke retired so he could enjoy life. For a time, Klenke spent time every week with his 85-year-old father helping him write a book "to his eight children and numerous grandchildren and great-grandchildren."
But like other members of the Class of 2010, Klenke was drawn into politics by developments at the state and national level. "The government needs to serve the taxpayer," says Klenke, "not the other way around. We need more dollars in the private sector and less in the government."
"He never thought he'd go this route," says a friend. "He was caught up in the movement that was happening."
Says a business lobbyist: "He's a top executive at a huge company, and he took on an incumbent who was Jim Doyle's hat carrier on global warming…took out an incumbent in paper country. This was one of our biggest breakthroughs ever in Green Bay."
A legislative insider describes Klenke as "a guy who got into the Legislature for all the right reasons…he wants to make a difference, and his background leads us to believe he could."
But one friend is concerned about his transition from the private to the public sector. "I worry he won't have as strong of an impact as he could…. He's not an aggressive political guy."
But Klenke is getting positive early reviews.
"He gets it," says a legislative insider. "He's one of the guys who get the whole picture." Another staffer describes Klenke as "very deliberate. He will be a strong voice [in the GOP caucus]. But he will be a strong voice late. He won't make a move until he has all the chess pieces in place."
State Rep. Erik Severson (R-Star Prairie): He's a phenomenal catch for the GOP caucus.
"He blew us away in caucus on tort reform," a legislative staffer says of Erik Severson's legislative debut. "He doesn't look like a freshman; he looks like he's been doing this before. With his medical background, he's going to be a leader on health care reform."
One of two practicing doctors on this list, Severson (who received his medical degree at the Mayo Medical School in Rochester, Minn.) has been an emergency room doctor at the Osceola Medical Center.
Health care reform drew this unconventional candidate into politics. Severson, 37, believes that Obamacare is unconstitutional and describes it as "trampling on freedom."
"As soon as the government steps in and says you have to buy a service or a good, that's a trampling on our liberties," he explained in a campaign video. "I don't believe the government will be able to run health care much better. In fact, I think they would do much worse than right now."
Like other freshmen members, Severson emphasizes fiscal issues, pledging to "restore the confidence of Wisconsin's private sector and create jobs, thereby improving Wisconsin's economy."
A trade group representative calls Severson a "phenomenal catch for the Legislature." But he adds: "You wonder how many of them will come out for a second term, because they get burned out by the games they play in Madison."
Says another insider, "He will walk the walk; he …is not interested in being a career politician. He views this strictly as a part-time venture."
Severson has made a strong first impression. "He gets it intellectually — the theory of being a conservative as well as the need for boots-on-the ground organization," says a conservative activist.
Severson, he adds, could be destined for higher office.
State Rep. Chris Kapenga (R-Delafield): He's very bright, very driven.
No one questions Chris Kapenga's skills, commitment, or intelligence. He is a Certified Public Accountant who has worked for Arthur Andersen and General Electric and has owned several businesses including Integrated Time Systems, a provider of workforce time management solutions.
But opinion is divided on his aggressiveness, at least in the first days of the new legislative session.
"He's just cocky," a legislative insider says bluntly. "He's probably the most media ready and clearly came in ready to play from day one. He kind of came in wanting to be king of the freshmen. The first time they met it was great, and then the next couple of meetings they turned on him pretty quickly."
Kapenga, 39, makes no secret about what drives him. One of the "Obama babies," Kapenga says he was alarmed by the aggressiveness of the left's agenda. "We had elected a president and a legislature that saw bigger government and more spending as the answer to our country's and our state's problems."
Kapenga is pushing an aggressive agenda to cut taxes, deregulate business, limit union power, and fix the budget mess through adopting generally accepted accounting principles (GAAP) and zero-based budgeting.
Those measures should have strong support in the GOP caucus, and some observers see Kapenga's rough start as simply part of the learning curve. "He is very bright and very driven, and we need more of that in the Legislature," says a Capitol veteran. "He thought he was going to turn the Legislature into a business before he even got sworn in. I think he will learn the most in the first three months about the process." After the "rocky start," he says, Kapenga has "cooled his jets to the point where he is not hurting himself anymore."
"I like his energy," says a business lobbyist.
State Rep. Dale Kooyenga (R-Brookfield): This Bronze Star recipient brings a CPA's skills to analyzing the budget.
After working on restoring the shattered economy of Iraq, Wisconsin's problems didn't look quite so daunting for Dale Kooyenga.
From January to November 2008, Kooyenga, a Certified Public Accountant, was the 4th Infantry Division's officer in charge of economic development in Baghdad. He was awarded the Bronze Star for his service. Shortly after he returned from the Mideast, he decided to run for political office.
"My experiences as an Army officer and my civilian experiences as a CPA gave me a unique perspective," he explains. "Losing a friend in Iraq and witnessing other acts of sacrifice made me fully understand and appreciate the true cost of freedom and liberty."
He adds: "We did not shed blood and sweat over the past 200-plus years in a bloody civil war, and destructive wars to defeat communism, imperialism, fascism and other threats, just to destroy our great republic because of our elected officials' financial recklessness."
Kooyenga, 31, wants to see a constitutional amendment requiring the state budget be balanced in accordance with generally accepted accounting principles.
"By any measure, he is one of the Assembly's rising stars. "He's a team guy," says an insider. "He seems to know how the process is going to work. Very impressive."
"He deals with others very well on a personal level," adds a legislative veteran. "I think he learned a lot from Kapenga's mistakes. Kooyenga has a little broader political view than some of the other guys."
State Sen. Tim Cullen (D-Janesville): This seasoned freshman is focused on job creation.
Our sole Democrat, Tim Cullen makes up for his loneliness on this list by being the most experienced and arguably one of the most interesting freshmen in the Legislature. Cullen, 67, served in the Senate from 1975 to 1987, and for five of those years ran the place as majority leader. He returns as a member of the minority, which he admits will be a distinctly different experience.
"It took several days to sink in that I was going to be in the minority for the first time in my life," he said in a post-election interview with the MacIver Institute.
But he brings an unusually varied background to the task: a career almost evenly divided between the public and private sectors.
Cullen was elected to the Janesville City Council at the age of 26 and worked as a congressional staffer before his first Senate tour. In a move that raised eyebrows on both sides of the aisle, Cullen left the Senate to serve as Republican Gov. Tommy Thompson's Secretary of Health and Social Services and later became an executive with Blue Cross/Blue Shield for 20 years. After he retired, he won a seat on the Janesville School Board.
"Cullen is interesting because of his history, and [he] also worked in the health insurance industry," notes a Republican operative. "Will he be an old-school Democrat and try to be civil and look for ways to reach across the aisle for some other reason than to stab someone in the back?"
Another observer predicts that Cullen will be back in leadership in the next session. "He's by far the best thing they have in that caucus."
Cullen knows that it will be different this time around. "I came here when I was 30…hoping to get elected to a higher office someday," he said in the MacIver interview. "This time I came here for one simple reason, which is to try to help the economy of Rock County. I'm not worried about getting re-elected."
Cullen is looking for common ground with the GOP majority and says it is vital that Walker achieve his goal of creating 250,000 new jobs. "As someone who has lived [in Janesville] my whole life, it's almost inconceivable how difficult things are right now."
Business groups are watching Cullen closely: "He may be the guy who brings the Dems back to some level of moderation," says an observer. "He's definitely not a lefty. So maybe he can bring them back from the last two years of liberalism unplugged."
State Sen. Pam Galloway (R-Wausau): As a surgeon, she's certain to be a leading voice on health care policy.
Pam Galloway is a giant-killer. A board-certified surgeon, she mounted a quixotic bid against the Senate Democrats' most powerful incumbent, Majority Leader Russ Decker, and beat him, helping deliver control of the upper house to the Republicans.
Unlike her counterparts in the Assembly, however, Galloway is the Senate's only genuine rookie, never having served in public office before.
She brings impressive credentials to a legislative body that will have to wrestle with an array of health care issues. Galloway, 55, has an undergraduate degree from the University of Chicago and an M.D. from the Medical College of Virginia. As a physician, she specializes in the treatment of breast cancer.
Like Erik Severson in the Assembly, Galloway was drawn into politics by issues like malpractice reform and Obamacare. "I realized that if I wanted to change the trajectory of the government's path toward dependence and increasing control over how I was going to practice medicine and run my business, I needed to be an active part of correcting that course," she explains.
Galloway ran on a platform she calls CPR — "Control taxes, Promote jobs, and Reduce spending."
Expected to be one of the leading GOP voices on health care, Galloway understands that Obamacare is not likely to be repealed in the near term but wants to focus on "empowering consumers to make their own health care choices and also using market forces to combat increasing costs."
She explains: "Wisconsin has to create a proactive response…to show how innovation and consumer choice can offer an alternative to socialized medicine, which the federal bill is driving us rapidly toward."
A business lobbyist predicts: "She's going to do really well."
State Rep. Howard Marklein (R-Spring Green): He could star in "Madison CSI."
Another member of the CPA caucus, Marklein brings an impressive background as a "forensic accountant." He's the guy who tries to find out where the financial bodies are buried, an especially useful skill given the state of state finances after eight years of Jim Doyle.
A partner in the firm of Virchow Krause since 1984, Marklein, 56, has focused on white-collar-crime investigations and is a credentialed "certified fraud examiner." As he points out, his background means he can read budgets, knows GAAP accounting and can understand deficits.
Like other members of the Class of 2010, Marklein says he ran because he saw the state "going in the wrong direction." He's committed to fixing the deficit, creating jobs and establishing a business-friendly climate in the state.
"He was one of the first of these self-realized candidates to come out after the stimulus bill passed," says a conservative activist. "He's very smart, ran an aggressive campaign, and won in very tough territory."
A three-sport athlete in high school, Marklein worked his way through UW-Whitewater "to pay for his education and keep his student loans to a minimum," and began working for Virchow Krause while still in school.
Says an outsider observer: "He's an impressive guy on paper…. And you meet him, and he's an accountant. He's not going to light your world on fire. [But] he's solid and smarter than most of the people in his caucus."
Marklein "is the Energizer Bunny," says a legislative insider. "He can outwork anybody in the Capitol."
State Rep. Mike Kuglitsch (R-New Berlin): Quiet but effective, he will be a power in the GOP caucus.
Mike Kuglitsch decided to run for office because "I saw the way the state was headed, and I knew that I could no longer sit on the sidelines. I have spent my entire life in the private sector employing people and creating jobs."
Kuglitsch, 51, takes the business climate very personally. He says his son Matt, who graduated from UW-Stout last year, "was forced to leave Wisconsin because he could not find employment."
He calls it a travesty that the state's "young, bright minds" are taking flight "to find greener pastures in our neighboring states."
A business graduate of UW-Whitewater, Kuglitsch is the owner and operator of Kuglitsch's Entertainment Center in New Berlin and was also part owner of a fitness and racquet club, which he later sold but continues to manage.
With Sen. Randy Hopper (R-Fond du Lac), Kuglitsch co-authored a bill to expand the capital gains tax exemption from 60% in 2012 to 100% by 2014.
A trade group representative describes Kuglitsch as "quiet but effective and respected immediately. He chooses his words wisely; he's not out there in caucus trying to draw attention to himself."
Another observer says Kuglitsch is "probably the most down-to-earth legislator of the bunch. At the end of the day, he will have a big effect on the caucus. He will be the guy when the door is closed who will be a rock."
State Rep. Paul Farrow (R-Pewaukee): He was born to run and could go far.
Given that his mother is former Lt. Gov. Margaret Farrow and that he's been active in campaigns since he was 13, Paul Farrow's run for office seemed preordained by the family DNA.
His experience is already standing him in good stead. Farrow immediately endeared himself to his colleagues by hosting an ice-breaking hot-dog fry on the first day of the legislative session. "The freshmen love him," says an insider. "The older guys respect him. He knows what to do already."
The insider says flatly: "I think he can be governor someday. The way he handles people, he's got that charisma."
A former school board member and current member of Carroll College's Presidential Advisory Board, Farrow owns a home-inspection firm. He stresses his private-sector experience and his fiscal conservatism, pledging to "put Wisconsin back on the track to fiscal sanity."
Farrow is particularly critical of the Doyle-era raids of the transportation fund and plans to be active on education-reform issues. "I plan to 'major' in education," he says, "and 'minor' in transportation."
"He's quiet, bright, personable, hardworking, and wants to accomplish the conservative agenda without pissing everyone off in the process," explains one GOP activist. "He walked into the building, knowing the angles. He has the best personality right now inside that caucus. He's open and comfortable in his own skin and certainly conservative."
Adds a veteran observer: "He understands how to stick to conservative principles without grabbing the pitch fork and torch at every opportunity."
WI editor Charles J. Sykes is the author of six books and hosts a daily radio show on AM620 WTMJ in Milwaukee.
Sidebar:
The Veteran Freshmen.
Because we focused on political newcomers (with the exception of Sen. Tim Cullen), several promising freshmen were left off this list, most notably newly elected senators Leah Vukmir (R-Wauwatosa) and Rich Zipperer (R-Pewaukee). Both moved from the Assembly to the Senate and are expected to emerge as strong conservative leaders in the upper house.