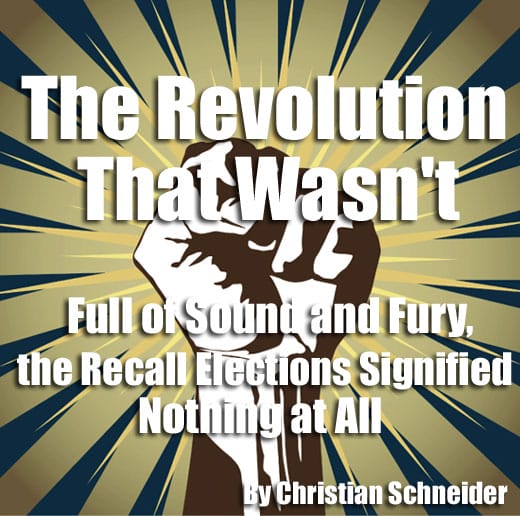 It all started with such promise. The people of Wisconsin would soon rise up against Gov. Scott Walker's assault on the middle class. Walker's plan to virtually eliminate collective bargaining for public employees, dubbed by state Sen. Spencer Coggs (D- Milwaukee) as the return of "legalized slavery," would provoke a historic rebuke of Walker's overreach.
This uprising would manifest itself in the form of recall elections against the six eligible Republican state senators. (Under Wisconsin law, an elected official must be in office for one full year before recall signatures can be collected — leaving all senators elected in 2010 ineligible.) Democrats, who had fought so hard against Walker's reforms, would need to win only three of six seats to retake the state Senate, thereby sending a strong message to elected officials nationwide who dared tussle with public unions.
The GOP roster of recall targets included senators Sheila Harsdorf and Dan Kapanke from western Wisconsin, Randy Hopper and Rob Cowles from the Fox Valley-Green Bay area, Luther Olsen from central Wisconsin, and Alberta Darling from suburban Milwaukee. According to the Wisconsin Democracy Campaign, roughly $35 million was spent on the recall races, well outpacing the estimated $19.3 million spent on all 115 legislative races last November.
As the recall elections approached, Democrats did nothing to manage expectations. On the eve of the GOP recall contests, Madison state Sen. Fred Risser, America's longest-serving state legislator, predicted Democrats would sweep all six elections.
The same day, Wisconsin Democratic Party chairman Mike Tate pumped up poll numbers showing Democrats leading in three races, and in a "dead heat" in the rest. "Independents are moving towards the Democratic candidates in strong numbers," he told a group of national reporters. Every race, he said, is "eminently winnable."
Yet on the morning after the elections, most Wisconsin residents wondered where the revolution went. Democrats fell well short of their lofty expectations, winning only two of six contests, failing to win control of the Senate. A week later, Democrats would dodge further disaster, retaining two of their own incumbents in recall elections.
That's not to say the recall election period wasn't wild. Charges and countercharges flew, wild statements were made about public support for the unions' efforts, and personal attacks normally confined to whispering campaigns were blared in TV ads. And as was the case during much of the Wisconsin collective bargaining imbroglio, nothing during the recall elections was as it seemed.
In fact, the recall mechanism itself has become something its authors never intended. Passed as an amendment to the Wisconsin Constitution in 1926, the recall provision was intended for judges, not state legislators or governors. Back then, most state officials had two-year terms; it wouldn't have made sense to recall a governor 14 months into a 24-month term – yet judges had longer terms that could be cut short. (Gubernatorial terms were extended to four years in 1967.)
In 1926, on Oct. 31, The Milwaukee Journal editorialized against the constitutional amendment, saying: "And here is the harm of the amendment. It threatens every judge with recall at any time. Not in the case of bad conduct; he can be removed for bad conduct under the present laws. It threatens his removal if he so far offends a sentiment that a fourth of the voters rush to sign a petition. Or he can be recalled if he offends interests able to spend a great deal of money to get what they want."
As it happened, 1926 wasn't the first time a recall amendment had been proposed. In 1913, LaFollette-era Progressives put a similar amendment before state voters, who voted it down by a 2-to-1 margin. In October 1926, Manitowoc attorney I.J. Nash, the former Wisconsin revisor of statutes, wrote a prescient commentary urging Wisconsinites to reject the amendment. Such a constitutional provision would make Wisconsin the "laughingstock of the country," he wrote, adding that a recall proceeding is "slow, conducted with passion, expensive, sets neighbor against neighbor, is unaccompanied by sworn or other competent evidence, and convinces few that justice has been served."
Yet in November 1926, the amendment passed by a margin of 4,743 votes, with just 50.6% of the statewide vote. The margin was so close that the The Milwaukee Journal' s page-one headline trumpeted "Recall Unlikely."
Supporters had argued that recalls would seldom be launched, as collecting signatures from 25% of the last election's voters was just too cumbersome. And for seven decades, the amendment's supporters were right. It was only in 1996 that the first state elected official was recalled from office — state Sen. George Petak was ousted for changing his vote to allow Racine taxpayers to be included in a taxing district to pay for a new Milwaukee Brewers' stadium.
The unions quickly figured out that the Internet age of Facebook, Twitter and other social media changed everything. Word could spread immediately about a recall effort, and signatures came cheap. Even the most Republican of senate districts have the 15,000 (give or take) Democrats and public employees needed to force a new election.
Republicans, too, jumped on the recall bandwagon, gathering enough signatures to force recall elections for three Democratic incumbent senators. Yet the GOP's most plausible candidate, state Rep. John Nygren, failed to get enough signatures on his nominating papers. Nygren turned in 426 nominating signatures, almost daring Democrats to challenge their validity — most candidates turn in twice the number required signatures. Sure enough, after a successful Democratic challenge, Nygren ended up with 398 signatures, two short of the required 400.
Nygren's failure to simply make it to the ballot may have helped Democrats retain their two-seat pickup.
Sheila Harsdorf, 55, is one of the GOP senators that Nygren's flub could have harmed the most. With the unions not having to spend a million dollars or more defending state Sen. Dave Hansen in Green Bay, that money could be spent on other Democrats such as Shelley Moore, a teachers union activist running against Harsdorf.
The 10th Senate District is in the fastest growing area of the state. It has become a Twin Cities suburb, growing more Republican as it grows rapidly in size. Harsdorf has represented her hometown of River Falls in the Legislature since 1988 (in the Senate since 2000), and hasn't lost an election in that 22-year span.
Yet in July 2011, Republicans were nervous about Harsdorf. In the Prosser-Kloppenburg Supreme Court race, the district split virtually 50-50 between liberals and conservatives. A nationwide public union group (ironically known as "We Are Wisconsin") spent millions of dollars on expensive Minneapolis-St. Paul television blasting Harsdorf for "cutting $800 million from schools," and "giving tax breaks to the super-rich."
This became a common theme in the 2011 recall elections. While the public unions' outrage forced the GOP recalls, scant mention of the collective bargaining issue was heard. In dropping millions of dollars in negative ads on the state, union groups completely abandoned their struggle as a talking point.
Yet Harsdorf wasn't afraid to fight back. While Moore, 37, was an energetic candidate, she was also a fiery union activist, prone to intemperate public remarks. Video surfaced of Moore speaking at the Madison protests, pumping her fist and screeching tropes like, "We breathe union!" and "This is a war!" On her website, Harsdorf linked to a video of Moore comparing the teachers' union to the Mafia — favorably.
Moore was discovered using her public school e-mail address to rally fellow teachers against Scott Walker. The e-mails were sent while school was in session. In one, she openly acknowledged that she was flouting the law: "We are not supposed to use school email, but since all of our rights are being taken away, I don't frankly care."
At the final forum between the two candidates, Moore sounded a familiar talking point: that "out-of-state third party" groups were hijacking the election. Unmentioned was that national teachers unions were pumping more than $15 million into Wisconsin to help Democrats retake the Senate. (Another astonishing moment of political obtuseness found Democrat challenger state Rep. Fred Clark, in an ad run against GOP Sen. Luther Olsen, saying, "I won't take from our seniors or from our children just to reward some special interests" — ignoring the fact that the whole election was nothing less than an attempt to reward a special interest known as "government employees.")
Harsdorf responded to her challenger by talking about how the GOP-controlled Senate was able to deal with a $3 billion deficit without massive layoffs of public employees. She pointed out that Wisconsin had created nearly 40,000 private-sector jobs since January. Moore jumped in, saying that for real economic development, the state should follow the recommendations of the "Be Bold Wisconsin" study group, which pushed for more funding for education. "We're not studying, we're doing," Harsdorf shot back.
While Harsdorf battled Shelley Moore in the 10th District, she had nowhere near the fight on her hands that state Sen. Randy Hopper faced. Hopper, a 45-year-old radio station owner from Fond du Lac, was first elected in 2008 by a margin of 163 votes. For months, he had been considered the second most likely Republican to lose, behind Dan Kapanke in La Crosse (who represented a solidly Democratic district.)
Hopper's district, however, was considered solidly Republican, despite going 54% for Barack Obama in 2008, the same year Hopper first won. It was 1936 when the district was last represented by a Democrat. Internal GOP polls showed voters favoring Walker's collective bargaining reforms; It was just the other thing that was pulling Hopper down.
Whispers began about Hopper's extramarital issues began as early as Scott Walker's inaugural ball, when the married senator appeared with a comely young woman draped on his arm. Hopper's open secret became really open when union protesters showed up to picket Hopper's house in Fond du Lac. According to reports, when they set up shop outside the front door, they were greeted by Hopper's wife, Alysia, who told them to buzz off — as Hopper was living in Madison with his 25-year-old mistress.
In a statement, Hopper pointed out he had been separated from his wife for more than a year and had filed for divorce in August 2010. Still, unease over Hopper's behavior quickly spread through his district, earning him the derisive sobriquet "Bed Hopper." Older women, in particular, were said to be unforgiving.
Hurting Hopper even more was Nygren's failure to make it to the ballot. Had there been a full-tilt campaign waged against Dave Hansen in the Green Bay media market, it would have taken the heat off Hopper.
Soon, Hopper's romantic life was the central focus of the campaign. The unions launched an ad implying Hopper helped his girlfriend get a well-paying job within the Walker administration.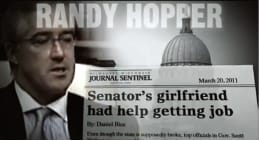 Late polls had Hopper pulling even with King, or even ahead. But once again, this recall election, purportedly about union rights, had become a referendum on something completely different — Randy Hopper's choice of mates.
A combined 288 years of GOP representation was at stake in these six districts on Aug. 9. Luther Olsen's 14th Senate District had been represented by the GOP since 1896 — yet he was seen in some circles as an underdog to Clark of Baraboo. Kapanke was almost certain to lose — Harsdorf, Hopper and Rob Cowles in the Green Bay area were all thought to be in play.
That left Alberta Darling, 67, whom Tate just days before called the "crown jewel" of the recall effort. Assuming Democrats could get Kapanke and Hopper, they just needed one more to take the Senate — and they spent millions on television ads in the Milwaukee area to ensure Darling was the third.
Darling's opponent was 57-year- old state Rep. Sandy Pasch, who represents Shorewood. The recall campaign had been beset by allegations of corruption, as Pasch sat on the board of a group called Wisconsin Citizen Action, which had been running third-party ads against Darling — an apparent violation of state law barring these groups from coordinating their efforts with candidates. Citizen Action was also affiliated with a group called Wisconsin Jobs Now, which may have violated state law by offering free barbecued ribs as an inducement for people who voted early.
Election night in the Darling war room was frantic. Early returns showed Harsdorf and Cowles running up big margins; Olsen, Kapanke and Hopper were all slightly ahead early. Then, the first big Darling news came in; she lost Whitefish Bay, a suburb that she normally loses by 600 votes, by only 150. Shorewood, a liberal area in which Darling usually gets between 22% and 27%, came in at 26% — on the high end of her range.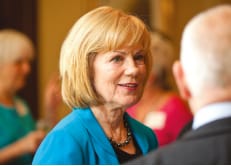 Despite television reports showing Darling down by 10 percentage points, smiles spread through the war room. Heavily GOP Waukesha County had yet to report its most populous areas. Darling could underperform and still win easily. With 65% of the vote tallied and Darling still looking like she was losing, Darling's campaign manager, Andrew Davis, smiled. "There's no way Pasch can win."
The statewide picture was also clearing up. Kapanke had lost, although not by as much as some had predicted; Harsdorf hammered Moore 58% to 42%. Cowles did even better, getting 60% of the vote; Olsen's seat stayed in Republican hands. Hopper, while leading most of the night, was barely clipped in the end, losing by 2%.
With Darling wining by a surprising 8 points, the GOP held the Senate. Tens of millions of dollars and thousands of hours of labor had gotten the Democrats two Senate seats — and after the redistricting plan signed by Walker on Election Day, Hopper's old seat is almost certain to return to Republican hands next year.
The biggest surprise of the recall elections is how unextraordinary they turned out to be. Despite being told how unprecedented and historic these elections were, Wisconsin learned the age-old lesson: Republicans tend to vote for Republicans, and Democrats tend to vote for Democrats. Unless, of course, one of those Republicans is accused of sexual shenanigans.
And that, in the end, is upon what these elections hinged. Despite everything Wisconsin citizens had heard about union rights, these elections boiled down to one alleged affair and two John Nygren nomination signatures. In most cases, the votes against the GOP candidate mirrored the number of signatures gathered to recall that incumbent — not exactly the message national unions can take back to fire up their members.
In failing to take control of the Senate, Democrats squandered a strong advantage. Democrat Assembly members Jennifer Shilling, Fred Clark and Sandy Pasch could challenge Republican senators without putting their own seats at risk. Shilling won in a Democrat-leaning seat, but Clark and Pasch were unable to parlay their proven electability into Senate victories.
Darling actually increased her winning margin from her last election in 2008. Ditto for Harsdorf. Olsen and Cowles ran unopposed three years ago; it was only Hopper and Kapanke who underperformed compared to 2008 — and Hopper only saw his numbers slide by about 1%.
Despite their underwhelming performance, the unions are unlikely to be deterred. They've already signaled they will move forward with more recalls of GOP state senators in 2012. Once the one-year waiting period for the Class of 2010 is up, Democratic-leaning seats currently held by Republicans will be in play. They need only flip one to control the Senate.
Furthermore, unions claim they have already collected 150,000 names of people wanting to recall Walker. (About 500,000 signatures would be needed to force the election.) In Ohio, unions only needed 218,000 signatures to force a statewide referendum on their new collective bargaining law; they turned in 1.3 million.
The day after the recall constitutional amendment passed in 1926, famous magician/escape artist (and son of Wisconsin) Harry Houdini died. In 2011, Wisconsin Republicans managed their own miraculous electoral escape. Whether Scott Walker can replicate the same trick in 2012 remains to be seen.
Christian Schneider, a Senior Fellow at the Wisconsin Policy Research Institute, wrote frequently on the recall elections for National Review Online.