Pastor Jerome Smith got a second chance and made sure countless others received one, too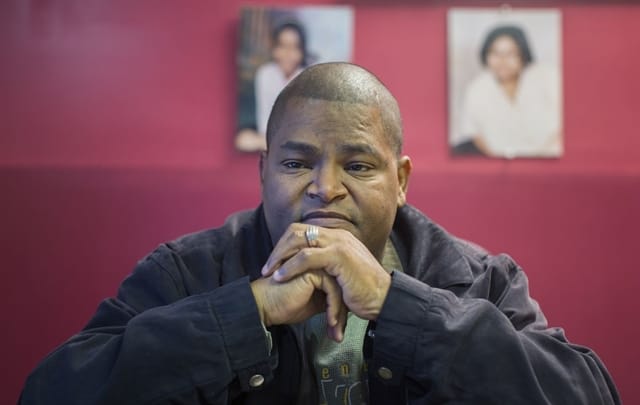 The neighborhood surrounding Milwaukee's Greater Praise Church of God in Christ has been plagued by unemployment, addiction, crime and high incarceration rates, problems so overwhelming that common sense would say no one man could possibly bring about transformation.
Except Pastor Jerome Smith.
Working from his storefront church at N. 55 th and W. Center streets on the north side, Smith and those he motivated and led provided food, training, employment and hope to their neighbors in one of the most challenged zip codes in the country.
He was a man of great faith who recognized the power of compassionate, caring, committed individuals working together to transform their community.
Smith was himself no stranger to despair. In fact in 1997, after business and marriage failures, he tried to end his own life. He put a gun to his heart and pulled the trigger. Inexplicably – Smith would say miraculously – he survived. He was almost literally born again that day and concluded that God had a greater purpose for his life.
"Because of that incident, I got a chance to make a difference," he said years later. "I could make a difference in people's lives. And that's what transformed me."
He eventually became a pastor and started the Greater Praise church. He was concerned about the unemployment and underemployment in his community, among other things, but did not see easy answers.
Inspiration struck in 2015 during a conversation with Orlando Owens, a member of Wisconsin Sen. Ron Johnson's staff, about employers in the counties surrounding Milwaukee that were experiencing employee shortages at the same time Milwaukee residents were looking for good jobs.
"When we discovered the problem was really transportation, the lightbulb went on," said Smith. "'We've got church vans. Let's use the church vans to get people to and from work.'"
From that conversation, the Joseph Project was born, a partnership between Greater Praise and Sen. Johnson's office. Smith described the program as "a faith-based employment initiative connecting those genuinely seeking opportunities with the opportunities that already exist." The project's name was inspired by a book titled The Triumphs of Joseph by community development leader Robert Woodson. The book focuses on "community healers" who are reviving streets and neighborhoods across America.
It started with just one van. Now, thanks to donations from partnering employers, foundations and donors, there are up to eight vans transporting workers to all three shifts, tallying up to 3,000 miles per day.
Participants begin with a week of training at the church, learning soft skills, money management and job interview techniques, among other things. Those who complete the training are guaranteed a job interview, though not a job. If a job is secured with one of the partnering employers, the Joseph Project provides the transportation.
Smith had high standards for participants. He expected those going through the training process to be on time (if not, they found the doors locked). He expected them to be consistent and professional, stressing that their experience would determine if employers would hire other participants following in their footsteps.
He stressed perseverance and commitment, asking prospective participants if they wanted or needed a job. People who need a job, he would say, might quit once the need is met. He wanted people who wanted to work.
But Smith had a lighter side as well. Both his passion for the community and his winsome laugh were contagious. He was openly affectionate with and lit up when discussing his wife, his children and his grandchildren. He was generous, often in quiet ways that would attract no notice or praise.
Thanks to his leadership, vision, partnerships and servant's heart, hundreds of Milwaukee residents have landed well-paying, benefits-providing jobs. The Joseph Project's retention rate is often higher than it is for businesses that do their own hiring. The retention rate at some businesses has been as high as 70%.
The success of the Joseph Project attracted national attention. Smith was invited to the White House. Presidential senior advisor Jared Kushner and other administration personnel visited Greater Praise to learn more and meet with participants.
"Pastor Smith was the spiritual leader and true force behind the Joseph Project," Sen. Johnson said in an email to the Badger Institute. "Together we saw the need and opportunity to transform lives, one person at a time. The Joseph Project helped connect people to jobs, but the real insight was recognizing the transformational power of work, faith and community.
"I admired the way Pastor Smith connected with people, supported them no matter the day or hour, and offered tough love when necessary. He believed the answers did not come from government, but from renewed faith and strengthened families. Milwaukee, Wisconsin and America have lost a true champion and a very good man."
Smith took pride in the fact that the Joseph Project did not accept government funding, which he felt came with too many strings attached. His approach was in line with a principle of social thought known as "subsidiarity," a clunky word that asserts that those closest to a problem are usually the best equipped to deal with it.
I don't think I ever heard Pastor Smith use the word – but he certainly believed in the concept and, more importantly, put it into action. In doing so, he had an outsized impact using a common-sense, grassroots, low-budget approach.
"Now sure, we don't have a lot," Smith acknowledged in a 2018 video produced by Stand Together, a national philanthropic community that the Joseph Project was part of. "We're just a storefront building sitting on 55 th and Center. But inside that storefront building, God created something called the Joseph Project – all because he didn't let somebody kill himself twenty-some years ago.
"Now the purpose is being revealed," he continued. "It's not about me anymore. I'm a 46-year-old black male. (My) heart runs at about 24%. It's about how much good I can do with the time I have left, trying to bring the best out of somebody else. … That's what it's about. That's how you transform lives."
True to his word, Pastor Smith did much good with the time he had left. He passed away on April 27, 2021, leaving a legacy of transformed lives and an impact that will be felt for generations.
Michael Jahr is the senior vice president at the Badger Institute.