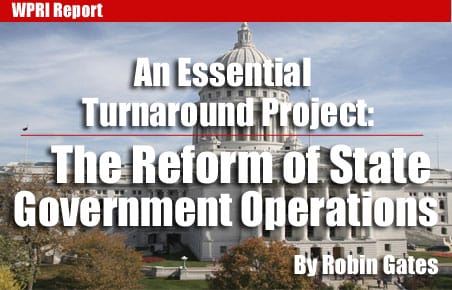 Vol. 24, No. 4
WISCONSIN STATE GOVERNMENT NEEDS MANAGEMENT OVERHAUL
WPRI paper recommends new management training programs, alteration of civil service
Wisconsin state government is like a Fortune 200 company using management practices from 30 years ago, according to a Wisconsin Policy Research Institute study urging the use of modern management strategies that include goal-setting and performance measurement as well as successful private-sector methods that identify and nurture management talent.
"'Crisis' is not too strong a word to describe what many government agencies face," said Robin Gates, who served as a division administrator in several state agencies and as a vice president at Alliant Energy. "We Wisconsinites need fundamental change from the top to the bottom of these agencies and across the breadth of state and local governments if we are to succeed the way this country's more innovative corporations have – with top-notch management."
Successful managers are innovators and strategists who introduce accountability and performance measurement, competition, flexibility, outsourcing, innovation and collaboration, according to the study, "An Essential Turnaround Project: Reform of State Government Operations." They are management professionals specifically trained in management methods, business models, risk management, supply-chain management, finance, governance and the latest management processes and technology.
Public-sector managers in Wisconsin, Gates has concluded, are often not trained or developed as managers and commonly enter government service for other reasons.
"Rare is the government manager who went into government to pursue his or her passion for management," said Gates. "Interest in public policy or desire for public service is the more common motivation and, though admirable, is sorely inadequate preparation for managing extremely complex, multi-million dollar projects and agencies that often involve hundreds or thousands of people. Government doesn't do the same things it did thirty years ago. We shouldn't manage it like it does."
The result of antiquated management practices has often been failure of state government to control costs and operate efficiently, according to the study. Gates points to a string of high-profile project failures in everything from IT to communications to child care to medical assistance in the state. This contributes to the public's declining confidence in government.
The primary problem: state government is a large and complex organization under tremendous pressure to perform. There are 74,000 state government employees and an annual budget of $31 billion; however, unlike the best large corporations, the state has for decades done little to identify, nurture and develop management talent and deploy the tools they need to get results.
Gates suggests fundamental changes in the structure of state government including alteration of the civil service system to allow both more accountability and the use of multi-year, performance-based employment contracts. Managers need to be more accountable for achieving objective results. Positive and negative consequences need to be tied to performance. He recommends creation of chief operating officer positions in various agencies and changing the retirement system to make it more portable. Expectations for managers to improve efficiency should also be built into results-oriented budgets, the study concludes.
Among his other recommendations:
Create a high-quality management training program for current and potential managers already working in state government. This could be similar to an executive MBA program typically offered to managers in the private sector. As an alternative, the state could offer an in-house management university similar to those in some large corporations.
Give managers more opportunity to rotate jobs in order to develop broad-based experience – an increasingly common feature of management life in large corporations.
Do more to identify and assess management talent already in the ranks of state employees. A formal management assessment program should be considered as well as ongoing development opportunities.
In addition to identifying and nurturing good managers, Gates recommends a new or renewed emphasis on essential management systems and practices such as strategic and operational planning, realistic goal-setting, performance measurement and the development of an accountability culture. Even highly skilled managers won't succeed without the appropriate tools.
"Governor Walker has embarked on the transformation of state government. However, if the management of state agencies is not changed, regardless of the governor's intentions, state government will remain inefficient and detached from the public," said George Lightbourn, president of WPRI.
"The current public perception of government discourages talented managers from entering," said Gates. "Saying you work for the government tells people you are risk-averse, unimaginative and like lots of rules. That has to change. Many talented people went into government following JFK's presidency because he created an image of bright young people doing exciting and valuable work. We need to get some of that back."