"I get why the law is in place, but I'm not a threat to monopolize anything," says restaurateur Justin Aprahamian.
State Rep. Dale Kooyenga (R-Brookfield) thinks it's embarrassing that Wisconsin, with its rich brewing heritage, has forced an acclaimed Milwaukee restaurateur to Illinois to brew beer. So Kooyenga and state Rep. Ken Skowronski (R-Franklin) plan to introduce legislation in the next few weeks that would allow a brewer to also hold a restaurant retail liquor license.
Chef Justin Aprahamian, owner of Sanford restaurant and a James Beard award winner, disclosed recently that he and business partner John Lavelle will open Like Minds Brewery in Chicago instead of Milwaukee, as originally planned.
Why? They ran head-on into a provision tucked into the 2011 state budget that prevents a brewery owner from holding a liquor license for a retail establishment, such as a restaurant. The legislation is a corollary to the long-standing three-tier distribution system, designed to keep alcohol manufacturers, distributors (wholesalers) and retailers (bars, restaurants and liquor stores) at arm's length from one another.
Kooyenga says maintaining the three-tier system, which he supports in principle, requires flexibility. "When business owners have concerns like this, and they're not asking for something immoral or unethical and it won't involve breaking the bank, we should change laws to accommodate economic growth," he says.
"It seems reasonable to do a carve-out (modify the law) to accommodate entrepreneurship," he adds. "We're not talking about blowing up the three-tier system."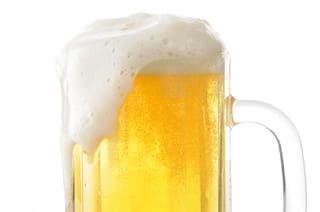 State Rep. Rob Swearingen (R-Rhinelander) opposes such a change. "You can argue that the three-tier system works or doesn't work, but it's the best of the worst that's out there," says the chairman of the Assembly committee on state affairs and government operations, which oversees alcohol-related issues. Swearingen owns Al-Gen Dinner Club in Rhinelander and is a past president of the Tavern League of Wisconsin.
"It's a question of fairness derived over hundreds of years of seeing the good, the bad and the ugly of this industry," says Scott Stenger, director of government affairs for the Tavern League, who also runs a lobbying firm that represents MillerCoors. He says if exemptions are made for someone like Aprahamian, macro brewers will want the same privilege.
"Nobody wants to see (Aprahamian) move a business out of the state of Wisconsin, and certainly not into Illinois," Swearingen says. "But people who get into these businesses need to understand the parameters of the tier under which they operate … it's unfortunate that he didn't understand what he can and cannot do before he started dabbling in starting a brewery."
Aprahamian explains, "We proposed various arrangements (to state Department of Revenue officials), including having me give up my ownership and receive a consulting fee instead, but they said any compensation would be unacceptable. But they did tell us we could go to Illinois. I was floored — John even asked them to repeat what they said."
"Given the environment here in Wisconsin and what's going on with jobs and trying to attract businesses here … I thought we could at least have a conversation about how to make this work," he adds, noting that Like Minds initially will employ 30 to 40 people, possibly more if the venture succeeds.
Other business owners have been adversely affected by the law. Last spring, Karen Bell, owner of Bavette La Botchery in Milwaukee, was forced to relinquish her ownership in Company Brewing in Milwaukee because Bavette holds a retail liquor license. And earlier this year, the law initially thwarted plans by William Glass, then owner of the Fire House bar in Eau Claire, to open a brewery in the city.
To open the Brewing Projekt, Glass severed his financial interests in the tavern, which he owned with his wife, Becky, and put other assets under his father's name. He now "works" at the brewery, owned by his father, as a volunteer.
"I knew ahead of time that the laws were convoluted and that the 2011 changes complicated things," Glass says. "I knew it wasn't going to be easy. But I never imagined I'd have to do all this. It's mind-boggling and extremely frustrating."
Mark Garthwaite, executive director of the Wisconsin Brewers Guild, says he has received phone calls from nearly a dozen other people in the same or similar situations. The guild represents 60 of the state's roughly 130 craft breweries, which produce about 485,000 barrels annually, he says.
"People are shocked to find out it's a problem … in fact, you can't even work in a restaurant (that has a liquor license) and obtain a brewer's permit," he explains. "That's kind of chilling for a state like Wisconsin, which wants to be known as the beer state."
The three-tier system was adopted across the United States after Prohibition ended in 1933. Before Prohibition, it was common for brewers to own or establish ownership interests in bars and taverns. This "tied house" system enabled brewers to squash competition by forcing taverns to sell only their products in exchange for financial assistance.
When Prohibition ended, the federal government allowed states to regulate the production, distribution and sale of alcoholic products. To prevent the tied-house model from re-emerging and to make tax collection more efficient, states created laws that formed a framework for the three-tier system.
Aprahamian supports the overarching intent of the system. But he points out that the relatively small volume of beer that Like Minds will produce would not enable him to establish a stranglehold on beer sales in Milwaukee, home to a MillerCoors brewery that produced more than 8 million barrels of beer in 2014, according to the Department of Revenue.
"The fact is that whatever number of barrels we brew, what we move would be a drop in the bucket compared to the volume of beer sales in the marketplace," he observes. "I get why the law is in place, but I'm not a threat to monopolize anything."
It's ironic that defenders of the status quo are concerned about a monopoly threat by small craft breweries at a time when Anheuser-Busch InBev is trying to take over rival SABMiller, parent company of MillerCoors. Combined, the companies would control a third of global beer sales. In the U.S., AB InBev has 45% of the market and SABMiller about 25%.
"We should have a more dynamic three-tier system that responds to the changing landscape of the brewing industry. … The system should protect the consumers, too, and right now consumers want lots of choices for beer," says Garthwaite. "If we're truly open for business in Wisconsin, then we shouldn't put these kinds of hurdles in front of entrepreneurs," he says.
Kooyenga hopes a revised law will give entrepreneurs a chance to succeed where Aprahamian and Lavelle could not — right here in Wisconsin.
Ken Wysocky of Whitefish Bay is a veteran freelance journalist and editor.