Dentists see that adding the mid-level providers eases the care shortage, expands access and creates efficiencies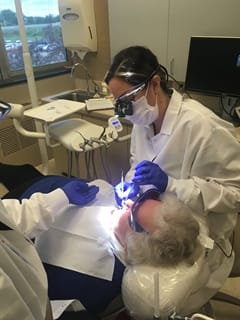 A dentist who owns two growing practices in adjacent rural counties in south-central Minnesota, Shawn Knorr is busy, and he prefers it that way.
"I like the work, and I like to work hard," he says. "We have a productive office."
Some of Knorr's patients drive up to an hour to see him for their crowns, root canals, implants or oral surgery. Those who need preventative exams and restorations — the technical term for fillings — often will open wide for his dental therapist, Brie Borntrager, a University of Wisconsin-Madison graduate.
"It makes a lot of sense to have Brie on the team. She's particularly gifted working with children," Knorr says.
Regarded as mid-level providers, dental therapists are to dentists what physician assistants and nurse practitioners are to doctors.
In 2009, Minnesota became the first state to establish the dental therapy profession.
Minnesota's first dental therapists graduated in 2011, so they have been practicing alongside, and under collaborative management agreements with, dentists in community clinics and dental offices across the state for a decade now.
10 years of data
The nonprofit, nonpartisan Pew Charitable Trusts has advocated over the past decade for the wider acceptance of dental therapists as an evidence-based policy solution to the persistent shortage of affordable dental care.
"We now have 10 years of data in Minnesota to show the impact, and the evidence is significant," says Kristen Mizzi Angelone, senior manager of the Pew Dental Campaign. "Dental therapists are filling a crucial role in making dental offices more productive."
Dentists in Minnesota who at first were reluctant to embrace dental therapy have come on board in the past decade.
"Dentists were initially afraid that dental therapists would not provide quality care; we heard that fear over and over. Now we have 10 years of dental therapists practicing safely that says otherwise," says Karl Self, a dentist and dental educator who is director of the Division of Dental Therapy at the University of Minnesota School of Dentistry.
Last year, Pew funded quantitative research to evaluate dental therapists in Minnesota. The study analyzed data from 250,000 patient visits to Minnesota dental clinics that utilize dental therapists and concluded that those practices increased both patient caseloads and gross revenues.
Citing federal figures, Pew notes that only about a third of U.S. dentists accept public insurance. That squeezes access to dental care for 72 million Americans who rely on Medicaid and the Children's Health Insurance Program. (Wisconsin ranks last in the nation for providing dental care to the more than 550,000 children with dental benefits through Medicaid, based on 2015 statistics.)
In Minnesota, lawmakers passed regulations to license dental therapists. The measure limited their practice to settings that serve the low-income and uninsured and in practices in rural areas where dentists are few and far between.
"It truly is a bipartisan issue. Legislatures that have added dental therapists were looking for innovative, low-cost ways to expand access to dental care. It creates a new profession and workforce, not a new state-run government health care program," says Mizzi Angelone.
Legislators in 11 states have followed Minnesota's lead and passed laws to add dental therapists. At least 10 more states, including Wisconsin, will actively consider legislation authorizing dental therapists in the coming year. Dental therapists have been providing care worldwide for a century and currently practice in more than 50 countries.
Demand outpaces graduates
According to the Minnesota Board of Dentistry, the state's dental workforce stands at approximately 17,500. That includes dentists, hygienists, dental assistants and a total of 113 working dental therapists.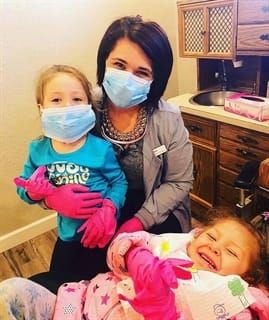 The demand for dental therapists in Minnesota now outpaces the number trained for the job.
"Our program graduates seven or eight a year. I'd love to enroll more, but our facilities don't allow us to expand. Because of lab space, equipment and supplies, dental education is one of the more expensive of the health science programs," says Self.
But the pipeline is filling up. In addition to the University of Minnesota, Metropolitan State University in St. Paul began training dental therapists in 2009. A third program at Minnesota State University-Mankato will begin this fall.
A "slow build" on the number of dental therapists, with about 20 a year coming into the profession, has smoothed their acceptance, Self believes.
The Minnesota Board of Dentistry has taken no complaints or issued any disciplinary involving dental therapists.
"We hear inquiries from many states that are writing their own laws, asking about how our programs function. We're helping them navigate this," says Bridgett Anderson, the board's executive director.
Dentists not losing business
Trained to provide services that previously only dentists could perform, dental therapists build efficiencies into the oral care system. With their limited scope of practice, they earn less than dentists, but their ability to provide routine care frees up dentists to treat patients who need complex procedures that generate more revenue.
"Based on feedback from health care systems, clinics and practices, I can say it's going well. We have excellent compliance in Minnesota," Anderson says. "Dental therapists work where there is a need, whether it's because patients are low-income or in rural areas. They are not taking lucrative business from dentists."
As senior vice president and dental director in the HealthPartners Clinic system, David Gesko testified before the Minnesota legislature in support of adding dental therapists to the dental workforce.
"I was an early adopter, hiring them into the practice where we see a significant share of Medicaid patients," says Gesko, a practicing dentist.
Dental therapists play a role in closing the gap of oral care available to low-income patients, he believes.
"We have a difficult time getting dentists to see Medicaid patients. Minnesota's reimbursement rate is consistently among the lowest in the nation; it's about 30 cents on the dollar. I see why dentists don't want to rush into that market, but they should be supportive of the pathway that brings in providers who can give those patients high-quality care."
Gesko cites the old adage that an ounce of prevention is worth a pound of cure to bolster his belief that dental therapists save the system in the long run.
"We refer patients who need fillings to our dental therapists, and they've been invaluable in stopping the progression of decay. Without restorative care, cavities lead to bigger, more expensive problems — not just tooth loss, infection, root canals but also lost time at school or work and pain and suffering."
Serving the underserved
Borntrager, the advanced dental therapist on Knorr's team, is familiar with how excruciating and debilitating a toothache can be. On an almost daily basis, she eases the discomfort of patients whom she treats in the rural office where she works; about half are on Medicaid.
"I saw a little boy today who kind of broke my heart. He had a lot of treatment needs, and there's no way his family could pay this. If we weren't here, I don't know how he would get care," says Borntrager, who grew up in Oconomowoc, Wisconsin.
As an undergraduate at UW-Madison, Borntrager volunteered for three mission trips to Central America, where she assisted dentists in providing badly needed care. Inspired by the work, she had applied to dental school when she heard about the dental therapy program at the University of Minnesota and chose that instead.
She was in the inaugural class of dental therapists to graduate from the University of Minnesota and is currently president of the American Dental Therapy Association.
"It was my goal to help the underserved, and I saw that dental therapy would be a good fit, being a mid-level provider to reach those populations," she says.
When Knorr bought his practice from a retiring dentist, only 2% of the patients on the books had dental benefits provided by public programs.
"Before I took over, the practice wasn't taking any new patients on state and federal programs, and that didn't sit right with me," says Knorr. "Those folks were calling every day trying to make appointments."
While in dental school, Knorr treated economically disadvantaged patients during a residency at Hennepin County Medical Center, the large public safety net hospital in Minneapolis. By the time he saw them, many of the patients needed extractions; their problems had been ignored for too long to preserve their teeth.
That's a situation he believes he can avoid in some of the patients he sees in his clinics.
"I have an abundance of patients who pay cash or have (dental) insurance. I have the desire to help the segment that doesn't go to the dentist because they can't afford it," he says.
"Brie helps me to achieve the mission of improving access to care. It's a good situation for everyone."
Kevyn Burger is a Minneapolis-based freelance writer.