Young conservatives fear and loathe cancel culture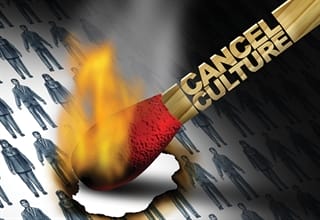 Young conservatives in Wisconsin say the threat of being ostracized or losing their jobs over their political ideas is very real to them. In the soul-searching that followed the defeat of Donald Trump in the 2020 election, attention turned to young Republican voters in an effort to plot the direction of the party. When the Badger Institute recently went out to talk to those voters about the health of conservative ideas, we found that people were incredibly skeptical. Some refused to speak; others wanted anonymity. All were worried about being "canceled" by a culture intolerant of their beliefs.
And why not when so many of the targets are successful and influential: Tucker Carlson, the conservative populist with a huge audience on Fox News; Wisconsin Sen. Ron Johnson, whose fiscal conservatism is regularly twisted and pilloried; and J.K. Rowling, creator of the "Harry Potter" empire, for challenging the transgender rights movement.
As of this writing, rapper Nicki Minaj, hardly a conservative gadfly, faces a full-on cancel siege for posting on Twitter skeptical — and questionable — opinions about COVID-19 vaccines.
Livelihoods threatened
Young conservatives just getting started in their careers in a deeply polarized Badger State don't have the leverage of Minaj's global social media following or her $100 million net worth to give a middle finger to progressive cancel culture.
Questioning or opposing the new federally imposed COVID-19 vaccine mandates for businesses, advocating for expanded school choice, opposing critical race theory, proselytizing or defending free speech in public elicits derision from the mainstream media, on campus and most recently from corporations hoping to benefit from "woke" posturing.
Eric Brooks, a Twitter personality popular among politically active young conservatives in Wisconsin, was one of the few people approached by the Badger Institute willing to talk on the record.
"The suppression of free speech, especially through threats and coercion" has conservatives worried, says Brooks, 27, a former educator who has done grassroots work for Americans for Prosperity, Wisconsin Young Republicans and Concerned Veterans for America.
"Many people feel that their employment and livelihoods could be threatened because of their beliefs — it goes beyond just being 'canceled' on social media," Brooks says.
Former Gov. Scott Walker recognized the gravity of the threat when he accepted the presidency of Young America's Foundation in February. The nonprofit partner of Young Americans for Freedom supports student groups on roughly 2,000 campuses on an annual budget of about $30 million.
In March, Walker announced "The Long Game," an initiative to move beyond college campuses to reintroduce ideas of free individuals, free enterprise and traditional values.
"Free speech is under attack from Big Tech censorship, leftist radicalism and a culture of fear and intimidation," Walker said at the time. "Conservatives are shamed into silence for fear of social stigma and even economic ruin."
"We have to start with junior high and preteens, because that's where the left is getting its foothold," he said.
Brooks says, "When I was working in education, I would be very quiet about my political views. If I did speak up, I would usually have to be more of a centrist or pretend not to be as involved as I am."
Don't suffer in silence
Corrie Christiaansen, of Muskego, an associate researcher for the nonprofit group 2ndVote, goes out of her way to avoid the personal attacks and name-calling that are a regular feature of many Facebook and Twitter groups.
"Conservatives," she says, "tend to stay in a clique and not reach out to those in other areas. "In general, I speak moderately and save my most disputed political beliefs for specifically conservative private Facebook groups or on Twitter. Since my conservative beliefs are connected with my personal faith life, people have been mostly respectful to me as long as I don't use comment sections to argue or name-call like others do."
However, Christiaansen makes her living at the Hendersonville, Tennessee-based nonprofit whose mission is to identify and oppose companies and organizations that use their clout to undermine or attack traditional American values. "We (young conservatives) cannot be afraid to be in uncomfortable places meeting new people," she says. "We cannot be afraid to serve others in our communities, especially those outside who we already agree with."
Rachel, a 30-year-old health care worker who asked that we not use her last name for fear of reprisal, is a member of several politically oriented organizations including America's Future and the Policy Circle but will not risk the exposure on social media. "I don't post about politics online as a rule," she says.
Those willing to share their views with us agreed that at the root of the problem was a fundamental difference in the understanding of free speech between conservatives and those who identify as progressive.
The ultra-progressive Black Lives Matter movement, for example, has as one of its mantras the slogan "speech is violence." Meaning, any speech contrary to that of Black Lives Matter adherents.
"I don't believe speech is violence," says Benjamin Garbedian, a 20-year old Carroll University student and a member of Wisconsin Young Republicans. "I'm of the mindset that more speech is almost always a good thing, even if I disagree with the speech. From what I've seen, modern progressives seem to take the opposite view." (Garbedian is a former Badger Institute intern.)
Progressives downplay cancel culture, Brooks says, because "they are largely the same people who get to decide which speech is considered problematic," and that speech, not surprisingly, is largely that of conservatives.
"Freedom of speech shouldn't be a partisan issue," Brooks says, "but it is largely people on the left who claim, 'speech is violence,' which leads to this environment."
As toxic as the environment can be on Facebook and Twitter and despite conservative-centric alternatives like Parler or Gettr, the young conservatives we spoke with believe important battles will be lost by withdrawing.
"How can I learn or make a difference if the only people I connect with believe the same things I do?" Christiaansen asks.
Brooks has resisted joining any of the conservative alternatives and thinks that more engagement on social media will send a strong message to both young conservatives and young people blocked by cancel culture on what conservatives are all about.
"I think we need to create a culture that is more welcoming to young people," he says.
Remso Martinez is the Badger Institute's digital marketing manager. Permission to reprint is granted as long as the author and Badger Institute are properly cited.