An unnecessary second stimulus is an invitation for state, county and local officials to act irresponsibly with our tax money
The $360 billion that the federal government is throwing at state and local governments through the American Rescue Plan Act of 2021 might be the craziest and most irresponsible thing Congress has ever done.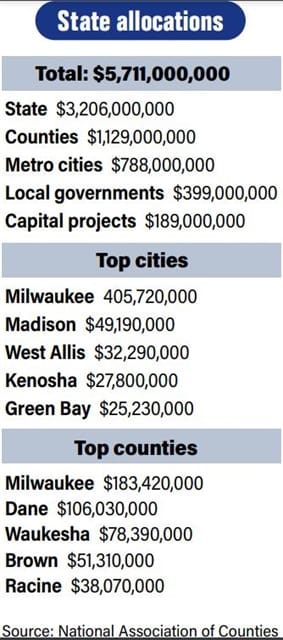 Wisconsin's share, $5.7 billion — $3.2 billion for our state government and another $2.5 billion to more than 2,000 county and local governments — is not needed. And its allocation was almost entirely arbitrary, much of it a matter of simple division rather than targeted need.
The numbers alone are staggering: $405,720,000 for the City of Milwaukee, $183,420,000 for Milwaukee County; $49,190,000 for Madison, $106,030,000 for Dane County; and $25,230,000 for Green Bay, $51,310,000 for Brown County.
Counties will get more than $1.1 billion, but from the most populated to the least populated county, from the wealthiest to the poorest, the shares will be equal, at a rate of about $194 per resident.
Waukesha County was allocated $78,390,000, but through some quirk in the formula, the City of Waukesha is getting "only" $7,150,000. "We're talking to our legislators about it," Waukesha City Administrator Kevin Lahner tells me. "We should have been in the (Community Development Block Grant) entitlement category."
The problem, and this is a big one, is that the federal government is borrowing the money to give to governments that are, for the most part, better off than they were before the pandemic because of the CARES Act in March 2020.
In many jurisdictions, overall revenues have not changed. Property taxes remain the same, and sales tax revenues are up. Local governments over the past year spent less on travel, training and general office expenses. The federal government amply reimbursed for all pandemic-related expenses.
"Most counties don't need this windfall," Manitowoc County Executive Robert Ziegelbauer tells me. "Counties have made tough decisions year after year to act responsibly with the public's money. This bill threatens to squander all of that progress by fostering a real sense of dependence on the federal government."
Because so much of COVID-19 spending has already been covered, many local governments are struggling to determine how they can spend this new windfall. Outside of revenue replacement or negative economic impacts due to COVID-19, premium pay for essential workers and water, sewer and broadband infrastructure, the U.S. Treasury has provided no further guidance.
Because governments at all levels derive the majority of their resources from the people and businesses in their communities, responsible spending of those resources has always been a high priority. State and local governments devote considerable resources to financial planning to correctly apportion revenues to the many needs of citizens.
Most government officials and leaders in this country have been careful and responsible stewards of government money. To have the federal government set an example like this with its extremely poor stewardship and thoughtless planning is unsettling in the long term for our democracy and leads us down a road that very few Americans want to go.
This is pure lunacy.
Mike Konecny, owner of the financial consulting firm MWK LLC in Green Bay, has provided financial advice to local governments for more than 40 years. Permission to reprint is granted as long as the author and Badger Institute are properly cited.