Tax data shows which state universities better promote graduates' upward mobility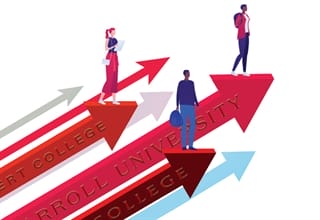 With retail price tuitions at several of Wisconsin's private universities topping $50,000 a year, it might help those paying the bills to know which schools do the best job of moving students up the economic ladder.
Using tax data collected in an earlier study, we have for the first time ranked the state's private schools for their graduates' success in moving from the lowest to the highest income bracket, their median incomes at age 34 and their likelihood of moving up at least two income brackets.
The question of upward mobility is more urgent at this time of surging tuition and increased attention to economic and social inequality. Tuition rates at Wisconsin's most expensive private colleges, Beloit College and Lawrence University in Appleton, exceed $50,000 per year. The average tuition at Wisconsin's 21 four-year private schools is more than $36,000 per year.
While the Milwaukee School of Engineering has the sixth-highest tuition in the current school year ($43,284), it ranked first in all three mobility metrics. Half of MSOE graduates from low-income families went from the poorest bracket or quintile to the wealthiest quintile by age 34, not surprising for a school that produces primarily engineers (see Table 1).
By this measure, Herzing University in Milwaukee, Lakeland University in Plymouth and Northland College in Ashland were the weakest performers, with fewer than 10% of their low-income students moving from the bottom to the top income brackets by age 34.
Median income
MSOE far outstrips every other private school in Wisconsin, with graduates earning an average median income of nearly $73,000 at age 34. Marquette University in Milwaukee comes in at just over $60,000 and that average median income drops considerably, to $47,500, for graduates of Carthage College in Kenosha (see Table 2).
Maranatha Baptist University in Watertown is at the bottom, with graduates earning an average of just over $24,000 at age 34. It's worth keeping in mind, however, that Maranatha's mission is "to develop leaders for ministry in local church and the world." Those leaders, while certainly valued, are not often well paid.
Nearly a quarter of graduates of MSOE and Alverno College in Milwaukee moved upward at least two quintiles by the time they turned 34 (see Table 3). For a student from the lowest quintile, that move would be squarely into the middle class. From the middle, that move would put a graduate in the top 20% of wage earners.
Five of the schools did, at best, half as well as MSOE and Alverno. Beloit College and Lawrence University ranked last with a two-quintile earnings movement of just 11%.
No one measure tells a complete story. Marquette ranked second among the schools for producing graduates who went from the bottom to the top but third from last in graduates who moved up at least two income brackets. By contrast, Lakeland ranked dead last in bottom-to-top movement but third in two quintile movers.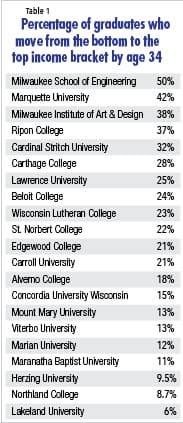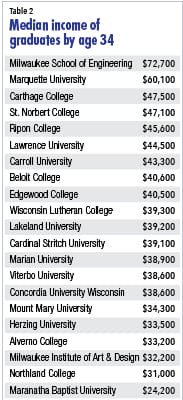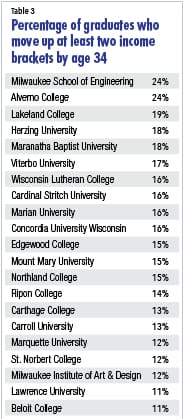 Scott Niederjohn is a professor of economics and director of the Free Enterprise Center at Concordia University Wisconsin in Mequon and a Badger Institute visiting fellow.