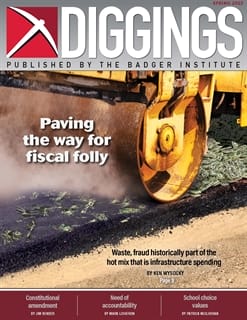 Growing our reach and influence
by Mike Nichols
Wisconsin entrepreneurs build communities, careers.
By Remso Martinez
Numbers from the front lines and the Badger Institute's latest work.
Pandemic made the problem of delayed justice worse in Wisconsin
By Jeremiah Mosteller
Voters have amended the state constitution 146 times. Will they do it again? By Jim Bender
Policy roadmap for governor and Legislature to be published throughout 2022 and early 2023
WisDOT officials defend some infrastructure practices – not responsive on others By Ken Wysocky
The last 16 months were Badger's most productive by nearly any metric; here are a few highlights.
Tax data shows which state universities better promote graduates' upward mobility
by Scott Niederjohn
Compelling people talk to us on our biweekly podcast.
The Badger Institute investigates where the billions went.
By Mark Lisheron
Excerpts from weekly Badger Institute columns
An open embrace of spiritual values in choice school builds better citizens. By Patrick McIlheran