These couples still cherish the institution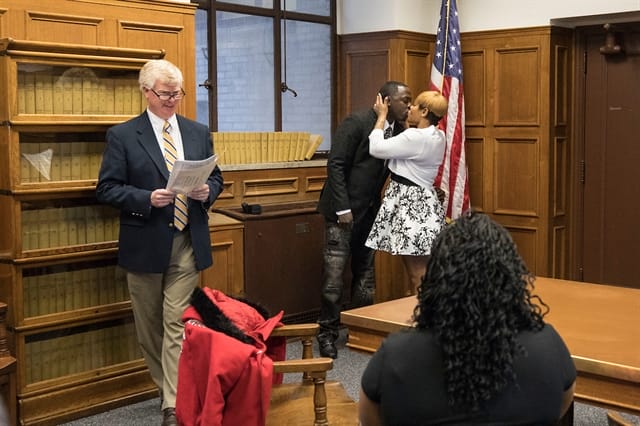 Dalicha Whitelow, 37, and Damien Nelson, 32, were dressed for the occasion, she in a black and white dress with a flared skirt, he in a dark sport coat and tie. Several family members came to the Milwaukee County Courthouse on March 9 to witness their marriage.
"We love each other, and it's just time," Whitelow says, adding that they have been together for six years.
Both say few of their friends are married and finances are a big part of the reason — having jobs and financial security was important for them before taking the leap.
Both were raised by single mothers and their fathers were not a major part of their lives, although Whitelow says her grandparents had been married 32 years. Her grandfather was a big influence on her life, but many children don't have a father figure growing up, she says.
Nelson says that their six years together were important to solidifying their relationship.
"We have been trying to figure out a lot of things about life together," he says. "Marriage requires a lot of trust and communication. Loyalty and honesty are an important part of it, and we've worked a lot of that out."
Lauren Mayer, 25, and Haydar Baydoun, 27, met five years ago at the University of Minnesota, where both were architecture students.
They were among the six couples tying the knot at the courthouse on March 9.
"We're in love, and we want to be together," Mayer says. "Getting married may be the only way we can stay together."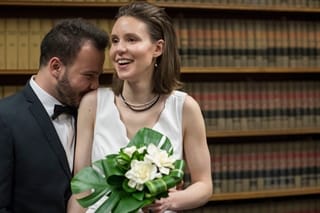 Baydoun, a native of Lebanon, is employed but needs a K-1 visa to stay and work in the United States. Being married to Mayer, an American citizen, could help him get that visa.
When asked if many in her social circle are married or contemplating marriage, Mayer replies, "Oh, yes. I have a couple close friends who are engaged, and I've been to five weddings this past year. But most of the couples were a little older than us."
To some extent, marriage mirrors the economic divide in America.
Couples who have completed their educations, have jobs and haven't had children yet are most likely to eventually wed, according to numerous studies.
Mayer and Baydoun, both working professionals, fit that statistic.
Maria Dorsey, the chief court commissioner in Milwaukee County who officiated at the couple's service, says marriages may not be booming by 1970 standards. However, the commissioners who do most of the weddings are so busy that officials are considering using volunteer commissioners — lawyers in private practice appointed to unpaid positions by judges — and setting aside a special room for nuptials, just down the hall from the divorce courtrooms.
Part of the demand, of course, is the result of new laws. In 2009, the Wisconsin Legislature passed a law permitting domestic partnership, aimed largely at giving same-sex couples some of the same rights as straight couples. In 2014, same-sex unions were recognized in the state after a lengthy court battle. In 2017, the domestic partnership law was repealed.
Jared Shah, 33, and Corey Dillard, 43, were among the couples marrying at the courthouse that day. The two have been together for 11 years.
They own a house, and both have secure jobs. Gay marriage has been legal in Wisconsin since 2014, so why did they wait?
"I was happy when it became legal, but it wasn't imperative to do it at that time," Shah says. "I did feel strange that straight people had to confirm our right to get married. We didn't need that to confirm our love."
Dillard adds: "In a way, we felt we had already been married for a long time."
Marie Rohde is a freelance journalist who wrote for many years for The Milwaukee Journal and the Milwaukee Journal Sentinel.
Related stories:
► Eschewing marriage: Add Catholics and older folks to those who are choosing to be single
► Marriage is a foreign concept to some