Luxury golf resort thrives while giving Adams County's economy a much-needed boost
ON THE FRONTLINES
PHOTOS BY ALLEN FREDRICKSON
Town of Rome — Sand Valley Golf Resort in central Wisconsin doesn't look like most other top golf facilities. For one thing, there's no ocean, no Great Lake, no picturesque body of water bordering its courses.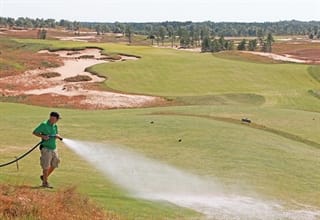 For another, it's all sand — a sand barren, to be exact. About 15 miles from Wisconsin Rapids, the resort in Adams County sits on what was once a glacial lake and is now covered in natural sand dunes and huge stands of red pines left over from when the area was prime paper mill territory.
But perhaps the biggest difference is Sand Valley's mission. In addition to creating a world-class golf resort, owner and developer Mike Keiser Sr. has created an operation that is lifting the area's economy out of the doldrums.

Keiser's son Michael, who oversees Sand Valley, says that was always part of the plan and that the benefits go both ways.
"This entire county is supporting us and lifting us up. We're nothing without the people here. We have 500 employees, and most or all of them are from the community. It's a mutually beneficial relationship, and we're humbled by that. It's an incredible privilege," says Michael Keiser.
A slow recovery
The effects of Sand Valley are felt intensely in Adams County.
Once a powerhouse in the paper industry, the county still suffers from the decline of the region's paper mills. Agriculture and tourism are now the county's largest industries, but recovery has been slower than virtually anywhere else in the nation.
Adams County's unemployment rate was 4.6 percent in June; the state's jobless rate is 2.9 percent.
The labor force participation rate (LFPR) tells the story another way. According to a recent Badger Institute report, "Wisconsin: A Blueprint for More Workers," Adams County's rate in 2017 was the lowest in the state at 48.6 percent. That means only 48.6 percent of the non-institutionalized, civilian population over age 16 in the county was either working or looking for work. In contrast, the state's LFPR was 69 percent.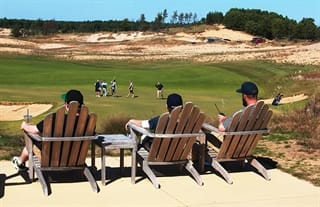 Daric Smith, executive director of Adams County Economic Development, says Sand Valley, which opened in 2017, is too new to statistically measure its effect on the area. But numbers aren't the only indicator.
"It doesn't take long to look around town and see the traffic count is up," Smith says. "It's harder to find housing than it has been in the 12 years or so I've been here, which is just an indication there are more people around that are employed there. That trend started directly when Sand Valley opened. … This is just the tip of iceberg."
The area's real estate market already has felt the impact. "We've definitely seen an increase" in housing prices in the Town of Rome, says Gordon Whitemarsh, an independent realtor in the Adams/Friendship area, about 20 miles from Sand Valley. "It's a no-brainer. … If you own a piece of property across from Sand Valley, the value has gone up," he says.
Whitemarsh has a listing across from the resort for a five-acre lot with water, septic and electric improvements already completed. While he can't say how desirable that land would have been two years ago, he knows why his prospective buyer wants it. "I like to say Adams County is the center of universe, and Sand Valley has made that happen," he says.
The resort is already the county's top employer.

Adams County sorely needs the job growth and economic investment, says Rick Bakovka, president of the Central Wisconsin Regional Economic Growth Initiative.
"Per capita income recovery here is slower than the state, slower than the nation, even slower than the Appalachian coal industry," he says.
The Town of Rome, an affluent and tourism-heavy 62-square-mile nugget on the north end of Adams County, created its first-ever tax incremental district to help fund Sand Valley. The $13 million loan is on pace to be paid off by 2032.
The planning and construction of the roughly $40 million facility encountered no pushback as bulldozers and construction crews rolled in. That's unique among large development projects, Bakovka says.
"I challenge anyone to look at a place where a $40 (million) to $50 million development came to where there was no public squabbling, no court cases, there were no demonstrations, there was nothing," he says. "The Town of Rome partnership with Sand Valley is one of the best public-private stories I think you could ever talk about."
An ocean of sand

A major component of the development's long-term plan is to convert most of the land back to its natural state. So far, 9,000 acres have been put into conservancy, and the goal is 100,000 acres, says General Manager Glen Murray.
"It's all about restoring this unique landscape to what it looked like prior to pine pulp agriculture — an ocean of sand and flowers and prairie. The restoration of 100,000 acres in this central sands region is a story that's applicable to a much wider audience than just golfers."
Unlike most high-end golf resorts, Sand Valley invites visitors onto the grounds even if they don't shell out $195 for 18 holes. There are hiking trails alongside the two existing courses, and everyone is invited to enjoy the views and the environment. Sand Valley plans to open grass tennis courts next year and has been working to connect at least 85 miles of old logging roads for fat-tire cycling.
Because of its commitment to the environment, Sand Valley uses drought-tolerant fescue turf, which requires a fraction of the water and fertilizer that traditional courses use.
In addition to its two courses — Sand Valley and Mammoth Dunes — the resort boasts a 17-hole short course called the Sandbox and is planning a new course for next year, along with additional residences and other facilities. It had 65 hotel rooms this season and expects to have 115 next year. Occupancy this year was at 100 percent, and rooms were sold out by April. Bookings for next year are coming in three times faster than they did last year.
Those are all indicators of the impact Sand Valley will have on residents and businesses in surrounding communities in the future. Very little of that is constant, however.
According to Murray, only 15 to 20 percent of Sand Valley's workforce, not including caddies, is year round. The resort is beginning to market for year-round events, such as holiday parties, educational sessions and even winter weddings.
"The off-season isn't about generating a profit for us," Murray says. "Making the off-season work is about being able to provide more year-round jobs."
In the meantime, though, the burgeoning seasonal jobs are vital.
Jobs are 'a big positive'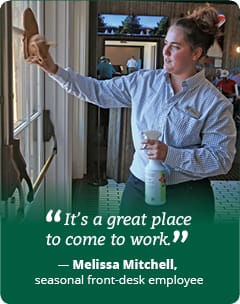 "Teachers go and work there in summer. It offers great opportunities for upper middle school and high school kids to get summer jobs that pay quite well. It's really a nice opportunity for people looking to supplement their income. It's a big positive," Smith says.
Melissa Mitchell came to work at Sand Valley's front desk in August. She had been working at a Wisconsin Rapids grocery store, where she'll return after the season ends.
"I heard very good things from employees," says Mitchell, 21. "My brother Tim works here. It's a great place to come to work, and the pay is better. I'm hoping this becomes year-round."
Bar manager Bob Anderson spent most of his career as the owner of nearby Friar Tucks Bar & Grill and got to know many of the resort's top brass when they dined at his establishment during construction. When they found out Anderson was preparing to sell his business, they scooped him up for their hospitality segment.
Now, five Anderson family members work at the resort, and two more will join them as soon as they're old enough.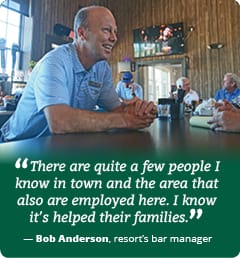 "There are quite a few people I know in town and the area that also are employed here," Anderson says. "I know it's helped their families."
Otto Austin, assistant grounds superintendent, came to Sand Valley after 35 years at a Minnesota course. When the season ends, he'll return to his family in Minnesota but hopes to come back next year.
Austin sees one little hiccup in Sand Valley's long-term plan: employee housing. "It's a challenge to get people to come here to work long term," he says.
Michael Keiser says employee housing is always on the resort's radar. "It's an issue, one that we're constantly working on," he says. "It requires thought on our part. … We always find solutions."
Sand Valley bought a local motel that is used exclusively for employees, and it works with local landlords to find housing for staff. In addition, housing in nearby Wisconsin Rapids has been plentiful so far, and that's where Sand Valley looks for accommodations for golf interns, who receive housing as part of their internships, he says.
Community outreach
Wisconsin Rapids Mayor Zachary Vruwink sees positive economic effects in his Wood County community.
Sand Valley has turned to local businesses for supplies, including baked goods and coffee beans, and local firms have been involved in the construction of new buildings as well. The local airport, South Wood County Airport-Alexander Field, has undergone a major expansion, with the help of a $4 million state appropriation, to keep pace with the growing demand by high-end golfers.
"As much as 30 percent of their golf play, I've been told, relies on private air travel," Vruwink says. "Hotels have seen a bump from pilots staying in hotels or leisure travelers themselves. (Sand Valley) was really great about utilizing local suppliers in construction. In every way, they have worked to be available and approachable to the local community."
There was still an adjustment period, however.
"We're so accustomed to manufacturing and paper mills," Vruwink says. "We have a long way to go to realizing the true benefit and relationship that the business community outside of the Town of Rome can have with Sand Valley. I hope they continue to emphasize their relationship with the city. They can play a role to further growth in the region."
In response to the resort's opening, the hospitality program at Mid-State Technical College is expanding, Bakovka says. The result will be a pipeline of future employees ready to step into jobs at Sand Valley or elsewhere.
"The paper industry is not growing, so I think the area sees the opportunity for tourism to be an economic rebirth," Murray says.
From cards to golf
Mike Keiser Sr. (who in full disclosure has contributed to the Badger Institute) revolutionized the greeting card industry before turning to the development of world-class golf courses like Bandon Dunes in Oregon, Cabot Links in Nova Scotia and Barnbougle Dunes in Tasmania.
A 2015 Fortune magazine story described the then-recent opening of Cabot Links this way: "(It) follows the same blueprint as Bandon: transform wooly, under-utilized land in a picturesque and remote location into a bucket list golf destination that revitalizes a woebegone community."

Town of Rome Chairman Wayne Johnson might not describe Adams County as woebegone, but he doesn't mince words about Sand Valley's value to his town and the region.
"They're kind of changing, somewhat, the dynamics of the community from predominantly a bunch of old retired people like me and bringing some youth in," Johnson says.
"Until Sand Valley, you didn't see corporate jets flying into the airport. I think they've quadrupled jet fuel sales since Sand Valley opened. They're really good business partners for any community. I can't imagine us without Sand Valley at this point."
Janet Weyandt of Sheboygan is a freelance writer.