What minorities and the poor don't know about money is especially costly
My daily commute takes me all over Milwaukee. In the less-than-wealthy areas of the city, I invariably pass payday and title loan stores, and I wince when I see customers coming and going. These stores are so endemic in impoverished parts of town that they have come to symbolize the very nature of what it means to be poor. It's a Faustian bargain with a devil that some don't even realize exists.
It is no secret that financial literacy and education in the United States are virtually nonexistent — and people are becoming poorer for it.
A 2015 Financial Industry Regulatory Authority (FINRA) Investor Education Foundation study showed that only 37 percent of Americans could answer more than three of five basic financial literacy questions correctly.
Here is one of the questions:
Suppose you had $100 in a savings account and the interest rate was 2% per year. After 5 years, how much do you think you would have in the account if you left the money to grow?
Answer choices:
More than $102 (correct)
Exactly $102
Less than $102
Don't know
The 37 percent who answered more than three questions correctly is down from 2012 (39 percent) and 2009 (42 percent). This bad situation has gotten worse.
According to the same study, a full 26 percent of Americans had used a "non-bank" — i.e., pawn shop, short-term payday loan store, rent-to-own store or auto title loan store — to borrow money in the past five years. These alternative borrowing methods often charge much higher interest rates than banks, credit unions or credit card companies.
Sadly, while small businesses are the economic engine that drives this nation — producing 46 percent of U.S. gross domestic product in 2008 — only 15 percent of Americans reported earning income from a business that was not directly tied to a salary or wages. This means most working Americans do not own the business that provides their income; they're working for someone else.
Forty percent of American adults could not cover a $400 emergency without having to sell something or borrow money, according to the Report on the Economic Well-Being of U.S. Households in 2017 from the Board of Governors of the Federal Reserve System.
Blacks fare worse
The FINRA study shows that the situation is worse in our black communities. African-Americans answered an average of fewer than three out of six of the basic financial literacy questions correctly (a sixth question was added to the 2015 test).
Thirty-nine percent of African-Americans had engaged in some form of non-bank borrowing in the past five years. And, while the number of black-owned businesses is growing, there were only 2.6 million in the entire nation in 2012, or 9.4 percent of all U.S. firms, according to the Census Bureau's Survey of Business Owners. Blacks make up 13.6 percent of the nation's population. Of those 2.6 million businesses, only about 109,000 had paid employees.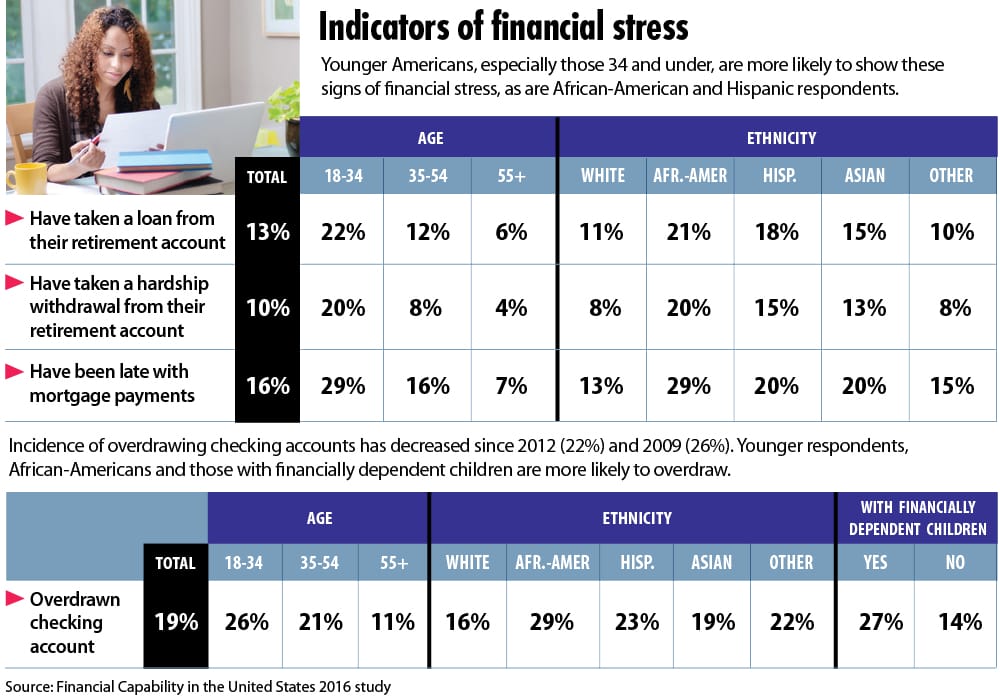 The 2015 FINRA study concluded:
"Many demographic groups — including African-Americans, Hispanics, members of the millennial generation, and those without a college education — are at a disadvantage when it comes to making ends meet, planning ahead, managing financial products, and financial knowledge. This means that these groups face greater risks and have fewer opportunities to overcome them, making them especially vulnerable."
Poverty is a cultural issue as much as it is a financial issue. However, in order to lift our inner city communities out of poverty, we have to improve their economic situation, and that improvement has to come from within.
No direct influx of cash will raise up people who don't know how to handle or grow it. As long as credit means "get it," you will remain at the bottom of the financial totem pole.
You can lament the social injustices in our society all you want, but the fact is if you don't know how to control your money, it will leave you and you will be poor. However, if you can understand and learn how to use the tools of our free-market, free-enterprise system, regardless of the circumstances from which you start out, you can build wealth and put yourself on the road to prosperity.
The only conditions are these: You have to buy in to the concept, and you have to be in it for the long term.
Financial literacy is key
This is where Milwaukee Lutheran High School comes in.
This fall, the school launched the Free Enterprise Academy. I am its executive director. The academy, the brainchild of Bill Nasgovitz, is incorporating the concepts and history of free markets, entrepreneurship and financial literacy into the existing curriculum and creating new courses and programming around those concepts. Nasgovitz is founder and chairman of the board of Heartland Advisors in Milwaukee, a 2017 Wisconsin Business Hall of Fame inductee and a Badger Institute board member.
Academy participants are challenged to think critically about free markets, enterprise and economics and to be financially literate. This will create graduates who then are able to produce wealth, prosperity and enterprise for themselves and their communities.
A few years ago, Milwaukee Lutheran went all in on school choice, meaning most of its students were in the Milwaukee Parental Choice Program. As a result, the majority of Milwaukee Lutheran's students are African-American and economically disadvantaged. Eighty-two percent of the school's students are African-American, up from 77 percent last year.
These students are from areas that disseminate some of the worst information about how to handle money and business. We can change the culture, however, by educating our young people as early as possible on how to raise themselves up and out of poverty.
Among the Free Enterprise Academy's objectives:
• Students will learn why check-cashing stores set up only in poor communities.
• They will learn the dangers of credit and bad debt.
• They will learn why graduating from high school and not having babies out of wedlock are important factors in building wealth.
• They will understand that how they present themselves to business people is key to getting a job, making connections and finding help and resources.
• They will be taught that there is dignity in work, that there are benefits to delaying gratification and how to use the resources they earn to grow their money over time.
• They will learn how to use the tools of compound interest and passive income to increase their money and build wealth.
• They will have the opportunity to learn microeconomics and macroeconomics, accounting, marketing and digital media skills.
• They will gain the skills that ultimately can be used to develop and run their own businesses, creating even more wealth for themselves and others.
Change culture from within
How will we do this?
To begin, we will stop vilifying people who know how to make money and learn from their example. Our goal is to engage the business and education communities from Milwaukee and beyond to bring experience and practical applications to the learning.
We will use our faith-based education to address cultural issues that challenge many of our students every day. We will employ community resources to address emotional issues and trauma that our kids experience because they live in some of our most troubled and violent neighborhoods.
In doing these things, we hope to change the culture from within. We want to graduate students with marketable skills who know how to handle their money and how to avoid violence, poverty and hopelessness.
To be sure, we are not creating robots who drink ideological Kool-Aid. One of the biggest problems facing young people today is that they have been taught to parrot propaganda under the guise of getting an education, mostly to their own detriment.
But the key for anyone to be successful in business is to be able to think critically, especially while under pressure. For these students (and us) to be successful, we have to allow them room to think, challenge, disagree and articulate.
So when we urge our students not to take financial advice from broke people, we lay out the reasoning and the evidence and allow them to think things through and decide for themselves. We are confident that history, logic and experience will lead them in the right direction.
Payday loan stores are one of the few businesses that I — a free-market advocate — don't like. If we can increase people's financial knowledge and prosperity so that far fewer of them rely on those businesses, I will have done my job.
Shannon Whitworth is executive director of the Free Enterprise Academy at Milwaukee Lutheran High School and an attorney with over 20 years of litigation experience. He spent 12 of those years as a commercial litigator with a business law firm on Milwaukee's east side.