Wisconsin's huge investment hinges on the ever-evolving world of display technology
The massive investment to bring Foxconn's LCD panel plant to Wisconsin has a lot of analysts gazing into a crystal ball. But the real question in determining whether state taxpayers will recoup their billions 25 years down the road is whether consumers will still be gazing into anything resembling a liquid-crystal display.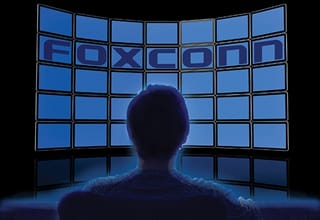 "Certainly Foxconn is going to have its work cut out for it," says Rosemary Abowd, a senior analyst and LCD panel expert at PMA Research, a United Kingdom-based firm specializing in display-industry market data.
Abowd says Foxconn Technology Group of Taiwan, the world's largest contract electronics manufacturer that makes iPhones and iPads for Apple, has shown itself to be a smart and agile company when it comes to evolving technologies like LCDs. Those panels are used in everything from TVs to computers to smartphones to auto dashboards.
She notes that the Wisconsin plant — to be built in the Village of Mount Pleasant in Racine County and expected to open in 2020 — would face considerable competition from existing LCD panel plants in Mexico, China and elsewhere. She adds, however, that Foxconn knows this and is probably working on technology and efficiency innovations that could give the Wisconsin plant an advantage.
"They're not going to build a plant that works like what we already have," Abowd says.
Alfred Poor, a technology expert who has covered the TV and monitor markets for decades, sees both upsides and downsides in the Wisconsin factory.
"To have a (LCD panel) plant in the U.S. makes sense," he says. "Your supply chain is much shorter."
The Wisconsin plant would allow the latest LCD technologies to go from factory to U.S. consumer products much faster — without the current delay for overseas shipping. This would create a clear marketing advantage for U.S. brands, he says.
However, with two to four new LCD plants in the works in Asia, LCD profit margins in the "single digits" and the fact that LCD-manufacturing efficiency has already maxed out, the Wisconsin plant will have to depend on volume to stay viable, Poor says.
"They've almost wrung out efficiency as far as that goes," he says, adding, "They're building into a flat market."
LCD vs. OLED
Ever since plasma TVs left store shelves in 2014, LCD panels have become extremely popular since they have a clear cost advantage over OLED, a display technology that promises deeper blacks and better contrast, but at a cost.
Unlike LCD televisions (LCD panels backlit with fluorescent lamps) or LED TVs (LCD panels backlit with light-emitting diodes), each pixel in an OLED (organic LED) panel generates its own light and can be controlled individually.
The price differential between OLED and LCD panels is stark, however. The least expensive OLED TV at BestBuy.com in mid-September was a 55-inch LG 4K Ultra HD unit for $2,000. LED TVs with the same size and resolution — but not totally comparable specs — could be had for less than $400. Will that wide price delta still exist in 2020? It probably will, says Abowd.
She explains that the OLED panel manufacturing process has hard technological limits, which probably will keep OLED TVs at least twice as expensive as their LCD-paneled cousins for the near future. That would be good news for the Wisconsin plant since it would keep LCD technology competitive for years. It also would render moot any thought of retrofitting the plant for OLED panels, which would require a major, very costly rebuild.
However, Poor cautions, if manufacturing flexible OLED panels ever gets to the point where the panels can be efficiently produced from large rolls of material — sort of like the process of printing individual newspaper pages from huge rolls of newsprint — the days of LCD panels could be numbered.
Other display technology
One new technology that might be timed perfectly for the Wisconsin plant is Samsung's QLED (quantum dot LED), a proprietary LCD panel that promises almost-OLED-quality images with better contrast and wider viewing angles than other LCD types.
QLED TVs could theoretically be built at any current-generation LCD panel plant — including Wisconsin's — with, of course, a licensing agreement with Samsung and relatively minor retrofitting, notes Abowd.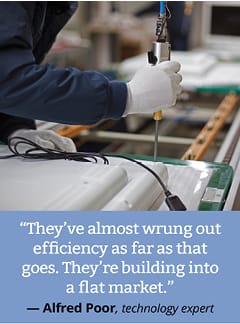 Foxconn's expertise at finding technology partners probably will come into play in Wisconsin, she says. For example, glass — a key component of LCD panels — is brittle, hard to transport and something that Foxconn doesn't make.
If Foxconn has done its homework, it probably already has explored a partnership with a glass-maker such as Corning, for example, to co-locate a plant to supply its LCD panel factory, says Abowd. While no such deals have been announced, news reports say that Corning could set up shop in southeastern Wisconsin, creating another 400 jobs.
Since production in Wisconsin is a least three years away, Foxconn is looking ahead and plans to build 8K-resolution displays that support the faster fifth-generation (5G) high-speed data connections that should be common by 2020.
These 8K displays support a resolution of 7,680 by 4,320 pixels — four times as many pixels as a 4K display and 16 times as many as a "full HD 1080p (FHD)" display. Nestled in the middle, just below the 4K standard, are UHD (ultra-high-definition) screens.
However, 8K display makers may face the same question that has haunted 4K TV manufacturers for years: Where's the high-definition content? Very few content producers are generating 4K movies or TV shows today due to the added cost of production and the amount of bandwidth needed to stream them smoothly.
"Broadcast of 8K images presents a huge data challenge," Abowd says.
She notes, however, that organizers are planning to broadcast at least part of the 2020 Summer Olympics in Tokyo in 8K and adds that the visual precision of 8K panels will be valuable for medical applications.
"That trend of sports events leading the charge toward better resolution is common. We saw it with 720p, FHD and UHD over the past 10 years," says Abowd.
The LCD market
Is the market for LCD panels stable? The answer seems to be yes for now as global LCD TV sales, a key indicator, rose 1.6 percent in 2016 to 219.6 million units, according to WitsView, a division of TrendForce, a Taiwan-based market intelligence firm.
Samsung was the top-selling brand followed by LG, Hisense, TCL and Sony, but even Samsung was affected by shortages in the supply of some LCD panel sizes, the WitsView report says.
But even if the TV market for LCD panels tanks, there are opportunities in growing LCD panel markets such as education, says Abowd, where large, interactive, wireless LCD touch displays are becoming more popular but are far from common in U.S. classrooms.
On the other hand, the direct-view display market could shrink drastically by 2020, says Abowd, if a new generation of affordable short-throw and ultra-short-throw projectors catch on. These units can cast huge, bright, rich, high-definition TV video on plain walls or screens in small rooms — no display panel needed.
Unlike conventional projectors, which must be placed some distance from screens or walls, an ultra-short-throw projector can cast a distortion-free 60-inch image on a wall from five inches away.
The bottom line, says Abowd, is that when it comes to evolving technologies, Foxconn usually has a plan.
The decision to put an LCD plant in a Rust Belt state like Wisconsin didn't come without concerns but obviously not enough to deter Foxconn, says Abowd, who lives in upstate New York, where nanotechnology has taken a foothold and is attracting new investment.
"These are not dumb people," she says of Foxconn. "They are very smart business minds."
At a minimum, a U.S.-based LCD panel plant solves many of the transportation and distribution issues that Foxconn's many brands and customers suffer from when importing components from overseas.
"I don't think they're going to build a plant right now for a market that's going to be obsolete before it happens," Abowd says.
So, will Foxconn's LCD factory in Wisconsin still be useful 25 years from now? Twenty-five years ago, home TVs had large, low-resolution cathode-ray-tube displays and PC users could still go into electronics stores and walk out with a monochrome-screen laptop. Word to the wise: Stay tuned.
Robert S. Anthony is a New York-based technology journalist.
► Related stories:
Why Wisconsinites should be skeptical by Andrew Hanson.
Fiscal costs certain, but a potential for large gains by Noah Williams.
There are better ways to create jobs and growth by Ike Brannon.
DETAILS OF THE FOXCONN DEAL
The $3 billion incentive package to bring Foxconn's $10 billion LCD panel factory to Wisconsin and create up to 13,000 jobs includes:
• A payroll tax credit, which can mean cash payments, over 15 years. The maximum payment is $1.5 billion. Foxconn gets the maximum if it employs 13,000 workers earning at least $30,000 annually by 2021 and employment remains at that level.
• A capital expenditures credit over seven years. The maximum payment is $1.35 billion.
• A sales tax exemption of up to $150 million on construction materials.
• $10 million in state grants to local governments for development costs related to infrastructure and public safety.
• $250 million in bonds for the I-94 North-South corridor project.
According to the nonpartisan Legislative Fiscal Bureau, it will take the state up to 25 years to recoup its investment. The bureau relied on jobs and investment projections provided by the state and a Foxconn consultant, and its analysis assumed:
• Average annual employment of about 10,200 construction workers and equipment suppliers earning average total compensation of about $59,600 (including benefits) annually during the four-year construction.
• Nearly 6,000 indirect and induced jobs created during construction, with an average total compensation of $48,900 annually.
• Indirect and induced construction-period jobs generating increased state tax revenues equal to about 6.3 percent of the additional gross wages.
• Indirect and induced jobs totaling 22,000 beginning in 2021. Average annual wages are estimated at $51,000 annually. Total ongoing wages are estimated at $1.12 billion annually, and related state taxes are estimated at $71 million per year. Smaller impacts are estimated through 2020 as the project ramps up. A subsequent report paid for by the Wisconsin Economic Development Corp. adjusted estimates of indirect jobs, with fewer long-term jobs but more short-term jobs during construction.
The Metropolitan Milwaukee Association of Commerce says tax revenue is only one measure — that wages and benefits paid to Wisconsin workers during construction and during operation of the plant should also be considered. The project could have a cumulative impact of $78 billion to Wisconsin's gross domestic product over 15 years, MMAC says.
• During construction: Based on a $10 billion capital investment, the project would create over 10,200 jobs for prime and sub-contractors and equipment suppliers; over 1,700 jobs for suppliers and another 4,200 jobs that would result from new household expenditures — a total of over 16,200 jobs with $3.6 billion in labor income over the four-year construction period, according to an analysis paid for by Foxconn.
• During operation: If Foxconn employment reaches 13,000, the analysis projects over 11,400 jobs among suppliers. The household spending from those direct and indirect jobs would produce another 10,800 jobs. The total ongoing job impact could reach over 35,200 and total annual labor income of $2 billion.