As the world moves forward with automated vehicles, Milwaukee clings to 19th century technology
GUEST OPINION
Automated vehicles capable of navigating without a human behind the wheel are no longer some sort of futuristic fantasy.
Every automobile manufacturer in the world and several technology companies including Apple, Google and Microsoft are focused on building the hardware and/or software for automated vehicles (AVs).
Intel and Strategy Analytics estimate that automated vehicles will add $7 trillion to the global economy over the next 30 years.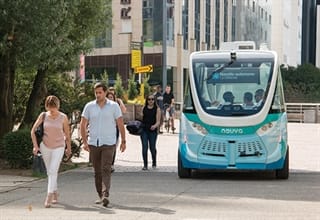 Automated vehicles are mostly in the testing phase, and accidents — while rare — do occur. On March 18, a self-driving Uber vehicle struck and killed a pedestrian outside of a crosswalk in Tempe, Ariz. It was the first fatality involving an AV.
These are the incidents that automated vehicles are designed to prevent. The AV industry defended its technology following the accident, with the maker of the collision-avoidance system saying that Uber disabled the software. In addition, Uber's AV project was already struggling, lagging behind Google's.
In Arizona, Google's Waymo is testing a self-driving ride-hailing service using Chrysler Pacifica minivans. Waymo is also partnering with Jaguar Land Rover to buy 20,000 electric, I-Pace SUVs for its planned driverless taxi service.
In Europe, the City Mobile 2 demonstration projects have tested automated buses in La Rochelle, France, and Oristano, Italy.
In Boston last year, both nuTonomy and Lyft launched self-driving ride-hailing services.
In Las Vegas, Keolis Commuter Services, along with the American Automobile Association and the city, launched an electric shuttle pilot project.
And in Wisconsin's largest city? Just as much of the world moves toward a 21st century, millennial-enticing mode of transportation that is sure to give cities a highly sought-after cultural cache, Milwaukee is building … a streetcar.
Their history; they're history
Streetcars are nothing new in Milwaukee. There was an extensive network in the city from the late 19th century until the late 1950s, when they were torn out to make room for buses. Little about them has changed. They're operated on fixed routes, they're expensive and they're almost no one's primary mode of transportation.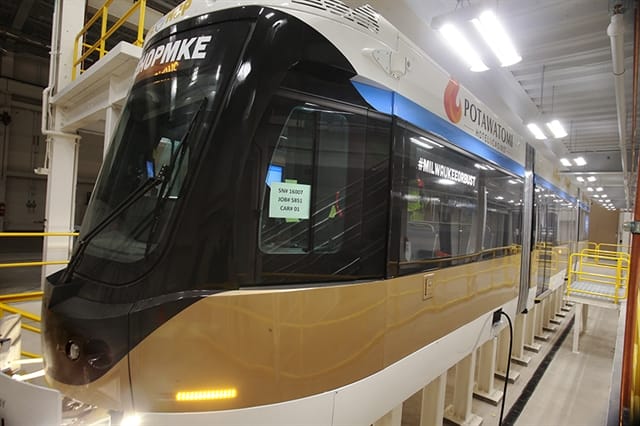 For the initial 2.5-mile, $128 million downtown line, Milwaukee is using a combination of federal grants ($69 million) and tax incremental financing ($59 million). Federal funding is not free. But even if it were, there are substantial operating and maintenance costs. The city plans to add multiple lines if it can find the money.
The first streetcar in the fleet arrived in Milwaukee on March 26. The remaining four cars will be delivered throughout the year, with "The Hop" beginning operations by November.
Supporters argue that the streetcar attracts economic development and is being paid for by somebody else. Neither is true. In cities where economic development sprouted around a streetcar line, such as Portland, the boom occurred because the city spent money improving roads, adding street furniture or gentrifying the area. Similar economic development has been seen in areas without streetcars.
Finally, and perhaps most problematic, streetcars don't serve traditional transit users. They are designed for folks with cars, known as "choice riders," not commuters without cars, known as "transit-dependent riders."
Supporters, as a result, often argue that streetcars will be a tourist draw or the sort of cultural amenity that lures or keeps upscale urbanites downtown. But even that argument — perhaps the most persuasive — now appears flawed. One need only browse through the popular press to see the fascination with automated vehicles.
While millennials — many of whom are shunning car ownership and driver's licenses — may be amused by the novelty of a streetcar, they are infatuated with a bus that drives itself.
The benefits of automated vehicles
The Uber crash shows that AVs are still in the developmental phase. Self-driving vehicles use some combination of lidar (light detection and ranging), cameras and radar to sense surroundings. AVs then must make sense of all that information. Vehicles need to be able to interpret and predict human behavior. They need to understand when an ambulance needs to pass them.
Humans are good at operating a 4,000-pound vehicle, when they are paying attention. Researchers are using machine learning to ensure computers have those same multitasking skills to operate a vehicle.
Prototype vehicles cannot navigate rain or snow; machines have difficulty knowing when it is safe to cross a double yellow line and can have trouble seeing a pedestrian attempting to cross the road.
AV software must be more reliable than conventional computer software. If Microsoft Windows crashes, a computer can be restarted with no major consequences. If AV software crashes, a car is disabled — or worse.
But the bigger, longer view is as sanguine as it is inevitable.
• While the Uber fatality is a tragedy, the vast majority of accidents are caused by human mistakes. According to the National Highway Traffic Safety Administration, automated vehicles will reduce accidents by up to 80 percent, saving 30,000 lives per year.
• Because they can communicate with each other, automated vehicles can follow more closely together. Traffic engineers have found that "connected vehicle technology," in fact, could increase roadway capacity by 300 percent, significantly reducing congestion.
• Automated vehicles will provide greater independence to individuals who cannot drive, including the young, the elderly and the disabled.
• Finally, automated vehicles will save taxpayers a lot of money because one of the biggest costs in transit — 75% — is employees. As a result, every public transit agency in the country requires subsidies.
What the future looks like depends on where you are
How transit evolves depends on the population and employment density of a particular metro area. High-density places such as New York City will continue to have rail transit and some fixed-route bus service.
Medium-density areas including Milwaukee and Madison are likely to have a combination of private transit operators in the downtown area and ridesharing services in the suburbs. Chariot — a niche bus service operating in San Francisco, New York, Seattle, London and other cities — and its competitors will offer fixed-route transit in downtowns.
Such service will be automated. Smaller, low-speed buses will operate circulator service in downtowns. Private providers will operate most of the service.
Driverless vehicles have been proposed in Racine County to shuttle thousands of employees a day to the Foxconn Technology Group factory being built in Mount Pleasant.
Ridesharing services will offer transit in low-density areas such as Green Bay and Kenosha. While individual service will be available, the focus will be on carpool service. Lyft already operates Lyft Line, which transports multiple people, offering cheaper rates for each passenger.
Mass transit will be automated, but that doesn't mean humans won't be involved.
Transit agencies must transition to mobility managers. Instead of directly operating the transit service, mobility managers will oversee and coordinate private transit services. Those services initially will include fixed-route bus services but also private bus and jitney services such as Chariot and personalized transit such as Lyft.
All vehicles will be automated, reducing the costs to each passenger. In comparison to streetcars, these rubber-tire vehicles won't just be cheaper; they'll be vastly more flexible and practical.
They'll help promote the cultural "brand" that Milwaukee and Wisconsin so badly needs. They'll be a linchpin of an innovative, forward-looking place that embraces what's fresh and inevitable.
And it does seem inevitable. The old eventually will be disrupted by the new.
Residents of southeastern Wisconsin seem to know this intuitively. They are skeptical that a streetcar line in downtown Milwaukee will deliver the economic benefits that supporters expect, a Marquette University Law School Poll found in October. Sixty-nine percent say the streetcar is too expensive and won't produce the economic benefits touted.
The citizens apparently realize that their leaders should be embracing innovation and bold thinking — not pricey, antiquated streetcars that few likely will ride. But, as taxpayers, we seem destined to pay for these streetcars. At least until they're torn out again.

Baruch Feigenbaum is assistant director of transportation policy at the Reason Foundation. He has a diverse background researching and implementing transportation issues including revenue and finance, public-private partnerships, highways, transit, high-speed rail, ports, intelligent transportation systems, land use and local policy-making. He earned his master's degree in transportation planning with a focus in engineering from the Georgia Institute of Technology.