One of the rumored top choices President-elect Donald Trump was mulling to head the U.S. Department of Housing and Urban Development (HUD) was Rob Astorino, a New York county executive who has spent the last decade fighting HUD's attempts to "diversify" suburban housing stock.
Had Astorino been chosen, he likely would've scrapped a new HUD rule that dictates how many low-income high-rises a community must build and moves the big-city poor into suburbs deemed too white.
The new rule, called Affirmatively Furthering Fair Housing, or AFFH, has drawn scathing criticism since it was adopted by the Obama administration in mid-2015, with opponents labeling the rule social engineering and big-government overreach. (See "Federal housing rule threatens local control," WPRI Wisconsin Interest magazine, Fall 2016.)
The rule would penalize communities for not being diverse enough economically, even though there is no evidence of discrimination, by withholding federal housing funds unless the community recruits lower-income residents from cities and other areas and builds housing to accommodate them.
One of AFFH's sharpest critics was Astorino, county executive the past seven years of Westchester County in New York, an affluent suburb just north of New York City and home to Bill and Hillary Clinton. Astorino, long active in New York Republican politics and a close associate of Trump's, said that Trump told him AFFH would end if he were elected president.
"It's urbanizing the suburbs and it's taking away the rights of local communities through their own elected officials to determine how their community is made up," Astorino in June told The Daily Caller, a Washington, D.C.-based news website. "This is something that I talked to Donald Trump about and I've known him for 15 years. I talked to him about it in June. He totally agreed with me. This is something that has to be ripped up."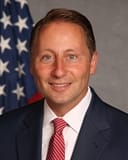 As Westchester County executive, Astorino led the fight against efforts by HUD and the federal Justice Department to force the county to build 750 low-income units in 31 of the county's mostly white communities. In the end, after a court decreed that the county must build the units, Astorino declared that Westchester County would no longer take HUD funds.
"It's not worth it because of the threat of lawsuits, the strings attached and the control that Washington can then exert over you," Astorino told The Washington Post. "You get involved with the federal government, and you can't get out of bed with them."
At the heart of the AFFH rule is a requirement that any community taking HUD funds must complete a so-called Assessment of Fair Housing, which analyzes the community's occupancy data on factors such as race, color, religion, English proficiency and national origin. The community must then analyze factors that contribute to an imbalance of living patterns among low-, middle- and upper-middle income families, and finally devise a plan for HUD approval to mitigate any imbalances found.
U.S. Rep. Glenn Grothman (R-Wis.) excoriated the AFFH rule, calling it "an ill attempt by the Obama administration to create a Utopian society."
"The president believes he can use government agencies like HUD to bully American communities into handing over zoning decisions, which should be made by local governments, to the federal government."
Dave Daley is the reporter for WPRI's Project for 21st Century Federalism Project, of which "Federal Grant$tanding" is a part. A journalist for 30 years, Daley covered the statehouse in Madison for The Milwaukee Journal and the Milwaukee Journal Sentinel.