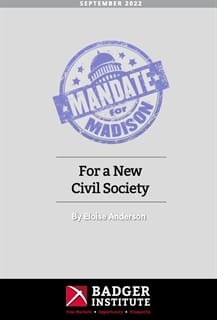 The good things in life in this democracy — opportunity, fulfillment, upward mobility, prosperity, the redounding energy and succor that comes from free association, love of relatives and friends — do not emanate from Madison or D.C. They come from the private sector, from family and from civil society — that space between the individual and government.
Churches, clubs, community associations, private schools, charities — these are the so-called mediating institutions of civil society that foster social connections, friendship, participation, dignity, belonging and ultimately the advancement and support that comes from communal bonds. They are essential spaces for the growth of character, for acts of kindness, for development of trust — for the altruism that drives Wisconsinites to help each other when they see a need.
Unfortunately, the fundamental pillars of civil society are eroding. From 1974 to 2018, the share of adults who reported spending an evening with a neighbor at least several times a month dropped from 44% to 29%. From 1972 to 2018, the share of adults who reported attending religious services once a month or more dropped from 57% to 42%. Membership in fraternal organizations has plummeted. The share of Americans who have never attended any sort of club meeting increased from two-thirds in the late 1990s to three-fourths in the late 2000s.
Eloise Anderson, one of the most thoughtful and experienced researchers on the issues of civil society and the family — and someone who has worked extensively within government but also knows the great value of what happens outside it — offers guidance for how Wisconsin can grow to value and engage in civil society once more.