When Taiwan-based Foxconn, manufacturer of iPhones and iPads for Apple, announced it wanted to build a $10 billion LCD panel plant in Wisconsin by 2020, it seemed like the timing couldn't be better. What state couldn't use thousands of new jobs and billions of new dollars in its economy?
But is time really on Wisconsin's side? Will LCD display technology still be relevant in 2020? Or will the plant be obsolete the day it opens?
"Certainly Foxconn is going to have its work cut out for it," says Rosemary Abowd, a senior analyst and LCD panel expert at PMA Research, a United Kingdom-based firm specializing in display-industry market data.
Abowd says Foxconn Technology Group, the world's largest contract electronics manufacturer, has shown itself to be a smart and agile company when it comes to evolving technologies like LCD panels, which are used in TVs, computers, auto dashboards and other devices.
She notes that a Wisconsin LCD (liquid-crystal display) panel plant would face considerable competition from existing plants in Mexico, China and elsewhere. She adds, however, that Foxconn knows that and is probably working on technology and efficiency innovations that could give the Wisconsin plant an advantage.
"They're not going to build a plant that works like what we already have," Abowd says.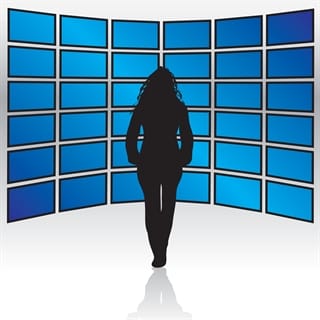 Alfred Poor, a technology expert who has covered the TV and monitor markets for decades, says Foxconn's Wisconsin proposal is a mix of good and questionable news.
"To have a (LCD panel) plant in the U.S. makes sense," he says. "Your supply chain is much shorter."
A Wisconsin plant would allow the latest LCD technologies to go from factory to U.S. consumer products much faster — without the current delay for overseas shipping. This would create a clear marketing advantage for U.S. brands, he says.
However, with two to four new LCD plants in the works in Asia, LCD profit margins in the "single digits" and the fact that LCD-manufacturing efficiency has already maxed out, the Wisconsin plant would have to depend on volume to stay viable, Poor says.
"They've almost wrung out efficiency as far as that goes," he says, adding, "They're building into a flat market."
So, would a Foxconn LCD panel plant be good for Wisconsin? "I'm still scratching my head on this one," Poor says.
LCD vs. OLED
Ever since plasma TVs left store shelves in 2014, LCD panels have become extremely popular since they have a clear cost advantage over OLED, a display technology that promises deeper blacks and better contrast, but at a cost.
Unlike LCD televisions (LCD panels backlit with fluorescent lamps) or LED TVs (LCD panels backlit with light-emitting diodes), each pixel in an OLED (organic LED) panel generates its own light and can be controlled individually.
The price differential between OLED and LCD panels is stark, however. The least expensive OLED TV on sale at BestBuy.com in mid-August was a 55-inch LG 4K Ultra HD unit for $2,000. LED TVs with the same size and resolution — but not totally comparable specs — could be had for about $400. Will that wide price delta still exist in 2020? It probably will, says Abowd.
She explains that the OLED panel manufacturing process has hard technological limits, which probably will keep OLED TVs at least twice as expensive as their LCD-paneled cousins for the near future. That would be good news for a Wisconsin LCD panel plant since it would keep LCD technology competitive for years. It also would render moot any thought of retrofitting the plant for OLED panels, which would require a major, very costly rebuild.
However, Poor cautions, if manufacturing flexible OLED panels ever gets to the point where they can be efficiently produced from large rolls of material — sort of like the process of printing individual newspaper pages from huge rolls of newsprint — the days of LCD panels could be numbered.
Other display technology
One new technology that might be timed perfectly for the Wisconsin plant is Samsung's QLED (quantum dot LED), a proprietary LCD panel that promises almost-OLED-quality images with better contrast and wider viewing angles than other LCD types.
QLED TVs could theoretically be built at any current-generation LCD panel plant — including Wisconsin's — with, of course, a licensing agreement with Samsung and relatively minor retrofitting, notes Abowd.
Foxconn's expertise at finding technology partners probably will come into play in Wisconsin, she says. For example, glass — a key component of LCD panels — is brittle, hard to transport and something that Foxconn doesn't make.
If Foxconn has done its homework, it probably has already explored a partnership with a glass-maker such as Corning, for example, to co-locate a plant to supply its LCD panel factory, says Abowd. While no such deals have been announced, news reports say that Corning could set up shop in southeastern Wisconsin, creating another 400 jobs.
Is the market for LCD panels stable? The answer seems to be yes for now as global LCD TV sales, a key indicator, rose 1.6 percent in 2016 to 219.6 million units, according to WitsView, a division of TrendForce, a Taiwan-based market intelligence firm.
Samsung was the top-selling brand followed by LG, Hisense, TCL and Sony, but even Samsung was affected by shortages in the supply of some LCD panel sizes, the WitsView report says.
But even if the TV market for LCD panels tanks, there are opportunities in growing LCD panel markets such as education, says Abowd, where large, interactive, wireless LCD touch displays are becoming more popular but are far from common in U.S. classrooms.
On the other hand, the direct-view display market could shrink drastically by 2020, says Abowd, if a new generation of affordable short-throw and ultra-short-throw projectors catch on. These units can cast huge, bright, rich, high-definition TV video on plain walls or screens in small rooms — no display panel needed.
Unlike conventional projectors, which must be placed some distance from screens or walls, an ultra-short-throw projector can cast a distortion-free 60-inch image on a wall from five inches away.
The bottom line, says Abowd, is that when it comes to evolving technologies, Foxconn usually has a plan.
The decision to put an LCD plant in a Rust Belt state like Wisconsin didn't come without concerns but obviously not enough to deter Foxconn, says Abowd, who lives in upstate New York, where nanotechnology has taken a foothold and is attracting new investment.
"These are not dumb people," she says of Foxconn. "They are very smart business minds."
At a minimum, a U.S.-based LCD panel plant solves many of the transportation and distribution issues that Foxconn's many brands and customers suffer from when importing components from overseas.
"I don't think they're going to build a plant right now for a market that's going to be obsolete before it happens," Abowd says.
So, will a Foxconn LCD panel plant in Wisconsin still be useful 25 years from now? Twenty-five years ago, home TVs had large, low-resolution cathode-ray-tube displays and PC users could still go into electronics stores and walk out with a monochrome-screen laptop. Word to the wise: Stay tuned.
Robert S. Anthony is a New York-based technology journalist.
Read our related coverage:
Mike Nichols: Unprecedented decision, disparate opinions
Andrew Hanson: Why Wisconsinites should be skeptical
Noah Williams: Fiscal costs certain, but a potential for large gains
Ike Brannon: There are better ways to create jobs and growth