More than it used to be, but Mayor Barrett fails to count all the state's funding to the city or how much other communities give
In his recent "state of the city" address, Milwaukee Mayor Tom Barrett reiterated one of his favorite recent talking points — the state of Wisconsin is benefiting from the "Milwaukee dividend." What he means is that Milwaukee gives more to the state than it gets back, contrary to the popular view that Milwaukee is a money pit for state taxpayers.
Barrett and Common Council President Ashanti Hamilton first made the claim in early January, first in a pitch to the Greater Milwaukee Committee and then in a Jan. 28 op-ed in the Milwaukee Journal Sentinel.
According to a Journal Sentinel news article, it represented the launch "of a fact-based 'offensive to change the narrative' about Milwaukee sucking up an excessive amount of state funds" in hopes of getting additional aid from the state. Barrett repeated the claim on March 5, in a speech at the Harley-Davidson University and Conference Center and the next day in his "state of the city" address.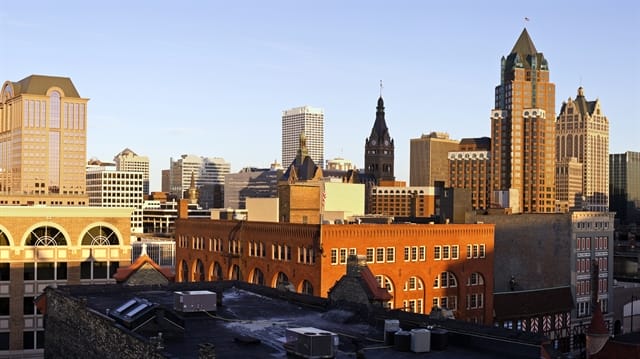 "If anyone tells you that Milwaukee is a drain on the state, correct them immediately," Barrett was quoted as saying. "The city of Milwaukee is a donor. The state benefits by having Milwaukee here. And I want to change that narrative."
Problem is, the claim isn't quite as fact-based as he'd like. First, Milwaukee gets back more than most cities. Second, Barrett is not counting everything Milwaukee gets from the state.
State report cited
Barrett's and Hamilton's figures come from a state Department of Revenue report titled "State Taxes and Aids By Municipality and County For Calendar Year 2015," published last November. The report lists revenues collected and sent to Madison by counties, cities, villages and towns. It then compares the dollars that return to those communities via shared revenue.
Milwaukee city residents and businesses, the report estimates, sent more than $1.37 billion in revenue to Madison in 2015 from all income, sales, utility and other taxes, while the state returned $912 million in the form of state aid payments, a difference of about $458 million. In effect, the city gets back only 66 cents for every dollar it sends to Madison. Milwaukee County as a whole got back even less on a percentage basis, sending $2.5 billion to Madison and getting back $1.45 billion, or 57.49%.
Take and give
The revenue figures include pretty much all sources of revenue paid by the city and county except that from "various administrative fees and charges … small dollar amounts on their own," said DOR spokesman Casey Langan.
State aids, the money sent from Madison to local municipalities and counties, listed in the report include shared revenues, school aid, aid to counties, first dollar and lottery credit, natural resources aids, transportation aids and miscellaneous aids, the DOR report said.
"Wisconsin's taxpayers residing outside of our county," Barrett and Hamilton wrote in the Journal Sentinel, "are benefiting by more than a billion dollars in tax revenue from Milwaukee. With only 66% of what the city generates and 57% of what the county generates returning to our communities, we are providing a robust and growing 'Milwaukee dividend' to our state's coffers."
Bruce Murphy, writing in a Feb. 14 UrbanMilwaukee article, touted the mayor's claim and accused Gov. Scott Walker of "libeling" Milwaukee by allegedly promoting the idea that Milwaukee is subsidized by the rest of the state.
"(I)t was Walker's state that was the relative loser, that was leeching off the city," Murphy wrote. "That includes every category of state dollars flowing to Milwaukee."
But it's not every category of state dollars.
Hidden figures
The state report on which Barrett bases his argument leaves out large sums of state dollars that make their way to Milwaukee city and county residents.
"Any direct aid to a person is not included in the (DOR) report," Langan said.
Consequently, Barrett's and Hamilton's figures failed to consider:
► More than $631 million in state Medicaid payments, not counting federal dollars, to county residents in 2013, the most recent figures available, the state Department of Health Services estimates.
► $108 million in 2015 state funding to the University of Wisconsin-Milwaukee, which primarily serves Milwaukee County and nearby residents, according to the university website.
► Nearly $90 million in state unemployment benefits paid by the state and Milwaukee employers, and not counting federal dollars. That's almost $62 million to city residents and more than $28 million to other county residents, state Department of Workforce Development spokesman John Dipko said.
► $7.8 million in salaries in 2015 for 120 staffers in the Milwaukee County district attorney's office, also state employees, according to state Department of Administration figures.
► More than $6 million to the Milwaukee County Circuit Court's 47 judges, all state employees, each of whom is paid $131,187 a year.
► $4.3 million in state court support payments to Milwaukee County, including the clerk of circuit courts office, for fiscal 2017.
► $600,000 in salaries for the 12 people who staff the Milwaukee County public defender's office, according to DOA.
That's an additional $ 847.7 million that comes back to Milwaukee. Added to the DOR report, that's nearly $2.3 billion, almost 92% of the $2.5 billion paid to the state by Milwaukee County. And that's not counting the cost to state taxpayers of FoodShare Wisconsin and other social service programs, the state Department of Corrections, the state subsidy for Supplemental Security Income, historic tax credits and other assistance.
"How do you not count Medicaid?" asked state Rep. Dale Kooyenga (R-Brookfield). "That's a big part of the state budget. It's bogus accounting (by Barrett). He's counting what he wants, and he's not counting other things.
"On a more personal note," Kooyenga added, "I don't know why the mayor is going around trying to create bad blood between the city and the state."
Barrett's chief of staff, Patrick Curley, denied that the mayor is creating bad blood with legislators.
"We're not picking a fight, not looking to pick a fight and really are hoping to engage Rep. Kooyenga and others in a thoughtful discussion. I don't read the (mayor's) speech as 'fightin' words.' "
Todd Berry with the Wisconsin Taxpayers Alliance agreed with Kooyenga that Barrett isn't counting everything Milwaukee receives from the state.
"While it is true that over the last few years, as state aid has flattened and (Milwaukee's) economy has recovered, they have become a donor community compared to what they were a few years back," Berry said. "The big hitch is (Barrett and Hamilton) are only talking about shared revenue. They really suck in the money when it comes to Medicaid. A quarter of all Medicaid dollars are spent in Milwaukee County."
Asked why Medicaid and other aids to Milwaukee residents were not counted by the mayor, Curley replied in an email:
"Seventy-two percent of the region's poor are within the city — second only to San Antonio metro for metro concentration of poverty," Curley wrote. "That's a staggering statistic that can't and should not be minimized. The fact that people are talking about state aids and locally generated revenues is good and a conversation that Mayor Barrett looks forward to having."
Berry also noted that many of the income and corporate taxes in the DOR report attributed to Milwaukee County are not coming from the county.
"Many of those people paying those taxes live in Ozaukee and Waukesha counties and other places," he said.
Low returns
And while Barrett made a major point of saying that Milwaukee gets back just 66% in shared revenue of every dollar it sends to Madison, he failed to mention that Milwaukee gets back more on a percentage basis from Madison than most other communities.
In Milwaukee County, only Cudahy (70.83%) and South Milwaukee (77.48%) get back a higher percentage of state aid than Milwaukee, according to the same DOR report that Barrett cited. River Hills, for instance, only gets back 19%; Glendale just 28.21%. Mequon gets the worst return among cities in the five-county area with a 13.5% return; Brookfield, Oconomowoc and New Berlin each gets back less than 20%.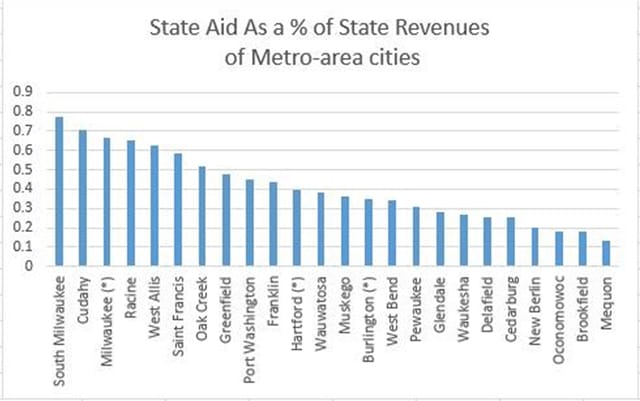 Source: Wisconsin Department of Revenue
Among the surrounding counties, only Racine County does better than Milwaukee County at 62.11%, while Waukesha County (36.8%), Washington County (35.98%) and Ozaukee County (25%) do worse.
Milwaukee's 66-plus percentage return also exceeds most other cities in the state, which average even less, 51.03%. The statewide average for all municipalities, including towns and villages, is just 55.69%.
The DOR report lists only a handful of the state's 190 or so cities as getting back more than 90% of what they pay out to the state. Milwaukee ranks in the top third among the state's cities in the DOR report.
The real point Barrett was trying to make is that Milwaukee is an economic engine experiencing an economic turnaround that's benefiting southeastern Wisconsin, the state and the region and that it deserves the support it receives and is necessary to a healthy Wisconsin economy and culture.
But many of the city's problems continue to siphon millions of dollars from the rest of the state while for decades failing to produce desired results. An op-ed from Barrett and Hamilton laying out a plan to solve those problems would be worth reading.
Dan Benson is editor of the Project for 21st Century Federalism at the Wisconsin Policy Research Institute and a former editor and reporter with the Milwaukee Journal Sentinel and Gannett Wisconsin.