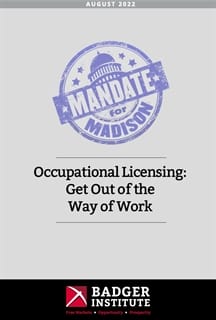 Wisconsin's politicians prohibit over 1 million citizens from working unless they have government permission.
This is the root of the scandalous backlogs plaguing Wisconsin's occupational licensing bureaucracy, which is forcing many people to sit on the sidelines after they move to our state or graduate from their training, unable to work in their chosen field.
The Badger Institute's scholars have documented this growing problem for years. This report offers a quick tour of their findings — and presents concrete reforms that have worked in other states.
While some licensing in certain occupations makes sense, unnecessary licensing requirements negatively affect the labor supply and add to consumer costs. Reform could prove critical for Wisconsin's future prosperity, especially given the current worker shortage.
But more than that, reform is a matter of justice. When people are qualified and willing to do a job, the state should not stand in the way.